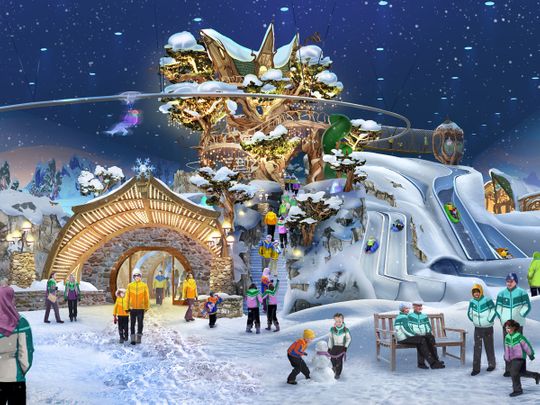 Abu Dhabi has constructed what will be the world's largest snow play park and will open it later on during the year 2020. Located at the US$1.2 billion Reem Mall development, Al Farwaniya Property Developers, Majid Al Futtaim Ventures, and Thinkwell constructed what is set to be the world's largest destination of the sort that delivers both in leisure and entertainment projects. Among the attractions that are going to be open to the public are Blizzard's Bazaar, Snowflake Garden, and Flurries' Mountain to name a few of the unique attractions that will welcome guests of the Reem Island. The Reem Island is a 125,000 sq ft destination that will feature a total of 13 rides and attraction sites and will emulate an enchanted world with a wide range of activities spread across several distinct zones. In each of the Island zones, visitors will find a unique slate of activities hosted by some of the land's fantastic characters.
Also Read: Ground broken at Dubai Healthcare City's Creek Views II in UAE.
Just as visitors enter the Island, they are to be invited to visit the Blizzard's Bazaar. The assortment of retail offerings at the quirky outlet will include cold-weather clothing, hats, postcards, and other souvenirs of the park's Enchanted Forest. Upon entering, visitors will find themselves in the stunning Snowflake Garden. The open snow play activity area will give the arriving guests the chance to simply play in the snow. Special activities will also be organized including ice labyrinths, snowman building, and other snow-based games.
Once open, the world's largest snow play park will maintain an inside temperature of -2° C, with a snow depth of 500mm. The construction of the park is progressing in line with the overall development timetable, with the first trusses being installed in June this year. Construction on Reem Mall began in late 2017 and is anticipated to be complete by late 2020. The retail, dining, and leisure destination will offer 2 million sq. ft. of a leasable area comprising of 450 stores, including 100 dining options and a range of entertainment options.