Not since the early seventies has Africa seen a scramble for the skies as is evident today. The Carlton Center in South Africa has for the last four decades held the pole position as Africa's tallest building despite not being featured even amongst the top 100 skyscrapers in the world. This is soon to change as Africa is experiencing an upsurge in high-rise buildings with recent projects currently underway set to take wrest away the title of tallest building in Africa.
Not surprising, South Africa currently hosts five of the top ten tallest buildings in Africa which include Ponte City Apartments 173m,Marble Towers 152m, Pearl Dawn 152m and The South African Reserve Bank 150m and of course the Carlton which is the tallest. The rest are spread across the continent.
Search for construction leads
Morocco has the 210m Minaret Hassan II Mosque in Casablanca and Algeria's 173m Bahia Centre. However, the minaret does not count in most ranking as part of the building's height.
This year, Kenya entered the top 10 with the completion of the 31-storey Britam office tower that stands 200m tall and carries the distinction of being the second-tallest building in Africa. The building that starts at its foundation as a square rotates gracefully up to the 30th floor at 45 degrees, forming a prism with different floor sizes. It is the regional headquarters of Britam East and Central Africa. It has an office space of approximately 32,000 square metres. It will additionally be able to accommodate 1,000 cars in its swanky 12-storey car park.
The Pinnacle
Kenya may gain the distinction of hosting the tallest building in Africa taking the position long held by the Carlton Centre, once 'The Pinnacle' whose construction started in May in Nairobi's Upperhill business hub. The building will bear testimony to the rise of Nairobi as a regional economic and business centre. The building is being constructed by Hass Petroleum and White Lotus- Dubai-based investors who have injected a whooping US$220m into the 70-floor highrise which will feature a 45-storey Hilton Hotel, a 5-Star Restaurant on the 42nd floor, a luxury spa & gym including an open-air infinity pool.
The building, upon completion, is set to rise 300m into the Nairobi skyline, host 150 posh apartments and come topped off with a helipad that will allow patrons to fly directly to the Hilton Hotel and beat the chaotic Nairobi traffic.
It shall also house 42 floors of high-end residential apartments, 20 Grade- A offices and 5 floors of shopping space among other luxuriant facilities.
Commercial Bank of Ethiopia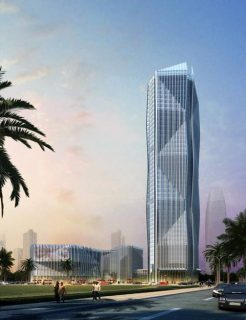 Elsewhere in Eastern Africa The Commercial Bank of Ethiopia has launched the construction of a 46-floor 198m new headquarters in Addis Ababa that will be the tallest building in Ethiopia. The building whose construction started in 2016 and is currently ongoing is set to be complete by 2019. Other upcoming skyscrapers in Ethiopia are the 35-floor Nib Insurance and International Bank building, Midrock City Centre and the Mexico Square Towers in Addis Ababa, both at 35 floors.
Once complete, these buildings will join the 23-storey Nani Building and unseat the 19-floor Grand hotel and Spa, Bahir Dar, currently the tallest in Ethiopia.
AL-Noor, Morocco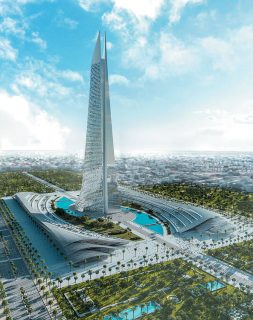 Even before the applause fades on the 'The Pinnacle' as the tallest building in Africa- a Dubai-based construction firm, Middle East Development LLC, in conjunction with French architects Valode&Pistre, are planning a breath-taking skyscraper in Casablanca, Morocco which will stand at 540 metres in commemoration of the 54 African states.
At such heights Al Noor, when complete will rank as the fifth tallest building in the world, coming between Taipei 101 (501 meters) and The World Trade Center (541 meters).
The building will host a 7-star hotel with 200 luxury suites, spa, art gallery and a gastronomic restaurant with everything developed with perfection in mind.
Additionally, it shall also house a business centre, conference hall, luxury shopping area, safe storage area, luxury offices, restaurants and the  African Billionaires club for Investment. (ABCI).
The project manager, Amedee Santalo says Morocco was picked to host this mega project because "it is the door of Africa to Europe and a well-developed country in Africa as well as being politically very stable
Sand Tower Morocco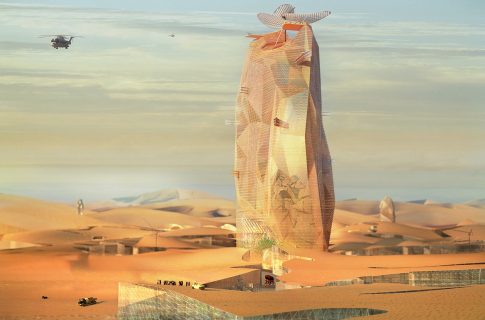 Another Morocco wonder will be the proposed Sand Tower in Morocco set to commence construction in 2025. The project is a vertical city that will rise to a height of 450 meters and occupy a total floor space of 78 hectares deep inside the Sahara Desert.
Designed by the France-based Architecture firm, OXO Architects, the city is set to be energy-efficient, harness rain water for irrigation of a vertical farm inside the city, and also generate electricity from renewable energy forms such as solar and geothermal.
The city will include a hotel, 600 housing units, shopping centres, conference rooms, sports area, a spa, a panoramic bar and a restaurant. It will also house a meteorological observatory, a desert museum and high-end offices. 
Centurion-Symbio City- South Africa
Still on the drawing board is the Centurion-Symbion City that will become South Africa's next tallest building at 447m, topping off at almost double the height of The Carlton Centre.
Touted as the first ever truly green skyscraper in Africa, it will feature mega wind turbines and embark on major reuse, reduce and recycle practice; championing the cause for clean energy investment and declaring Africa's commitment to the need for going green. 
Hope-City Ghana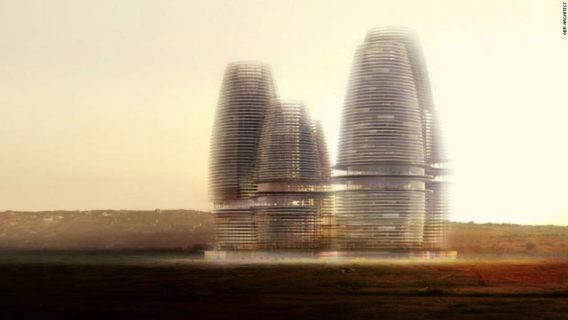 West Africa will also have its skyscrapers albeit at a modest level. Poised to make Ghana Africa's ICT hub, Hope-City is an ambitious project by the Ghanaian government at a cost of US$10 Billion.
The city will consist of six close towers including a 270m tall building, hosting an IT University, an assembly plant for tech products, several restaurants, sports centres and a hospital.
Designed by OBR Architects, Ghana's Hope City seeks to place Ghana prominently on the African map as a major player in the digital arena.
The technology parks will, upon completion, accomodate 25,000 people and create employment for another over 50,000 people.
Africa, categorized as the fastest growing continent, presents a wide range of investment opportunities from agriculture, infrastructure, minerals, industry and even manpower. This potential has been the key motivation behind the billions of dollars injected into the continent either through bilateral trade or even through private-public partnership investments over the past decade.
This trend has seen heavy investment into real estate that has seen prices of land escalate due to demand and resulted in new buildings having to be taller to enable a justifiable rate of return for investors. Coupled to this is the prestige and magnetic attraction of hosting iconic structures which is seen as a pull to investors, You only need to look at Dubai which has transformed its image of a few decades ago where it was a desert town with little to offer to become a veritable business hub rivaling any in Europe or America.
Africa is one of the most favorable investment destinations in the world what with rising costs of manufacturing hitting Asia and stagnant growth in Europe and America. This can be seen by the fact that direct foreign investment has gone up over 5 times the level seen at the turn of the century.
While extractive minerals have in the past been the source of attraction trends show that now upto 50% of FDI is today targeting non-commodities sectors like financial services, construction and manufacturing. It is no wonder then that global corporations are eyeing Africa as their next frontier and these iconic structures are a clear testament of this invasion.