The commercial operation of a section of the MRT Line-1 project is set to be inaugurated by in the last week of December this year. The section in question, the metro rail from Uttara to Agargaon, is expected to be inaugurated by Prime Minister Sheikh Hasina.
This was revealed by the Managing Director of Dhaka Mass Transit Company Limited (DMTCL) MAN Siddique. The latter explained that DMTCL has sent a proposal to the road transport ministry for the inauguration of the line.
Search for construction leads
However, he said, they have not yet received any fixed date for the event but they hope that Prime Minister Sheikh Hasina will inaugurate the line any day of the last week of next month.
Agreement signed for soil improvement and development of MRT line-1 depot at Pitalganj in Narayanganj
Siddique made this revelation following an agreement-signing ceremony organized at a hotel in the capital. The agreement was signed between the DMTCL and a consortium of Japan's Tokyu Construction and Bangladeshi Max Infrastructure.
The agreement concerns soil improvement and development for the MRT line-1 depot at Pitalganj in Narayanganj. As per the project authorities, the physical works of the depot are scheduled to start in December this year.
Dhaka Metro Rail project overview
Dhaka Metro Rail, informally known as the Dhaka Metro, is an approved mass rapid transit system under construction in Dhaka, the capital city of Bangladesh. The project consists of a total of five lines, i.e. MRT Lines 1, 2, 4, 5, and 6.
Also Read: Colombia, South America: Metro De Bogotá Project Timeline and All You Need To Know
The MRT line 1 will have two routes, i.e. MRT Line-1 (Airport Route) and MRT Line-1 (Purbachal Route). The construction of the airport route, which will be 19.872 km long with a total of 12 underground stations and three interchanges, is set to begin in March 2022, at a cost of US$ 6.1bn. The government of Bangladesh will provide US$ 1.5bn for the construction of this line while the Japan International Cooperation Agency (Jica) will provide US$ 4.6bn.
The 11.369 km MRT Line-1 (Purbachal Route) on the other hand will have a total of 9 stations, 2 of which will be underground as a part of the airport route.
MRT Line 2 will be 24 km long from Gabtoli to Chittagong Road with a total of 24 stations while MRT Line-4 is said to connect Kamalapur Railway Station with Narayanganj, a distance of 16 km with underground lines.
MRT Line-5 which has two routes i.e. the Northern Route (20 km long), and the Southern Route (17.4- km) will connect Hemayetpur of Savar Upazila and Bhatara, and Gabtoli and Dasherkandi. 13.5 km of the MRT Line 5 Northern route will be underground and 6.5 km elevated with 14 stations, 9 of which will be underground. The MRT Line-5 Southern Route.
Lastly, the MRT Line-6 consists of 16 elevated stations each 180m long, and 20.1 km of electricity-powered light rail tracks. The entire Line-6, except for the depot section and some of its accompanying LRT, will be elevated above current roads primarily above road medians to allow traffic flow underneath, with stations also elevated.
24 six-car train sets made of lightweight and highly durable stainless steel will ply this route upon completion. The cars will be 19.8m long, 2.95m wide, and 4.1m high with a maximum speed of 100km/h.
CCTV cameras will be deployed inside and outside the cars to ensure the safety of passengers, as well as four doors on each side of the cars and two air-conditioning units to beat the high temperatures and humidity in Dhaka.
Other features on this line include automatic fare collection systems, platform screen doors, staircases, elevators, and escalators. The length of each platform is expected to be about 180m.
Reported earlier
2013
In February, a US$ 2.8bn deal was signed between the Government of Bangladesh and the Japan International Cooperation Agency for the construction of the MRT Line-6.
2014
The design work on the Dhaka Metro Rail project was started in 2014.
2016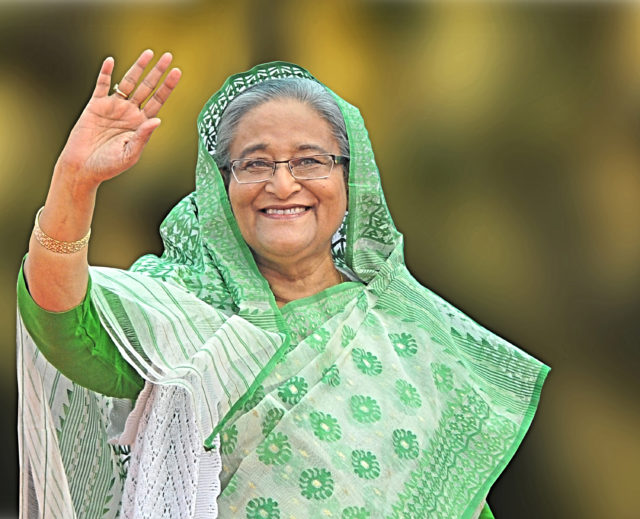 In June, an inauguration ceremony presided over by the reigning Prime Minister Sheikh Hasina was held to mark the start of the implementation of the Dhaka Metro Rail Project, particularly MRT Line-6.
2017
Kawasaki Heavy Industries (KHI) and Mitsubishi Corporation were awarded a contract in August to supply rolling stock and maintenance equipment for MRT Line 6.
In May, Sinohydro Corporation, an engineering and construction company based in China, and Italian-Thai Development Public Company, a construction company based in Thailand, were contracted to perform civil construction for the MRT Line-6.
2018
In June, a joint venture of Marubeni and L&T was awarded by DMTC a contract to provide electrical and mechanical rail systems for Line 6.
2019
In May, Pandrol, a rail infrastructure solutions provider, was subcontracted by L&T to provide rail fastening solutions for MRT Line-6, while Himachal Futuristic Communications, a telecom infrastructure company based in India, was subcontracted to implement telecommunication systems.
2021
The first trial runs on the Dhaka Mass Rapid Transit Line 6, flagged off by Bangladeshi road transport and bridges minister, Mr. Obaidul Quader, at the depot in Dhaka, were carried out in Bangladesh's capital in August. A six-car train made a return trip from the Uttara Terminal depot, passing three stations.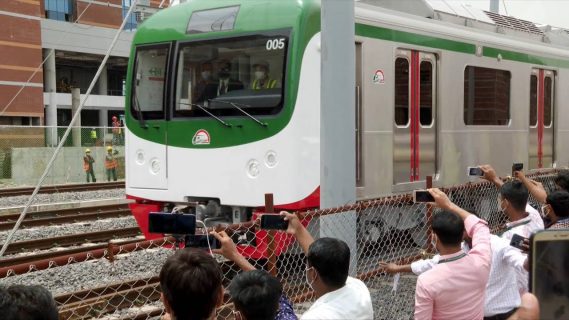 mid-November
MAN Siddique, the managing director at the Dhaka Mass Transit Company Limited (DMTCL), the implementing agency of the metro rail said that almost 90% of the construction work on the Uttara-Agargaon Metro Rail section was complete and various tests were being carried out with seven sets of metro trains.
Siddique explained that the performance test which had started in October 2021 would be concluded in six months and a three-month-long integrated test would also be conducted. After the completion of the integrated test, a trial run of the trains without any passengers will continue for five months, before the inauguration of the commercial service of the metro rail in December 2022.
Late November 2021
The governments of Bangladesh and Japan signed a US$ 1.1bn loan agreement for the development of work on Dhaka Mass Rapid Transit Line 1. The loan in question will be provided by the Japanese development partner Japan International Co-operation Agency (JICA) under its 42nd Official Development Assistance (ODA) package. The loan maturity period is 30 years, with a grace period of ten years.
December 2021
An electric metro rail train made a test trip from its depot in Uttara to Agargaon, a stretch of 11.73 km.
"The train reached Agargaon at 11 am sharp on Sunday traveling at a speed of 100 km per hour from Diabari to Mirpur 10," said MAN Siddique, the managing director of Dhaka Mass Transit Company Ltd (DMTCL) adding that "the train reduced the speed to 15 and 25 km per hour while running from Mirpur 10 to Agargaon."
The trains will begin carrying passengers on the Uttara-Agargaon route in December 2022, and the public metro rail to Motijheel will begin operations in December 2023, according to Siddique.
Mid-December 2021
A shipment of eight coaches and four engines arrived at Mongla Port which is located in Bagerhat District, southwestern part of Bangladesh, from Japan on an SPM Bangkok vessel.
Md Wahiduzzaman, the manager of Ancient Steamship Ltd, which is the local shipping agent of SPM Bangkok, said that another shipment is scheduled to arrive in the country next month.
"Ninety more bogies and locomotives will arrive in Bangladesh by 2022 in addition to the 48 bogies delivered earlier on six vessels and the eight coaches and four engines that have arrived today on the SPM Bangkok vessel," concluded Mr. Wahiduzzaman.
Jul 2022
Dhaka Metro Rails MRT-6 section to be launched in December this year
The construction of the Mass Rapid Transit Line-6 or MRT-6 which is a part of the ongoing Dhaka Metro Rail Project in Bangladesh is well on course for delivery in December this year.  MRT-6 which is the country's first metro rail runs from Uttara to Agargaon.
Also Read: Padma Multipurpose Bridge Project Updates, Bangladesh
The overall progress of the MRT line-6 currently stands at 81.19%. The Overhead Catenary System (OCS) which consists of wires over the rail tracks has already been installed between Uttara and Matijeel. The Operational Control Center (OCC) has also been installed, and a 5G network for operating the metro rail system automatically.
Integrated test operation of the rail line to begin in October
Integrated test operation of the rail line will begin on October 1 2022 according to MAN Siddique. The latter is the managing director of the Dhaka Mass Transit Development Company (DMTCL). DMTCL on the other hand is the Dhaka Metro rail project implementing and operating authority.
"All kinds of functional tests and performance tests of the engine, coach, and other equipment of the metro rail are almost complete. We are now preparing to begin integrated test operations hopefully on October 1. Generally, we have more than two months in hand to complete the tests since the final operations will begin in December. Usually, an integrated test operation takes between 15 to 30 days," explained MAN Siddique.
Once operational, MRT line 6 will be able to carry 60,000 people per hour. This will consequently reduce travel time from Uttara to Motijheel to less than an hour despite having to go through a total of 16 stations. It currently takes about two hours to travel the distance on a regular day.
Construction of MRT-1 to begin in September
Recently, MAN Siddique also revealed that physical work on Mass Rapid Transit Line-1, or MRT-1, will begin in September this year. The managing director made the revelation at a seminar at Bangabandhu International Convention Centre in Dhaka. This was after he received the MRT-1 license from Road Transport and Highways Division Secretary Amin Ullah Nuri.
This revelation came following an announcement that the Bangladesh government had in June signed a US$ 980M plus credit deal with its Japanese counterpart to facilitate the implementation of the project. Economic Relations Secretary Fatima Yasmin and Japanese Ambassador Naoki Ito signed the deal in a virtual meeting.
The MRT Line-1, which will be Bangladesh's first underground metro rail, is expected to be completed in 2026.