Construction work on an LAX Automated People Mover guideway structure, which is a part of the ongoing Los Angeles Airport (LAX) modernization project has been completed by LINXS Constructors, a joint venture team comprising Fluor, Dragados USA, Balfour Beatty, and Flatiron.
The completion of this guideway marks a major milestone in the development of a $4.9 billion mega infrastructure project scheduled for completion in 2023. 
Search for construction leads
LINXS began construction on the Automated People Mover guideway structure in November 2019, starting with the installation of the first set of underground support columns. The team completed the first column pours in January 2020 and also finished the first guideway segment pour in September of the same year.
A total of 69,700 cubic yards of concrete have been poured since the time construction commenced on the guideway structure up until its completion.
Features of LAX's Automated People Mover
LAX's Automated People Mover, which is being built under its Landside Access Modernization Programme, is a 2.25-mile electric train system featuring six stations, strategically positioned for easy accessibility and movement around the airport.
The project was initiated in 2018 under a public-private partnership, which awarded $2.7 billion to the developers for the design and construction.
Three of the stations for the LAX Automated People Mover will be located inside the central terminal area which connects to other terminals through elevated pedestrian walkways, while three other stations will be situated outside the central terminal area to connect to new off-site parking facilities, regional light rail transportation and a rental car facility.
Mayor Eric Garcetti, described the LAX Automated People Mover project as a historic investment in the future transportation system of Los Angeles. He mentioned that the project was so much more than just another means of commuting to LAX and it would play a huge role in easing up the congestion, which has been plaguing the airport for decades.
The President of Fluor's infrastructure business, Thomas Nilsson also mentioned that the LAX Automated People Mover project was a crucial investment for the infrastructure of Los Angeles, especially since the city is currently making preparations to host the Olympic and Paralympic Games in 2028.
Reported earlier
Nov 2020
New US $335m infrastructure to be built at LA International Airport in US under a project dubbed Los Angeles Airport (LAX) modernization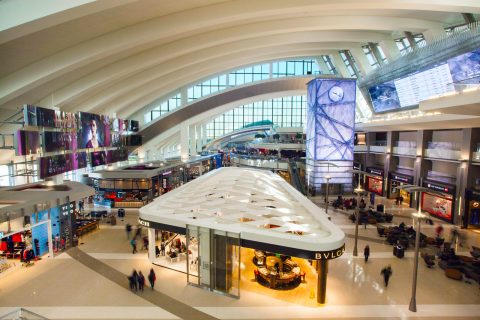 Skanska has signed a contract with Los Angeles World Airports (LAWA) to serve as the design-builder for the airport authority's Roadways, Utilities and Enabling (RUE) project. The contract is worth US $335m.
RUE project
The RUE project supports the next phase of high-priority enabling work for LAWA's Landside Access Modernization Program (LAMP), which aims to relieve congestion for people travelling to and from the third busiest airport in the world and the second busiest in the US.
This enabling work is critical for advancing LAMP projects including the Automated People Mover (APM), Consolidated Rent-A-Car (ConRAC) facility and Intermodal Transportation Facility (ITF)-West.
Construction begins in Q4 2020 with completion expected in Q4 2025. Arup is the lead designer.
March 2021
LAX airport US$17.3mn renovation on runway and taxiways, LA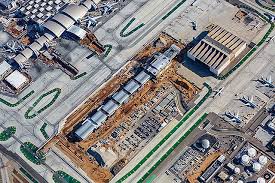 A runway and two taxiways on the south side of the LAX airport are scheduled to undergo a US$17.3 million renovation but travellers are not expected to be affected.
Sully-Miller Contracting Co. has announced they will remove about 6,000 feet of the runway's asphalt surface, as well as Taxiways H6 and H7. They will also install new energy-efficient LED runway centerline lights and replace the runway concrete approach slabs at the bridge over Sepulveda Boulevard. The runway, which is typically used for arriving flights, will be temporarily closed during construction, which is expected to last a little over two months, but passengers are not expected to be noticeably impacted, and noise impacts should be minimal, LAX officials announced.
Runway 7R/25L is LAXs preferred runway for arriving aircraft, while parallel runway 7L/25R is the preferred choice for departures as it is closer to the terminal buildings. When 7R/25L is a non-operational runway, 7L/25R will handle both arriving and departing flights. Some arrivals may, however, be moved to the north runway complex.
Runway resurfacing work is usually done every 10 to 12 years as the runway's surface reaches the end of the time span it was designed for. Because of runway 7R/25Ls location, noise impacts are expected to be minimal, and overnight over-ocean operations will not be affected.
"At the start of the COVID-19 pandemic, we challenged ourselves to use this time of a reduction in air traffic to complete repairs and airfield improvements more efficiently than ever before," said Bernardo Gogna, chief development officer of Los Angeles World Airports.
"The replacement of the asphalt on Runway 7R/25L is an example of how we are investing in the long-term health of our airport and completing work that would have been much more disruptive if done when we were operating at full capacity."
May 2021
LAX unveils new west gates 4 years after construction began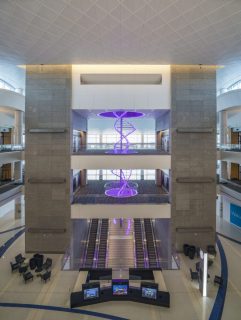 LAX has unveiled the new west gates, a 15-gate concourse after more than 4 years of construction. The US$1.73 billion concourse was constructed to serve both international and domestic flights as part of a US$14.5 billion modernization airport program.
The West Gates concourse is 518 meters long and is located west of the Tom Bradley International Terminal. It has five floors and is 750,000-square-feet in total. Extensive use of natural light in the new gates and features like expanded seating areas, WiFi, and power outlets as well as advanced technology such as the use of biometrics involving having the passengers look into a camera, being matched with their data, and boarding the flight.
The 15 gates can cater to a variety of aircraft, depending on the size of the aircraft. The West Gates can serve 12 to 15 aircraft at once. To get to the gates, passengers can use the underground pedestrian tunnel from the TBIT.
"This is the newest and best facility we have and so for folks who wonder, this is smoother, better, newer, shinier. You can smell that new car smell still here, and together with Los Angeles Tourism, we're investing in bringing people back to our state. If you're vaccinated anywhere in the world come to Los Angeles. People who are vaccinated can come back and for people who've never visited before this is the time to come to Los Angeles.
LAX is our gateway to the world, a global crossroads where dreams take flight and where we welcome the future of our city with open arms. Completing the West Gates is the latest step in our unprecedented campaign to reimagine LAX " said the Mayor of Los Angeles, Eric Garcetti.
Construction of a light rail station at Los Angeles International Airport (LAX) begins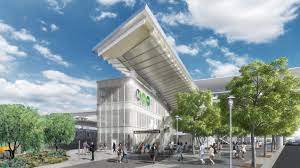 Construction has begun on the light rail station at Los Angeles International Airport (LAX). The US$898.6 million station will directly connect Los Angeles International Airport to the region's light rail and bus transportation systems. The station will have platforms to access Metro light-rail trains, a 16-bay bus plaza for Metro and municipal buses, a private vehicle bicycle zone, a drop-off zone, and commercial space.
The project is designed to be up and running in time for the 2028 Olympics. But more importantly, some officials see it as a potential turning point in Los Angeles' ambitious, expensive efforts to make mass transit a serious alternative in a city known for its cars. The Airport Metro Connector project will serve as the ninth station along the Crenshaw/LAX Line and will connect to LAX's under-construction people mover to deliver passengers directly to their terminal.
Visitors and residents in Los Angeles have complained for a long time about the city's lack of a direct rail connection to the airport, the second-busiest airport in the nation. One 2018 study of transit access at U.S. airports ranked it near the bottom.
"This won't just be the site of our new Crenshaw/LAX line station. We're going to have a bus plaza here, with electric bus charging stations, because by 2030 all Metro buses will be electric and emissions-free. We'll have a dedicated drop-off area here so you never have to go into that horseshoe unless you really want to see the theme building." said the mayor of Los Angeles, Eric Garcetti during the ground-breaking ceremony.
"This is one of many projects that Measure M, the largest transportation initiative at the local level in American history times two, is doing throughout our county, including 15 transit lines that are either extending or building new, including the Crenshaw/LAX Line that will connect here and that will open very soon," he added.
March 2022
Restoration project to renovate gate and lounge rooms and rebuild passenger boarding bridges in Terminal 6 at LAX launched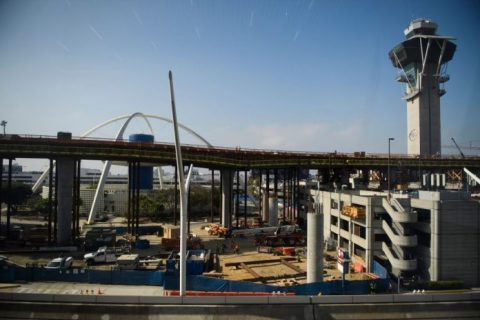 As part of the Los Angeles Airport US$ 14.5bn modernization project, crews have launched a US$ 230M restoration project to renovate gate and lounge rooms and rebuild passenger boarding bridges in Terminal 6 at LAX.
According to LAX, Alaska Airlines has been hired to supervise the makeover, which will also enhance visitor access to the US Customs and Border Protection's Federal Inspection Station and modernize the Transportation Security Administration's Security Screening Checkpoint.
There will be five automated screening lanes and three regular lanes at the new TSA checkpoint. When finished, the terminal will also include a drive-thru bus gate to improve the experience of passengers travelling to and from neighbouring ports.
Overview of the Los Angeles Airport (LAX) Modernization project
The US$ 14.5bn airport modernization is the largest of its kind in the United States, and it includes a 2.25-mile Automated People Mover train system with six stations — three inside the Central Terminal Area and three outside the CTA — that will connect the train system to LA Metro and a car rental facility.
Officials anticipate that the rail system will be ready in 2023 and that the entire renovation project will be completed in time for the 2028 Olympic Games in Los Angeles. The Los Angeles Board of Airport Commissioners proposed that the City Council approved US$1.067 billion for terminal 4 and 5 upgrades. Connecting the terminals to the Automated People Mover train, as well as adding new passenger check-in and baggage claim facilities, a consolidated security screening checkpoint, a new headhouse area for passenger processing, and a new post-security connection between the two terminals, are all part of the project.
"Terminal 6 renovation is a critical component of how we are enhancing the passenger experience at LAX via industry-leading investments in technology, services, and facilities. We are delighted to begin construction on this next terminal project with our partners at Alaska Airlines, as we seek to build a world-class airport for Los Angeles and our visitors "said Justin Erbacci, CEO of Los Angeles World Airports.