An international team has been appointed for the implementation of the Kigali Green City project in Rwanda. The team was appointed by the UK headquartered Feilden Clegg Bradley Studios, which won an international design competition for the project.
The FCBS team comprises the local architects Light Earth Designs, A Studio Space, and Studio FH Architects, as well as Turner & Townsend. The team also included Grant Associates, AKT II, and Atelier Ten.
In addition, the East Africa leading planning, design, architecture, and engineering firm, FBW Group, was appointed to offer the key services of architecture and structure. The FBW Group will also offer civil engineering services, and mechanical, electrical, and plumbing engineering (MEP).
The company's initial roles will involve supervising local compliance, making suggestions for local material suppliers, and maintaining environmental standards. It will also be involved in dealing with and receiving submissions from stakeholders.
Implementation of

the construction phase of the 16HA Kigali Green City project 
The FBW team will be taking part in the planning for the construction phase of the 16HA pilot scheme as the project goes on. FBW Group is delighted to be a team player on what looks to be a revolutionary development. This was revealed by the Group's director, Antje Eckoldt.
The pilot project will lay the foundation for the development of high-quality, resource-efficient, low-carbon housing types suitable for a range of sizes and densities. It will also make way for future sustainable urban development.
It is said that one of the project's goals is to show that the urban environment has everything it needs to sustain its community. The urban environment can also enable people to live sustainably. This is through combining proper technologies, forward-thinking ideas, and local skills and materials.
She continued by saying that they are currently exploring local low-carbon construction ways. According to her, they are also exploring materials and how they can be used to the best effect.
Project Overview
The Kigali Green City will be built on 620 hectares of land. The site is located approximately 16km from the Rwandan capital. More precisely in Kinyinya, in the district of Gasabo. The sustainable city is expected to consist of 1,749 housing units built on a total of 18 hectares. It is set to feature clean technologies, electric vehicles, electric bicycles, and motorcycle lanes.
Moreover, it will have renewable energy, sustainable waste treatment, biogas plants, and urban forests, among others. Construction will mainly use local building materials. As a result, these will make houses more affordable and environmentally sustainable. The government of Rwanda is also planning to build commercial establishments and offices to accommodate "innovative green enterprises".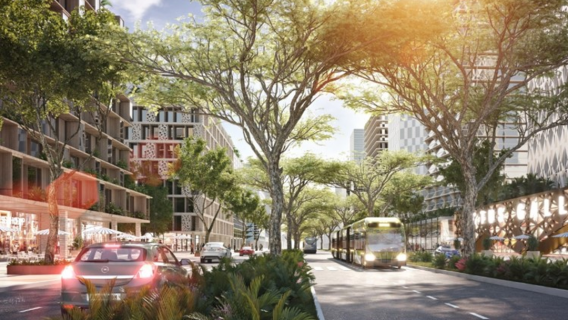 The project, the cost of which is US $5bn will be implemented in phases. The first phase ("Cactus Green Park") will comprise a housing development with multiple green aspects.  This will act as a pilot to lead the way for further scaling up of green building and green urban planning projects. As part of this phase, 410 houses will be developed by Horizon on a total of 13 ha.
The second phase will be developed by RSSB on 125 ha. The next phases will be developed subsequently. These will include commercial and office buildings attracting "Innovative Green Businesses".
Kigali Green City reportedly aims to demonstrate that green building is a necessity, not a luxury. This will be achieved by working to change the stereotype that sustainability is expensive. Living in resource-efficient housing will significantly reduce electricity and water bills for a population that often spends up to 20% of its income on utilities.
Summary 
Name:                 Kigali Green City
Location:            Kigali Rwanda
Type:                  Sustainable Urban Development
Cost:                   US$ 5bn+
Developer:          Rwanda Green Fund
May 2019
Rwanda to begin construction of US $5bn Green City next year
The development of a model green city in Kigali is set to get underway in January 2020. Eudes Kayumba, Deputy Team Leader of the Green City Pilot project confirmed the reports. He said that they are currently finalizing relevant studies and designs to pave way for construction to begin.
Mr. Kayumba noted that the project aims to showcase the viability of green cities in Rwanda. Moreover, he explained, it will reveal elements that could be replicated in the development of secondary cities across the country. Especially with green technologies and innovations for green and climate-resilient urbanization.
Also Read International School of Kigali in US$5m school campus masterplan
Feb 2020
Rwanda to receive US $12.5m grant for Kigali Green City project
Rwanda is set to receive a grant of US $12.5m for the implementation of the Kigali Green City Project. The grant will come from Kreditanstalt für Wiederaufbau (KfW) a German development agency.
The financing agreement was recently signed in Kigali by German envoy Thomas Kurz and Uzziel Ndagijimana, the Rwandan Minister of Finance and Economic Planning. This is the first part of German funding for this important sustainable development project in Rwanda. Berlin plans to inject a further US $26m for the development of the Kigali Green City project.
The development of the ecological city of Kigali will require an investment of more than US $26bn from the Rwandan government. The implementation of the project has been entrusted to the Rwanda Green Fund (Fonerwa). It also receives support from the United Nations Green Climate Fund (GCF).
Sep 2022
FCB Studios appointed for Kigali Green City Master Plan development
Kigali Green City Master Plan development is set to kick off following the appointment of an implementation firm. Rwanda Green Fund (Fonerwa) has reportedly selected Feilden Clegg Bradley Studios (FCBStudios).
The award-winning UK-based architectural and urban design practice will develop the master plan and detailed designs for the pilot phase. It will also provide the associated construction stage information for the pilot development.
Rwanda Green Fund sought to appoint an experienced and qualified urban and architectural design organization through the selection process. The selection was done in close collaboration with the Royal Institute of British Architects.
This selection comes following a feasibility study carried out by Rwanda Green Fund. The German Development Cooperation – through the KfW Development Bank provided financial support for the study.
Sweco, European engineering, and architecture firm, on the other hand, was appointed to support the implementation of the project.