The first group of Grade A office buildings at Mohammed Bin Salman Nonprofit City has been availed. Designed by the Global architectural network, RMJM, the offices are located in the heart of the mixed-use destination next to Al Mishraq Zone.
While commenting on the project, the CEO of Mohammed bin Salman nonprofit city said that the project excitedly awaits to welcome innovative office tenants. David Henry further said that the project provides access to a wide range of everyday facilities.
Meanwhile, the Chief Executive of RMJM revealed that they are also working on the Forum office precinct. It will include a walkable and urban environment that hosts a range of leisure options. In addition to entertainment as well as food and beverage options.
Furthermore, guests and residents alike will benefit from convenient access to the Indigo Hotel, which is a two-minute walk, away. 
 Mohammed Bin Salman Nonprofit City Project Overview
Prince Mohammed Bin Salman Nonprofit City is a regional and global center that is being developed in the Irqah neighborhood, adjacent to Wadi Hanifa. Covering an area of around 3.4 square kilometers the city is expected to incubate innovative, educational, and creative industries. This will be archived through the application of the highest standards of corporate governance and an integrated strategic approach.
The city's master plan embodies a human-centered and advanced digital metropolis. It will be home to academies and colleges including the 'Misk and Riyadh Schools. In addition, it will have a conference center and a creative center. The latter will offer a space to support the ambitions of innovators in sciences and new-generation technology such as AI, IoT, and Robotics.
Furthermore, the Prince Mohammed Bin Salman Nonprofit City will also feature an arts academy and art gallery. This is in addition to theaters, play areas, a cooking academy, and an integrated residential complex.
Prince Mohammed Bin Salman Nonprofit City sustainability 
Moreover, Prince Mohammed Bin Salman Nonprofit City is committed to the highest standards of sustainable development by preserving the environment. It also aims to achieve LEED Gold certification. Furthermore, the city was designed to be sustainable and pedestrian-friendly. It will in addition allocate more than 44% of the total area for green open spaces to promote sustainable development.
Noteworthy, the City also supports the Green Riyadh Initiative. The latter reflects the Kingdom's vision of increasing the per capita share of green spaces and enhancing the general welfare of people.
Reported earlier
May 2022
Misk Schools Campus Construction at Salman Nonprofit City, Saudi Arabia, Nears Completion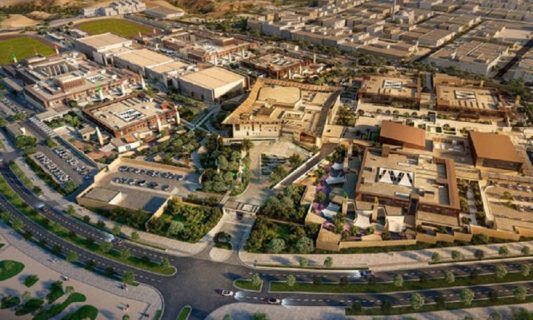 The ongoing construction works of the Misk Schools Campus at Prince Mohammed Bin Salman Nonprofit City in Riyadh, Saudi Arabia, are nearing completion according to Misk Schools, a prestigious, private PreK–12-day school in Riyadh for both male and female students. 
Spanning 210,000 square meters, the Misk Schools Campus at Prince Mohammed Bin Salman Nonprofit City features a total of nine school buildings for students between the ages of three years to 18 years.
Upon completion, hopefully by September this year just in time for the new academic year, each school will include a library, academic classrooms, and science and food technology labs, alongside art and design studios. The school buildings will also include an IT suite ad music room as well as Arabic culture hubs.
They will also, each, be accompanied by a kitchen in a bid to support Misk Schools' "farm to table" initiative. 
Amenities that will be available in the Misk Schools Campus at Prince Mohammed Bin Salman Nonprofit City
The Misk Schools Campus at Prince Mohammed Bin Salman Nonprofit City boasts key amenities that include an exhibition gallery for cultural showcases and three professional-style auditoriums. The auditoriums are reportedly the largest with the capacity to accommodate up to 850 people.
Also Read: Qiddiyah City Development Project Updates, Saudi Arabia, Middle East
The campus will also have the necessary amenities to support a total of 29 Summer Olympic sports. There will also be specialist academies for go-karting, equestrian as well as golf. Additionally, the campus features a sports hall, two FIFA standard pitches with synthetic grass, and a 25-meter and 50-meter Olympic swimming pool alongside a "learn to swim" pool.
Numerous indoor and outdoor areas for low-impact exercise have been set in a landscaped environment surrounded by over 1,000 planted trees. 
Aug 2022
Construction of Prince Mohammed Bin Salman Nonprofit Citys Al Mishraq zone begins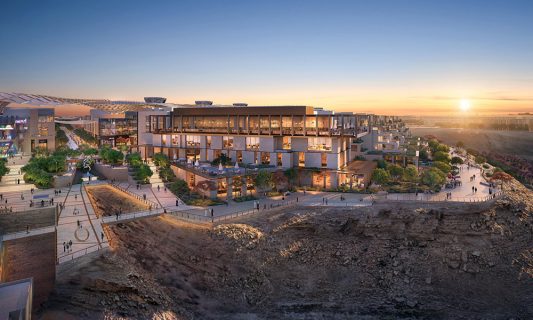 Construction works for the Al Mishraq, a new central zone within the Prince Mohammed Bin Salman Nonprofit City have begun. The zone will be a hub for businesses as well as residents. Furthermore, when complete, it is projected to be the city's second-largest zone.
It spans a total area of 680,000 square meters and it will include public amenities as well as residential areas. Additionally, flexible workplaces will receive space in the project. This will help create a vibrant work-live-play environment simultaneously.
Also Read: Jabal Omar Development Project in Makkah, Saudi Arabia
The first phase of the project will develop a total of 105,000 square meters which will feature residential, incubator, retail, and office space. Furthermore, there will be a 900-seat, eight-screen cinema. In addition to the cinema, there will be 1,500 underground smart parking areas that will receive integration into the city's mobile app.
More on the Al Mishraq design 
Al Mishraq's design is by CallisonRTKL. It aims to embody contemporary Salmani architecture. Moreover, it aims to be an all-around livable outdoor ecosystem. Thus, the project aims to be human-centered while offering open and linear space, catering to the needs of all.
The project will also offer unparallel leisure, food, and beverage experiences. Therefore, it will feature diverse food scenes from exquisite cafes to world-class fine-dining restaurants. Additionally, the restaurants will be accompanied by stunning views of the Wadi Hanifa.
An iconic element of the project will be the Central Spice. This will be a unique shade pedestrian zone that integrates environmentally conscious shading and cooling technologies. This will be through a series of active cooling wind towers. Thus, pedestrians will experience enhanced thermal comfort all year round.
The architecture of the Central Spine's inspiration borrows from Saudia Arabia's rich heritage as well as its future. Therefore, representing the country's rapid transition into the future while still honoring its past.