The Salesforce Tower Chicago, formerly, Wolf Point South Tower is the tallest of three structures set to be constructed in Chicago's Near North Side community area. It is projected for the Wolf Point property at the fork in Downtown,Chicago River. The tower was first planned to be 950 feet (289.56 m) tall but, in late 2018, it was redesigned to 835 feet (255 m) under the naming (Salesforce Tower Chicago).
Developed by Pelli Clarke Pelli architect, the Salesforce Tower Chicago will contain all global best practices to offer result of the most advanced and amenitized office tower in Chicago. With an averaged floor plate size of 24,500 square feet space to rent, the tower will deliver efficient planning for a variety of residents. Some amenities will include a club-quality fitness centre with secured rooms and showers, a conference centre with a number of configurations and capacity sizes, a tenant lounge and commercial retail space with approximately 25,000 square feet, including food varieties and beverage concepts.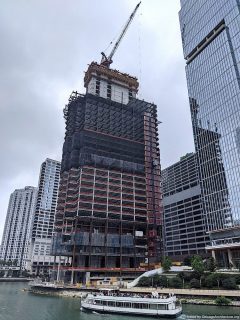 Read also:The Link tower in Paris facts and timeline.

Project Timeline.
2012
On October 30, a revised plan was tabled that had more open space. In November the revision received negative responses and Reilly withdrew the proposal on November 27.
2013
The Chicago Plan Commission accepted the plans for the entire three-tower scheme comprising of 1,410 residential units, 450 hotel rooms and 1,285 parking stalls on January 24. In May, group that opposed the planned development filed a case in United States Federal Court. On November 19, U.S. District Judge Amy J. St. Eve ruled that the valuable and iconic views of downtown are something that can't be constitutionally protected saying "Illinois courts do not acknowledged property values, air, or light as constitutionally guarded property interests." The Wolf Point Towers broke commenced in March 2014 with the Neighboring Wolf Point West Tower having its groundbreaking ceremony on July 18, 2014.
2015
In July, there was a rumor that the South Tower might exceed 1,000 feet (304.80 m) from the revised renderings. However, October 2016 plans indicated that the tower had been scaled back to 950 feet (289.56 m).
2018
The Salesforce Tower Chicago
On November 30, Salesforce committed to a 17-year $475 million 500,000-square-foot (46,452 m2) lease in the building commencing in 2023. The lease comprised naming rights for redesigned structure to be named Salesforce Tower Chicago with a loweredd height of 835 feet (255 m).
2020.
On April 2, despite the COVID-19 pandemic and the related slowdown of the economy that jeopardized construction industry around the world, the scheme secured a $500 million-plus construction loan and construction started within 2 days.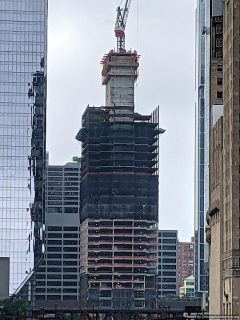 July 2021.
Glasses had been at least partially installed in the bottom four floors of what will soon be the Salesforce Tower Chicago, a 60-story office tower with 1.5 million square feet of space.