Denver International Airport's secured $170 million plan to finish its Great Hall project terminal renovation. In July 2021, DEN commenced the construction of Phase 2 of the Great Hall project. Construction walls are set up both Level 5 and Level 6 in the terminal's northwest corner. Both phases; 1 and 2 of the scheme will run concurrently until the first competes in the end of 2021.
Phase 2 of the Great Hall terminal renovation will aim at improving capacity and enhancing security, as well as the passenger experience at the security checkpoints. The new checkpoint buildout comprise of security technologies for the new security screening lanes. Building new three escalators from post-security on Level 6 to the Level 4 train platform for a more seamless and efficient passenger flow out to the gates.
Read also:The BMO Tower Development in Chicago.

Construction on level five included:
Installation of construction walls in the north security checkpoint area of level 5.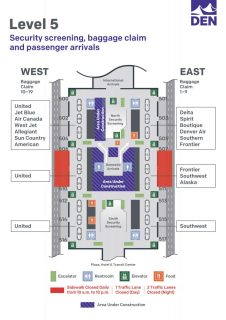 For the expansion of Level 6 footprints, to make room from the new security checkpoint, few of screening lanes in the north security checkpoint will be shut during Phase 2. However, eight lanes in addition to the 12 on the south checkpoint and eight lanes on the A-Bridge security checkpoint will remain open on the north checkpoint. Walls have closed off access to the west corridor running north and south along the side of the checkpoint.
World Wide Money Exchange was to be temporarily closed until mid or late September when it will be relocated to the east side of Level 5 next to the Epic Mountain Throughout the construction, restrooms at Level 5 northwest end will remain open..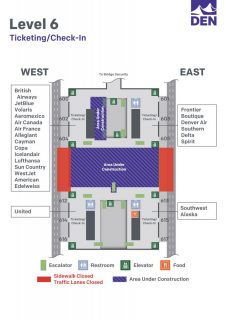 Construction on Level 6 included:
Installation of construction walls in the northwest area of Level 6.
Escalator going down to Level 5 on the north bridge west side was closed so that it could be removed.
The inner corridor on the west side was closed.
The northwest corner restrooms were also closed.
The north bridge access across was to remain open through 2021.
Timeline.
November 2020
DEN Plans for Phase 2 of the Great Hall Project
December 2020
DEN Reaches Another great Milestone on the Great Hall scheme.
June 2021
Construction Walls to Shift in the Great Hall showing Finished Space for the First Time Since development started.
July 2021
Hensel Phelps (HP), completed steel installation for the new airline ticketing pods on Level 6 weeks ahead of the projected schedule. The steel creates the framework for new four airline ticketing pods, two on the west side and others on east.
August 2021
Navigating the Jeppesen Terminal during the Great Hall Project Phase 2. Denver International Airport (DEN) intalled additional construction walls on Level 5 in the North Security Checkpoint for the Great Hall Project phase 2. The walls will allow DEN to construct the new security checkpoint in the Level 6 northwest corner.