The latest 
The construction of Merdeka 118 Tower in Kuala Lumpur is 97.8% complete and almost 70% rented.
This was revealed recently by PNB Merdeka Ventures Sdn Bhd chief executive officer Tengku Datuk Ab Aziz Tengku Mahmud in a media familiarisation trip to the tower. Aziz said that Permodalan Nasional Bhd (PNB), which will occupy 17 floors of the tower will move in by the end of the year. Maybank, the anchor tenant will take up 33 floors of the building, and other tenants will move in in the next 12 months after that.
Merdeka 118 tower overview 
The Merdeka 118 tower is a 118-storey, 644-metre (2,113-foot) tall skyscraper being constructed in Kuala Lumpur, Malaysia.
The project is part of the Merdeka 118 development that also includes Stadium Merdeka, Stadium Negara, 118 Mall, two residential towers, and one serviced residence. The development also includes Little M (a PNB childcare center), Masjid Merdeka, Merdeka Boulevard at 118 (a four-acre public linear park), and Merdeka Textile Museum.
It has more than 8,000 parking bays.
Development and design overview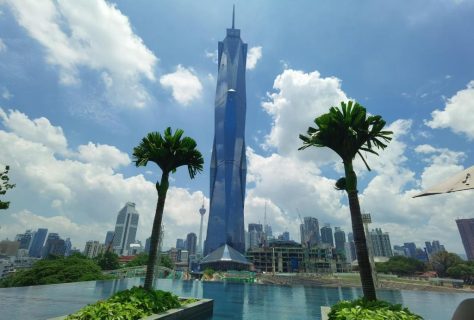 Leslie E. Robertson Associates and Robert Bird Group were the project's structural engineers. Environmental Design and Engineering firm Neapoli Group was hired to offer consultancy services on achieving platinum rating with three Green Building certification bodies: Green Building Index GreenRE and Leadership in Energy and Environmental Design (LEED).
As far as its design goes, Merdeka 118 tower is designed with a mixture of diamond-shaped glass facades to show Malaysian diversity. The steel and glass building with a spire was inspired to resemble a unique silhouette of Tunku Abdul Rahman lifting his hand while chanting "Merdeka!", when he proclaimed Malaysian independence on 31 August 1957.
The building's cladding will include 114,000 square meters of glass, 18,144 panels, and 1,600 tonnes of window frame extrusions. The tower will be equipped and illuminated with 8.4 km of LED light strips at night that will gradually move to different corners.
Features of the Merdeka 118 tower
Upon completion, Merdeka 118 tower features premium Grade A office spaces from Levels 8 to 96. 80 storeys of office space will be reserved for the project's developer; Permodalan Nasional Berhad and its subsidiaries.
In addition to the office space, the tower features a Park Hyatt Kuala Lumpur from Levels 97 to 112. An observation deck dubbed The View at 118 will be at Levels 115 and 166, a conference center at Level 117, and a multipurpose event space at Level 118. In total, Merdeka 118 tower will comprise 400,000 square meters (4,300,000 square feet) of commercial, residential, and hotel space.
Surpassing the Petronas Towers, the tower will become the tallest building in Malaysia and in the Southeast Asian region. It will also become the second-tallest building in the world once completed, surpassing the 632 m (2,073 ft) Shanghai Tower, taking the title by virtue of its 144-metre-tall (472 ft) spire.
Read also: The Varso Tower Project Timeline.


The Merdeka 118 Tower Project Timeline
2014
The piling and foundation work for the scheme was awarded to Pintaras Geotechnics Sdn Bhd.
Six groups were shortlisted by the Permodalan Nasional Berhad for various construction jobs. They included Malaysian Resources Corp Bhd-China State Construction Engineering Corp, Samsung C&T-UEM Group Bhd, IJM Corp Bhd-Norwest Holdings Sdn Bhd- Shimizu Corp, TSR Capital Bhd-Daewoo Group, WCT Bhd-Arabtec Construction LLC and Seacera Group Bhd-Spaz Sdn Bhd-Sinohydro Corp-Shanghai Construction Group.
The companies were to present their bids by January 28, 2015. A Finnish group, KONE was supplying around 87 elevators and escalators for the scheme.
2015
On 23 November PNB reported a contract worth RM 3.4 Billion had been awarded to Samsung C&T and UEM Group Bhd joint venture.
Later in 2017 November, PNB aimed to raise up to RM2 billion fund for the scheme through green sukuk with a 15-year tenure. The Sukuk, which is also known as Merdeka Asean Green SRI Sukuk Programme, covered the development of its 83-storey office space, which forms part of the tower. It is the first adopter of the ASEAN Green Bond Standards launched by the Securities Commission Malaysia which validates PNB's commitment to develop the project as a sustainable and environmentally-friendly project.
2018
On 27 February, it was revealed that Park Hyatt will open up a franchise in Merdeka 118. The Park Hyatt Kuala Lumpur will be occupying the top 17 floors of the tower; It is slated to have 232 units, as well as 28 suites and 30 apartments.
2020
The Movement Control Order in Malaysia brought by the COVID-19 pandemic halted the construction, which later resumed in mid-May.
By early August 2020, the development's concrete core topped out at 118 floors becoming the tallest building in Southeast Asia surpassing the Vincom Landmark 81.
PNB president, Ahmad Zulqarnain Onn, on 25 October 2020, stated that the first and second phases are expected to be completed in 2022 Q2 rather than 2021 due to the COVID-19 pandemic.
Phase 3 is set to complete in 2024 or 2025. The project was on phase 1 which focused on the tower.
2021
As of June, the tower was 81% completed, with the glass facade installation in progress at Level 108, and had successfully reached Level 118 with its spire already 50% assembled along with the retail podium construction ongoing. Turner International are development project Management Consultant.
By 12 October 2021, the Merdeka 118 tower had architecturally topped out, with the aviation obstruction light installation done at its tip which can be seen from afar during the night. It became the tallest structure under construction in Malaysia. 
November 2021
GAGASAN Nadi Cergas Bhd was awarded a contract worth RM33.9 million to construct a mosque at Merdeka 118, the iconic skyscraper under construction in Kuala Lumpur (KL).
Earlier in a statement, the company stated that Nadi Cergas Sdn Bhd, a wholly-owned subsidiary of the Group, accepted the Letter of Award offered by the tower developer, PNB Ventures Sdn Bhd (PNB Ventures), for the building and completion of the mosque.
The construction will start on 1 December 2021 last for 18 months, and is set to be completed on 31 May 2023.
PNB Merdeka Ventures Sdn Bhd, a wholly-owned subsidiary of Permodalan Nasional Bhd (PNB), celebrated a significant milestone for the Merdeka 118 development with the completion of the Merdeka 118 tower spire at the end of November 2021.
"The construction of Merdeka 118 tower has reached 85% completion, tower floor installation has reached Level 118, and glass panel installation has been installed up to Level 114.
Despite the challenges of the COVID-19 pandemic, I am happy to report that the tower and the surrounding infrastructure upgrades are on track for completion by late 2022," explained PNB president and group CEO Ahmad Zulqarnain Onn at the spire completion ceremony.
December 2021
HeiTech Padu Bhd secured an RM21.7 million tender from Permodalan Nasional Bhd (PNB). The group signed the acceptance letter on Friday, Dec 17 for supplying, delivering, installing, testing, commissioning, operating, and managing the network system for the new PNB's office at Merdeka 118.
The contract is set for a 42-month period. The commencement date will be decided by PNB. The contract is set to have a positive impact on HeiTech's future earnings and earnings per share.