Timber and wood have been used in building structures for many years and are often a popular feature on modern buildings, using timber cladding and other features. The versatility of the material means that it has been featured on some fantastic structures over the years.
International Timber provides timber cladding, so they have compiled a list of some of the largest timber structures in the world.
The top 5 tallest wooden structures in the world (still in existence)
Gliwice Radio Tower in Poland (111 meters tall)
Sanctuary of Truth in Thailand (100 meters tall)
Hanover-Marienwerder wind power plant wooden tower in Germany (100 meters tall)
Ascent MKE in Wisconsin, USA (87 meters tall)
Mjøstårnet in Norway (85 meters tall)
1. Gliwice Radio Tower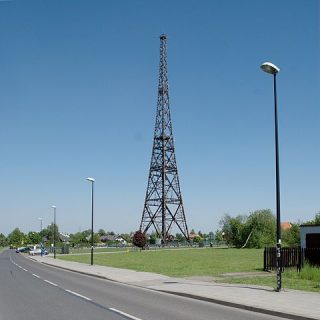 At 111 meters Gliwice Radio Tower, which is nicknamed "the Silesian Eiffel Tower" by the local population, is the tallest wooden structure in the world.
The tower whose purpose is a transmission is located in the Szobiszowice district of Gliwice, Upper Silesia, Poland. It features a wooden framework of impregnated Siberian larch linked by brass connectors and it has four platforms.
The platforms are 40.4 m, 55.3 m, 80.0 m and 109.7 m above ground. The top platform, whose access is provided by a 365-step ladder measures 2.13 x 2.13 m.
2. The Sanctuary of Truth

The Sanctuary of Truth began construction in 1981 and is still under construction today. This building is made entirely out of wood, specifically Mai Deang, Mai Takien, Mai Panchaat, and Teak.
The structure serves as a museum, a hybrid of a temple and a castle, that is themed on the Ayutthaya Kingdom and of Buddhist and Hindu beliefs. It is currently not complete, however, it is expected to be completed by 2025.
3. Hanover-Marienwerder wind power plant wooden tower in Germany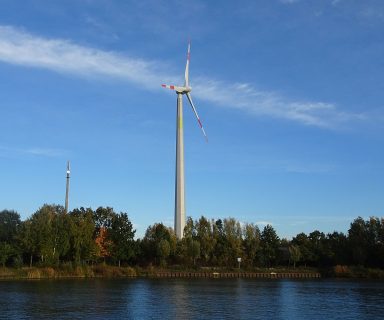 Manufactured by Vensys, the tower is not entirely made up of wood. In total, the tower is 138.5 meters, of which 100 meters is wood.
The wooden section of the tower consists of 28 floors. It also has a stable octagonal outer wall made up of plywood with a wall thickness of about 30 cm. Reportedly, 1000 trees or its thereabouts were felled to make this tower.
A UV-stable PVC film forms the protective outer skin of the tower which also has 70 wire tips to divert lightning.
4. Ascent MKE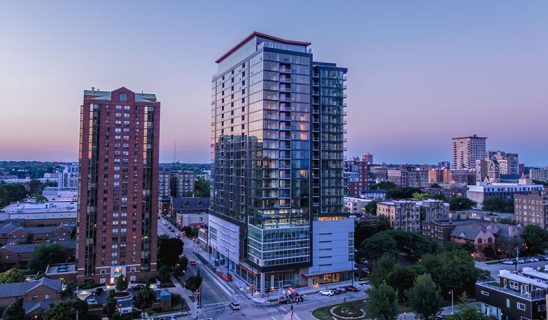 This is a mass timber hybrid high-rise apartment building located in Milwaukee, Wisconsin. The building is 87 meters and 25 storeys tall. Noteworthy, Ascent MKE is the world's tallest mass timber building, edging out Norway's Mjøstårnet which comes at number 5 on this list.
The project was unveiled back in 2018 with an initial design of 21 floors. However, updates and subsequent approvals brought the total number of floors to 25 in March 2020. Actual construction on the Ascent began in August 2020, and the building was completed in August 2022.
The building features a total of 259 luxury apartments, retail space, an elevated pool with operable window walls, and a sky deck.
5. Mjøstårnet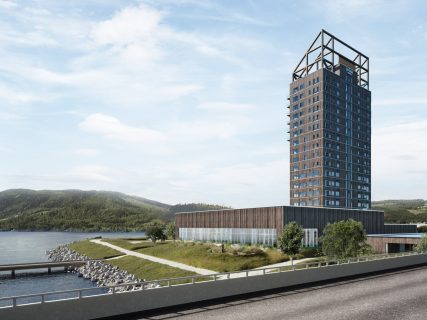 Mjøstårnet is an 18-storey mixed-use building in Brumunddal, Norway, the construction of which was completed back in March 2019. The tower, the name of which translates to "the tower of Lake Mjøsa" is 85.4 meters tall.
With a combined floor area of around 11,300 m2 Mjøstårnet offers a hotel, apartments, offices, a restaurant and common areas. In addition, the building offers a swimming hall in the adjacent first-floor extension that is approximately 4,700 m2 in size and is also built of wood.
Mjøstårnet was designed by Norwegian studio Voll Arkitekter for AB Invest while the timber structures were installed by Norwegian firm Moelven Limtre.