Timber and wood have been used in building structures for many years and are often a popular feature on modern buildings, using timber cladding and other features. The versatility of the material means that it has been featured on some fantastic structures over the years. International Timber provides timber cladding, so they have compiled a list of some of the largest timber structures in the world.
Structure: The Great Eastern Temple (Tōdai-ji)
Location: Nara Prefecture, Japan
Size: 57 metres long, 50 metres high.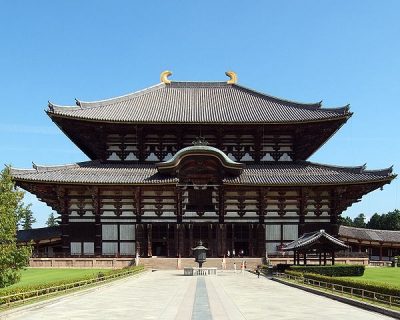 Tōdai-ji was constructed in the early 8th Century, and it's founder is credited to Emperor Shōmu, the 45th Emperor of Japan. It is a Buddhist complex, that is also famous for housing the largest bronze statue of the Buddha Vairocana in the world.
Having been around for well over 1000 years, this building really gives credit to the use of timber in construction, as it is still a stunning structure.
Structure: The Sanctuary of Truth
Location: Pattaya, Thailand
Size: 105 metres high, 2115 square metres of indoor space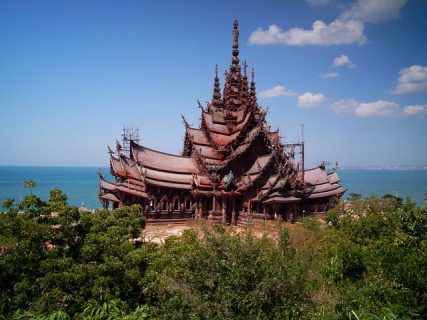 The sanctuary of truth began construction in 1981, and is still under construction today. This building is made entirely out of wood, and is believed to be the largest wooden building in the world. The building is a museum, and it is not expected to be completed until at least 2025, although visitors are permitted in, but they have to wear hard hats.
Structure: Mühlacker Radio Transmitter
Location: Mühlacker, Germany
Size: 190 metres tall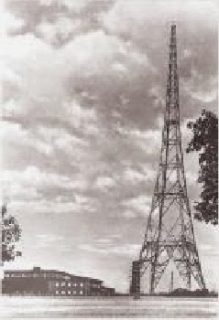 This grainy image is the Mühlacker radio transmitter, albeit a no longer existing structure, but one that we had to include, due to it holding the record for the tallest wooden structure ever, standing at an immense 190m. The transmitter was demolished in 1945, hence the old picture, but we felt that it deserved an honorable mention in our list.
Structure: Gliwice Radio Tower
Location: Gliwice, Poland
Size: 118 metres tall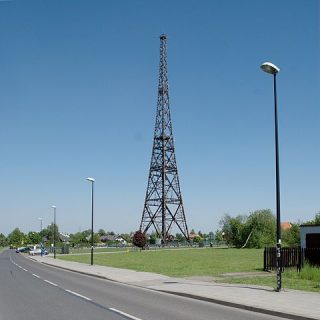 Similarly to the above structure, this radio tower in Poland is thought to be one of the tallest wooden structures, this one is still standing however, unlike the Mühlacker radio transmitter. The tower is constructed of impregnated larch and is known as the Silesian Eiffel Tower by locals.
Structure: Saint Peter's Church
Location: Riga, Latvia
Size: 123 metres tall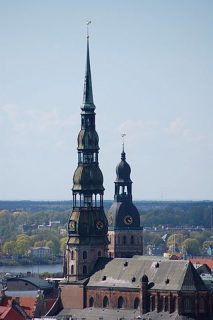 St. Peter's Church is a Lutheran Church, in the capital city of Latvia. Standing at 123m at it's tallest point, it definitely qualifies as one of the largest wooden buildings on the planet. In the past, this church has actually been taller than it's current height. In 1491, there was a steeple added to the Church that made it 136 metres tall, 13 metres higher than currently. This steeple unfortunately collapsed in 1666, destroying a neighbouring building and burying 8 people with the debris.
Structure: Mjøstårnet
Location: Brumunddal, Norway
Size: 85.4 metres tall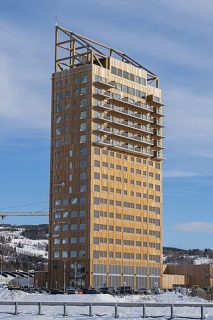 Although some of the aforementioned buildings in this article are taller than Mjøstårnet, this building holds the Guinness World Record for being the tallest wooden building, so we had to include it in our article! My assumption is for whatever reason, the other buildings do not meet the criteria for the world record, but this staggering building is 18 stories, and stands just over 85 metres, so it is certainly a spectacle to admire.