Asia has over 50,000 hotels. This does not come as a surprise keeping in mind that the continent is the second most visited after Europe.
In this article, we have compiled a list of the top 5 largest hotels in Asia out of the 50,000 plus. Some of these 5 hotels have made it to the top 10 largest hotels in the world based on the number of featured rooms. The continent has contributed the second largest number in the list.
The top 5 largest hotels in Asia
First World Hotel in Malaysia (7,351 rooms)
Abraj Al Bait in Saidi Arabia (6,000 rooms)
The Londoner Macao in Macau (5,989 rooms)
The Ambassador City Jomtien in Thailand (4,210 rooms)
Sheraton Grand Macao in China (4000 rooms)
1. First World Hotel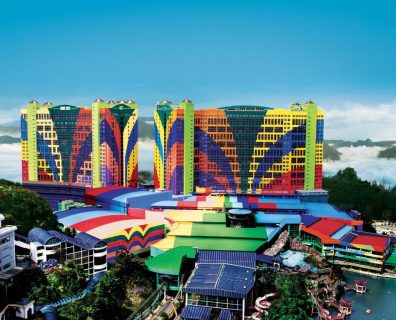 First World Hotel is the largest hotel not only in Asia but also in the entire world. It has a total of 7,351 rooms spread across 2 towers.
The 3-star hotel is a part of the First World Hotel & Plaza located at Resorts World Genting in Genting Highlands, Pahang, Malaysia. The hotel, shopping and entertainment complex is managed by First World Hotel, Resorts Sdn Bhd, a subsidiary of Genting Malaysia Berhad and Genting Group.
In addition to the hotel rooms, the plaza features a shopping centre that is home to a casino, retail and dining outlets. In addition, there is an Indoor Theme Park dubbed Skytropolis Funland and other attractions such as Snow World, Genting Bowl, Seni Kome Peng Heng, Big Top Video Games Park and the first Asian branch of virtual reality attraction The VOID.
First World Hotel was opened back in 2002.
2. Abraj Al Bait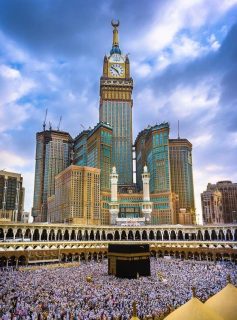 Also known as the Clock Towers, Abraj Al Bait is a government-owned complex of seven five-star skyscraper hotels in Mecca, Saudi Arabia.
The hotels in question are Makkah Clock Royal Tower-A Fairmont Hotel, Raffles Makkah Palace and Swissotel Makkah. The others are Swissotel Makkah Al Maqam, Pullman Zamzam Makkah and Movenpick Hotel and Residence Hajar Tower Makkah. Lastly, there is the Al Marwa Rayhaan Hotel by Rotana.
Also Read: Top 5 Largest Hotels in Europe
In total, the hotels have 6000 rooms making Abraj Al Bait the 2nd largest and the fourth largest hotel in Asia and in the world respectively. In addition to the hotels, the complex features restaurants, museums, residential apartments, and shopping centres. It also has a prayer area that can accommodate thousands of worshippers.
On the premises, there is a five-story shopping mall called the Abraj Al Bait Mall, along with a parking garage that can hold over a thousand vehicles.
3. The Londoner Macao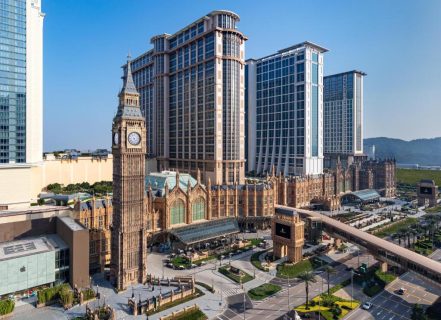 Owned by Las Vegas Sands this is an integrated 5-star hotel located on the Cotai Strip, Macau. It features four hotel towers the first of which consists of approximately 650 five-star rooms and suites under the Conrad brand. This tower also has approximately 600 London-themed suites, including 14 Suites by David Beckham.
The second tower comprises about 1,800 rooms and suites under the Sheraton brand while the third tower contains approximately 2,100 rooms and suites, also under the Sheraton brand. Lastly, the fourth hotel tower has about 400 rooms and suites under the St. Regis brand.
In total, the Londoner Macao has 5989 hotel rooms and it features approximately 351,000 square feet of gaming space and 369,000 square feet of meeting space. Additionally, there is a 1,701-seat theatre and about 525,000 square feet of retail space with more than 130 stores. This space is also home to more than 40 restaurants and food outlets featuring an international assortment of cuisines.
Before 2021, Londoner Macao was referred to as parcels Five and Six, and Sands Cotai Central.
4. The Ambassador City Jomtien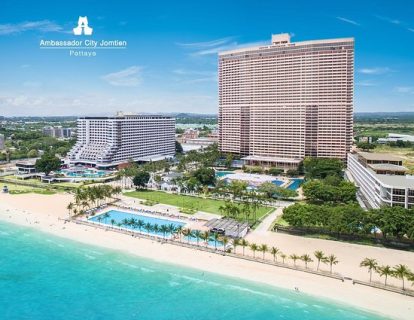 The Ambassador City Jomtien is a 3-star large hotel and convention centre at Jomtien Bay, near Pattaya, Thailand.
The 4,210 rooms hotel occupies a 40-acre piece of land. It consists of 5 buildings each of which contains 150 to 2,000 suites. In addition to the hotel rooms, the facility comprises eight restaurants, several bars and nightclubs.
Furthermore, there is a convention centre, sports centre and what is claimed to be Asia's largest swimming pool.
5. Sheraton Grand Macao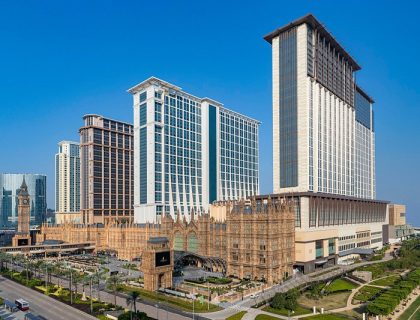 With more than 4,000 rooms and suites, Sheraton Grand Macao is the world's largest Sheraton and the biggest hotel in Macao. The 5-star hotel is designed for both business and leisure travellers and is conveniently located in the heart of the Cotai Strip.
In addition to the hotel rooms, the hotel is home to a 4,891-square-meter Kashgar Grand Ballroom with a capacity for 5,000 guests. Other features and amenities include the Shine Spa for Sheraton, an outdoor pool with private cabanas and a buffet with international favourites and local specialities at Feast.
Sheraton Grand Macao is also a conservatory that is home to three dining experiences.