Below is a list of 5 Mega Ongoing Projects in California, a constituent state of the United States of America, the most populous and the third-largest by area.
California is considered a worldwide trendsetter in popular culture, including the areas of entertainment, sports, communication, information, innovation, environmentalism, economics, and politics. It is the home of Hollywood, the oldest and largest film industry in the world.
California High-Speed Rail bullet train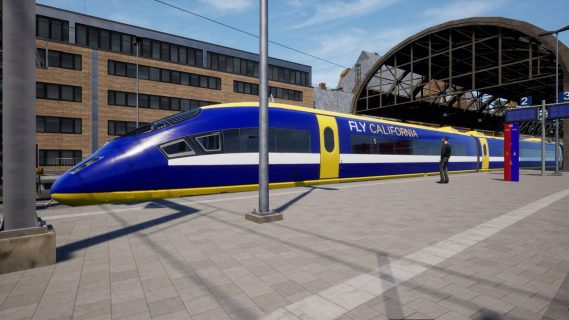 California High-Speed Rail (CHSR) is a publicly funded high-speed rail system under construction in the U.S. state of California. It is projected to connect the Anaheim Regional Transportation Intermodal Center in Anaheim and Union Station in Downtown Los Angeles with the Salesforce Transit Center in San Francisco via the Central Valley, providing a one-seat ride between Union Station and San Francisco in 2 hours and 40 minutes, a distance of 380 miles (612 km).
Also Read: Top 5 ongoing mega projects in USA in 2020
Being America's most expensive construction project, California's new high-speed rail network is now set to cost a hefty US$ 100bn as costs continue to spiral, and it is scheduled for completion in 2033.
2. Richards Boulevard Office Complex (RBOC)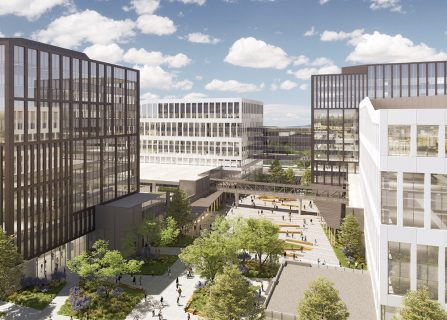 Designed by Dreyfuss + Blackford Architecture in collaboration with ZGF, the RBOC is a campus environment with buildings that will include people-focused podiums, office towers with a variety of amenities, and a workplace model with flexible spaces that will continue to serve future generations of California state employees.
The project comprises four office buildings, a parking structure, and a landscaped town square connecting the campus and it is set to exceed Title 24 by more than 15% and achieve the lowest practicable Energy Use Intensity (EUI).
The US$ 1bn project is set for completion in 2024.
3. Los Angeles International Airport Landside Access Modernization Program (LAMP)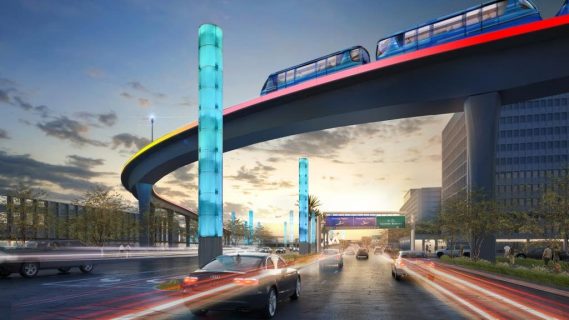 The $5.5-billion Los Angeles International Airport (LAX) Landside Access Modernization Program (LAMP) is a transport infrastructure that upon completion will give airport guests choices that provide a first-class, swift, convenient, and reliable way to access LAX.
The project includes five major elements which are a 2.25-mile Automated People Mover (APM) that will connect three on-airport stations to Metro Rail and transit services; a Consolidated Rent-A-Car (ConRAC) Facility; two Intermodal Transportation Facilities for additional parking, ground transportation services, and meter-greeter activities; and roadway improvements.
The ITF-West facility whose foundation works haves already begun will open in 2021 and the remaining major elements are scheduled to be delivered by 2023.
4. The Grand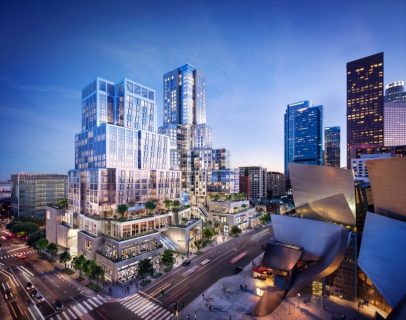 Named after its location on Los Angeles's (LA) grand avenue, 'The Grand' is one of the largest mixed-use development in the Californian city. Designed by architect Frank Gehry, the project is currently over 70% complete and it is set to open in early next year, according to Rick Vogel, the senior vice president at Related Cos., the project's developer and contractor.
The US$ 1bn development will feature over 176,000 square feet of retail space anchored by a collection of restaurants and shops and a movie theater complex. It will also include an equinox hotel and more than 400 luxury residences, of which 20% will be deemed 'affordable'.
5. Academy Museum of Motion Pictures Museum and Theater Complex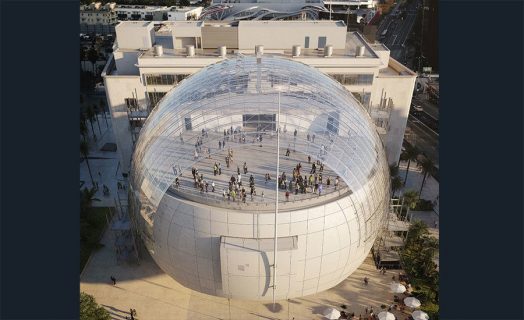 The eye-popping museum and theater complex that is being implemented by the Academy of Motion Picture Arts and Sciences in Los Angeles, California is set to open in September this year after approximately eight years of planning and construction.
Designed to resist future seismic forces and appearing to defy the laws of gravity, the infrastructure will be the nation's first large-scale museum entirely dedicated to the art, science, craft, business, and history of film. The permanent and rotating exhibits will enable visitors from all over the world to explore the cultural and creative contributions that Hollywood and the film industry have made around the globe.
The US$ 500M was designed by Pritzker Prize–winning architect Renzo Piano with Renzo Piano Building Workshop and Gensler and executed by MATT Construction.