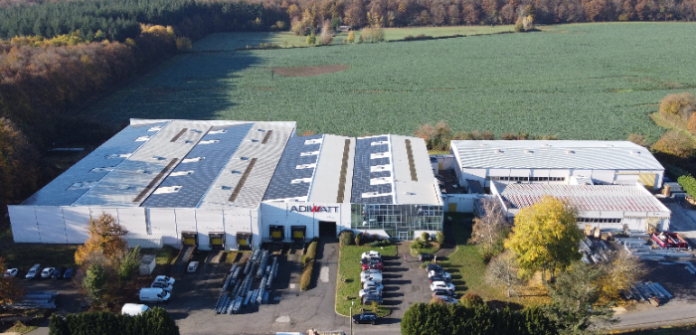 ADIWATT is a company created in order to become a world leader in the manufacture and distribution of photovoltaic structures. Specializing in steel processing, the company designs, manufactures and implements PV installations in Europe, Africa and the Middle East for the world's leading construction and energy players.
Speaking on African presence Maxence Delaunay the Head of Communication says, "We can export our products anywhere in the world, so we can supply projects anywhere in Africa. We don't have a remote stock on site but that's not a problem and it could be something we work on.
We have a team in India dedicated to East Africa, for the rest, projects are managed by our sales team in France. The largest projects the company has involved in Africa are Solar field in Morocco – Nestlé and Solar field in Senegal."
AdiWatt designs the support structure and adapts it specifically to the particular conditions of each site, in order to allow optimal use of the area. Thus, in order to guarantee the correct functioning of the proposed photovoltaic installation, a specific analysis is carried out according to the needs of each customer.
The goal of ADIWATT is to increase current market share and get closer to all their clients to make it much easier to fulfil their needs. ADIWATT staff is technical and sales specialized in the PV market, with long experience in manufacturing, designing and marketing.
To stay relevant in a competitive market, Delaunay adds that, "All our products are coated with Magnelis® from Arcelor Mittal, which is guaranteed to be corrosion resistant for 20 years. Our systems are checked by control offices. We have developed systems for all types of roof integration, carports and solar fields.
Furthermore, thanks to our integrated design office we can study specific projects and provide adapted answers. Our sales team is available to answer all the questions that the clients may have.
With an integrated design office, a high-performance industrial tool and production capacity on 3 sites in France, Spain and India, we have created some of the most prestigious photovoltaic installations, in roofs, shade houses and solar fields."
As added value, ADIWATT has his own assembly staff, which throughout its extensive experience has developed the knowledge to install structures in any place and any condition.
The company being a customer-oriented, their machines are robotized to maximize their productivity and reduce production costs, which allows them to increase the company's competitiveness and offer their customers the best prices to meet their needs.
They are proud to be an independent industrial company that has won and kept the trust of its customers. With an integrated design office, an efficient industrial tool and a production capacity on 3 production sites in France, Spain and India. They have created the most prestigious photovoltaic installations, in roofs, shades and solar fields. The company have been able to export their know-how to three continents and contribute to the fantastic development of renewable energies .
Since 2015, AdiWatt has been one of the pioneers in the introduction of Magnélis® anti-corrosion coatings according to standard EN 10346: 2015 in its manufacturing process.