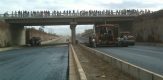 An Egyptian Construction firm Arab Contractors Company is set to enter into the Kenyan construction market and commence operations in the fields of roads, bridges, and other general infrastructure opportunities.
This decision was decided upon after the two countries, Kenya and Egypt met and discussed on the possibilities of being effective in the road construction field.
Search for construction leads
"The current area of cooperation with the Kenyan side is in road construction, which will be financed by the Islamic Bank of Kenya. This will be the entry point for the Arab Contractors Company here. Besides, there will be a study to determine how to ease the traffic problem to and from the main airport in Nairobi," said Ibrahim Mabrouk, head of the company in Africa.
This initiative of introducing a new comer into the Kenyan market will see many companies facing stiffer competitions for tenders in the sector that has been highly dominated by Chinese companies.
The Arab Contractors Company is one of the leading construction companies in the Middle East and Africa. Their 77,000 employees work in collaboration with their customers, partners, and suppliers in more than 29 countries.
The company has a wide experience and cover a wide spectrum of the construction industry and its ancillary services including: Public buildings, bridges, roads, tunnels, airports, housing, water & sewage projects, wastewater treatment plants, power stations, dams, hospitals, sports buildings, restoration of monuments, irrigation, producing ready-mix concrete, shipbuilding, electromechanical projects, engineering consultancy, manufacturing and assembly of steel structures among others.