BIA Renewables offer innovations in Solar Power which include: Corrugated Metal Solar Panels, Laminated Solar Panels, and The Solar Pillar. The firm also offer the latest in Glass Solar Panels.
The company work with solar installers, general contractors, business owners, equipment manufactures, and home owners to satisfy their solar power needs, and giving their clients undivided attention servicing them one at time.
Popular Products
Search for construction leads
Their most popular product for Africa is The Solar Pillar. This product represents a break-through in solar power. Just looking at the Solar Power you can see why. The Solar Pillar is vertical solar power, solar power on a pole.
BIA Renewables use a composite pole that is 45 feet in length, comes in four sections which makes it easy to carry by two people, and can be hand assembled. There is a jib available to lift the sections into their vertical place, which means no crane is necessary. This Composite pole can withstand 180 MPH Winds that is a Class 5 Hurricane.
A single solar panel, called Solar Silo has been mounted on top of a 20' Utility Pole powering an OFF GRID security system. The security system included a fisheye camera with IR lights and wireless communication. The fisheye camera provides either a 360 or 180 degree view, with the software that can take any point on the view and zoom to a flat view. This can be done for four locations from the same camera image. The image can be monitored 24 / 7 and provides a great view at night with the IR Lights. IR Lights cannot be seen by the Human Eye, but lights up the night for the camera to see up to 50 feet away. The night image is enough to see details that can be used by law enforcement.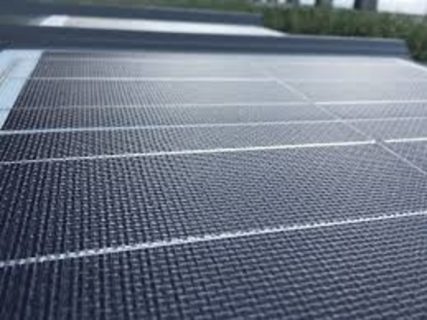 This OFF GRID Solar Power has a Lithium Battery Supply that is recharged every day by the Solar Silo. The MPPT Charge Control (which has Bluetooth Capabilities) that takes the power from the Solar Silo and places it into the Lithium Battery. The Bluetooth feature provides charging and load data directly to your smart phone. This means you can monitor the system performance from the ground! The Solar Silo with a complete Security System can be remotely installed anywhere, completely OFF GRID!
Security systems
There are options for larger security systems, up to drone charging stations. Solar Powered Security Systems can be used on at any remote location. Security can be provided to remote parking lots, high power lines, pipelines, mall parking lots, sport centers, basketball / tennis courts, parks, safety zones inside cities, agriculture fields, ranch land, construction sites, and jogging / bike paths.
Innovations in Solar Power is here with the implementation of The Solar Pillar. This brings renewable energy to the individual level. The applications are also for businesses and energy companies. This product represents a tool for energy companies to manage their power. Since The Solar Pillar is located where the load are, no longer is solar power in a farm and sent many miles into the city. The Solar Pillar can be located next to homes and businesses. Multiple Solar Pillars can provide enough power to offset a power overload on a sub-power station. We can also attach Solar Silos to existing Utility Poles and supply additional power, without adding much to the transmission costs. The Solar Pillar can be seen as a management tool by power companies as well as businesses and individuals.
We are beginning to provide new applications of Solar Power with the use of Solar Pillars. We have a Reverse Osmosis Water Filter System that runs completely off solar power. An option of adding ICE making to the RO System makes Solar Power COOL! Yes we can filter over 4500 gallons a day with 5 tons of ICE in a trailer, all powered by The Solar Pillars!
BIA Renewables does not only provide the Solar Power, they also provide the complete kit which may include: Solar Panel MPPT Charge Controller or Inverter AGM or Lithium Battery and Application What makes us different is that the customer will have a complete working system with no effort on their part to find the complements to make it work. The "Turn KEY" kit means we provide the complete package, so all you need to do is flip the switch to turn it on.