At a time where technology is a dominant subject throughout every industrial sector, the influence of this asset in the scaffolding industry is a topic that cannot be put aside.
While introducing technological means in an area whose working methods are sometimes still very traditional can be seen by many as a channel for innovation, higher safety, and productivity – especially when considerable cost savings are the ultimate reward – some still resist and insist in a pricing battle that in nothing helps scaffolders and or end users.
Search for construction leads
Catari, as a promoter of good practices in the industry, aims, based on its slogan "Solutions holding your ideas" and as part of its strategy to serve the industrial sector, at offering its customers higher savings through innovative and customer-oriented approaches.
The constant investment in new and highly developed manufacturing machinery, for example, is something that Catari plans on keeping. For Catari, it means not only a faster and more accurate manufacturing/production process but also the possibility of continuous improvement. For its customers, it means safety and reliability.
Embracing a clever design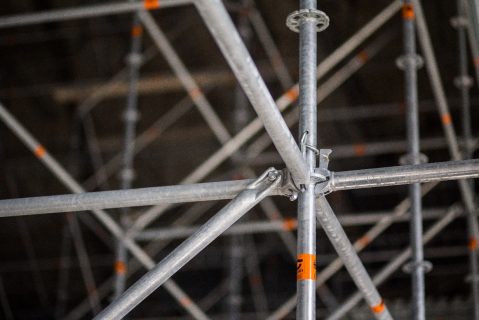 Catari  Universal System (Catari US®) is usually recommended by Catari for industrial maintenance and construction projects and clients looking for a resourceful scaffold system.
Due to its cost-effectiveness, and the possibility it offers of reusing its components for the most diverse type of applications, the product targets the most demanding projects and reduces investment in procurement and purchase activities, which are costly and time-consuming.
The higher load capacity of the system, endowed by the high-quality steel with which it is manufactured, translates into less items per square meter and therefore less costs with scaffolding and transportation.
Its hot-dip galvanisation finishing awards a longer lifetime to the product and opens them a door for long-term savings.
Finally, the certification in accordance with the European norms for scaffolding (EN 12810-1), is another proof of Catari's commitment with progress. This certificate assures that the scaffold is produced and tested in accordance with all the safety standards.
Working smarter, not harder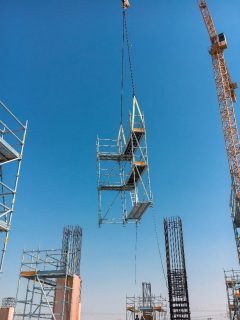 This is a concept that the technological revolution is boosting more and more and that is gradually being transported into the scaffolding industry. Compared to the most traditional systems, Catari US® will considerably take companies' productivity to another level.
As its components have pre-defined dimensions and pre-defined connection nodes, the system is self-explanatory, reducing the time and investment in training and labour. When complemented with the existing portfolio of accessories, it overcomes any constraints found on site and adapts to every structure, no matter its complexity.
Besides, its rigid connections allow it to be lifted by crane once assembled, waiving multiple erections and ensuring the work is completed within the required timeframe – an edge to get that desired contract.
Ceasing on unnecessary costs and risks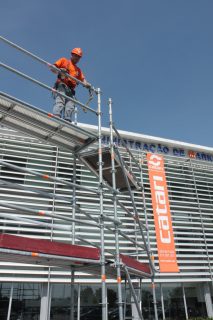 The price of anything is the amount of life you exchange for it.
The amount of chemicals and flammable products used in industrial environments are a shortcut for fires and other disasters. Therefore, it's important for companies to consider this when conceiving their scaffolding systems.
One way Catari found to ensure that the safety of its materials handlers wouldn't be compromised, was by developing flame retardant components.
The other was by providing training to these same users. The more scaffolders know how to identify non-conformities both on materials and structures and to prevent possible hazards, the fewer are the odds for these events to take place.
While structures complying to standards are likely to get immediate approval from HSE teams, unapproved structures might cost companies considerable time and money. These will not only require additional workforce but also put on hold the jobs for which the scaffold will be needed, which may result in avoidable penalties and disappointment from the customers.
Besides, other kind of penalties and costs arising from work accidents are the ones related to insurances. These are also additional charges that can be avoided when choosing the safest option.
3D Modelling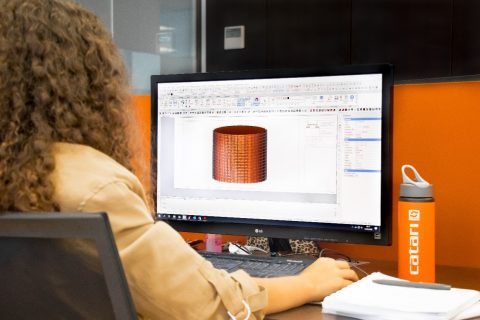 By investing in design and calculation software, Catari has boosted not only its internal productivity but also its customers'.
The scaffold design process now much faster and automated, gave Catari's engineering team a whole new perspective to anticipate on-site troubles and avoid them. This turns out to be an added value not only for scaffolders but also for contractors, since both will have access to a 3D preview of how the scaffold will look like once assembled.
By introducing all items' technical information on the software, Catari's engineers can also quickly run a static calculation report to assure that the scaffold complies with all standards, and it is safe to use.
Making a wise purchase
If it's true that a company's level of technological investment does not determine its business success, it is also true that the higher this investment is, the closer this company will be to achieve an efficient project management and higher cost savings.
In this regard, even though the pursuit for progress through high-end products and software might be seen as expendable and only accessible to a few, it is arguably questioned when faced with data.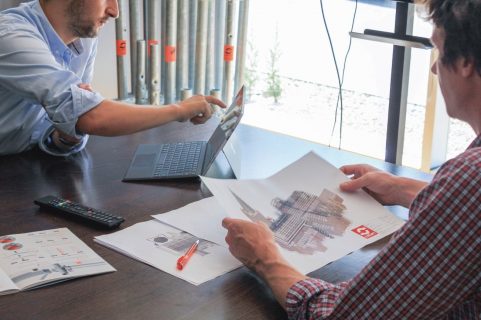 As experts in scaffolding for industrial maintenance and construction projects, with proven record in optimizing their customers' profit margin, Catari's teams will help you validate this thesis.
Explore Catari US® scaffold and get a free brochure