Çeksan is the most advanced and mechanized cleaning equipment manufacturer currently exporting road sweeping equipment to more than 50 countries in 6 continents. The company prides itself in serving its customers in many parts of the world.  With more than 30 years of experience, the company produces special solutions according to customer expectation since they know the world road conditions and what their customers expect from them.
For years, Ceksan has been focused in providing strong sweepers with high performance supported by permanent technical support. The company never compromises its quality neither in the past or at present and is sustaining activities in order to develop its vision. The secret to the company's successful turnover is their high quality brand.
All design and prototype studies of the sweepers are done by Çeksan R&D Center which is officially approved by the Ministry of Industry and Manufacturing . Every product undergoes stringent quality control tests at all stages at Çeksan's own plant without outsourcing before delivery.
The company exports its products across the world and has  setup a quality and trustable brand in this field. They are innovation and provide reasonable pricing and prompt delivery with the customers' needs in mind.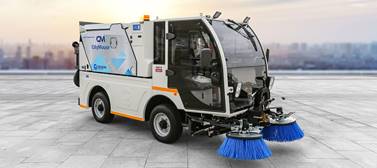 Technical Service and Support
Çeksan does not only give information to the operators about usage of the machines but also explains the warranty conditions and efficient sweeping methods while offering training free of charge. Working closely with their customers, and the best equipment backed up by the best service and support infrastructure across the complete range makes the company to stand out in this competitive market.
Products
The company manufactures many kind of products like: CityRay, CityEagle, CityMouse, Cammello, Hamarat, BatteryFLY,SmartBee to name but a few.
CityRay
It provides high performance at lower cycles by the choice of right auxiliary engine utilized on its top structure. It ensures fuel savings and more silent working environment. In order to maximize useful life of brush, its pressure to the surface can be adjusted. Optionally, such pressure setting can be made from inside the cabin. It provides optional system reducing rotating speed of brush preventing unnecessary wear. In order to minimize dust in the environment, waste is humidified at correct points throughout the suction line.
Engine- fan connection is made through torque convertor on the CityRay in this way, engine life is extended and maintenance costs resulting from replacement of clutch lining is prevented.  Thanks to flexible design, top structure can be easily mounted to different chassis vehicles of different sizes.
CityEagle
CityEagle is ideal for use both in the city centers, and also over long distances. Materials collected by conveyor is directly loaded into the hopper of the machine. All critical controls are maintained in a purpose built locker on one side of the machine. Ergonomic and user friendly control panel allows the driver to run all the functions of sweeping.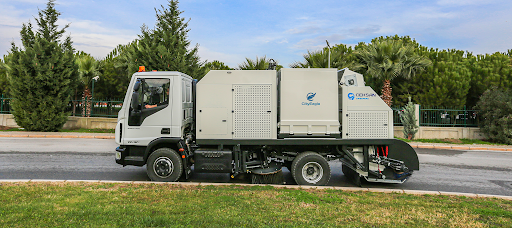 It loads coarse waste material quickly and directly from the road into its hopper and operates on a mechanical basis without suction. Kubota® brand motors which meet the highest expectations for emissions and environmental impact are used in order to provide maximum power and reduced fuel consumption. It is designed for heavy works and is capable of sweeping every kind of debris such as sands, waste generated as a result of heavy winter conditions, mass of household garbage, stones.
Parts and Warranty
After Sales Service, the company organizes periodic training for operators, shares all maintenance schedule as earlier as sales process in order to ensure full valid warranty conditions, and establishes an easily and fast accessible network for spare parts supply. The company is outstanding with assembly services for all machines sold either in place or in the factory, periodical maintenance and repair services and spare part supplies.
When a technical issue rises beyond capabilities of customers to solve, the firm provides an in house team of experts. Whole product range is assured under Çeksan warranty conditions. The company guarantee ten years spare part supply to their partners.