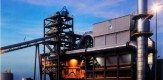 Construction chemicals manufacturer, The Chryso Group is set to open a new research and development facility at their South Africa head office in Jet Park. Chryso Group will use the facility as a launch pad to increase penetration into the African continent.
Chryso's global CEO Thierry Bernard announced this during a recent visit to South Africa. During the visit, Bernard met with Chryso executive VP Norman Seymore, who is also Chryso Southern Africa's CEO.
Search for construction leads
According to Bernard, Chryso, an international company doing business in more than 70 countries with 20 subsidiaries, regards Africa as one of its most important markets.
He said a total of about 25 per cent of their total sales are to African countries, with South Africa and Morocco being their major markets on the African continent.
"Our operations in South Africa have yielded substantial capital investments in recent years and we want to use South Africa to drive further investments in Africa in future," added.
He also pointed out on the need to maintain and improve the service offered to customers throughout their operations in South Africa.
The new Research and Development facility in Jet Park will be equipped with the most modern, high-tech facilities and will include, to an extent, the R&D equipment we operate in France, Turkey and India.
It is a move aimed to counter the growing need to develop certain products for the African market and for more efficient and prompt testing services for Chryso customers in sub-Saharan Africa.
Bernard explained that the construction industry today demands innovation and new philosophies and techniques solutions to twenty-first-century building challenges which are important motivation for opening the new research and development centre in South Africa.
"Based on its offers, the R&D centre will be unique in its field in South Africa. Local demand in the field of construction chemicals has to be catered for from the industry's doorstep, not from another continent," he said.
Bernard highlighted that Chryso planned to expand its African presence even further than the recent opening of production facilities in both Kenya and Algeria.
Chryso is currently targeting three areas in particular, these being Egypt, West Africa – particularly the French-speaking countries such as the Côte d'Ivoire. Senegal comes in second, where the company is already doing business and Nigeria. Chryso's penetration in these countries is set to be carried out over the next two to three years.
Chryso also plans to increase its operations in Sweden where a production facility to serve the Scandinavian market is on the cards, alongside Middle East Gulf Cooperation Council country where the establishment of Chryso operations has virtually been finalized, with an announcement in this regard set to happen before end of this year.
South-East Asia is yet another region where the group plans to increase its presence. Bernard pointed out that the volatility of African countries' economies and unexpected slowdowns trigger selective expansion plans and also too much dependence on one particular country.