Hollow core slabs are a popular and reliable building material known for flexibility, long life span and structural efficiency. Ultraspan is a trusted hollow core machinery and other hollow core equipment that together make exceptional hollow core production system.
From basic production lines for low budget projects to fully automated facilities. UltraSpan supplies complete hollow core equipment solutions for precast plants. Production is independent from weather conditions.
Indoor hollow core solution. When does it makes sense?
Highest control over product quality and concrete curing conditions
Higher level of automation possible
Easier to install overhead cranes and concrete delivery systems
Superior conditions for labor, resulting in higher productivity
Search for construction leads
The outdoor solution:
Common in hot climates, tropical geographical areas
Lower infrastructure costs make it a more affordable solution
Increase in production capacity can be done at lower cost
Weather conditions may interfere with production (heavy rain, thunder storms, ice)
Labor exposed to the elements = decreased productivity
Ultra Span's equipment is built ready for any weather conditions, but some components will rust at an accelerated rate compared to indoors operations
Difficult conditions for process automation
Lower control over curing process and product quality
Hollow core slabs offer many advantages, including:
Speed of construction
Speed of erection
Immediate uncropped working platform
Minimum site in-situ concrete
Long spans
Diaphragm action
Flexibility of design
Performed site services
Structural efficiency
Factory produced to rigorous quality standards
Complete hollow core machinery and equipment solutions
As a hollow core machinery manufacturer, UltraSpan supplies complete hollow core machinery and equipment solutions for precast plants. Our products include hollow core machines such as:
Extruders , Slipformers, Concrete saws, Plotters, Erection clamps, Lifting clamps, Casting pallets and Production service vehicles.
With the acquisition of these hollow core machines, a precast plant can be fully equipped with a full hollow core production system.
Hollow core machinery manufacturer for any type of production
UltraSpan provides hollow core solutions for both indoor and outdoor precast concrete plants. Our hollow core extrusion machinery and production systems are built with versatility in mind, making for easy adaptation to both indoor and outdoor environments.
UltraSpan also offers mobile equipment including specialized equipment such as:
Mobile maintenance trucks
Power generators
Mobile batching plants
Water supply equipment
Ultra Span supplies complete solutions for precast plants. From very basic production lines for low budget customers to high tech, fully automated facilities.
The mobile solution:
Good for operations and conditions similar to the outdoor solution
Ideal for producers that intend to bid on projects in remote areas
Ideal for producers that see high transportation levies and fees on their products
Plant can be disassembled, moved and reassembled in a new location at minimal cost
Plant can generate income from other operations (e.g. ready mix)
Plant can generate temporary employment for people in the local area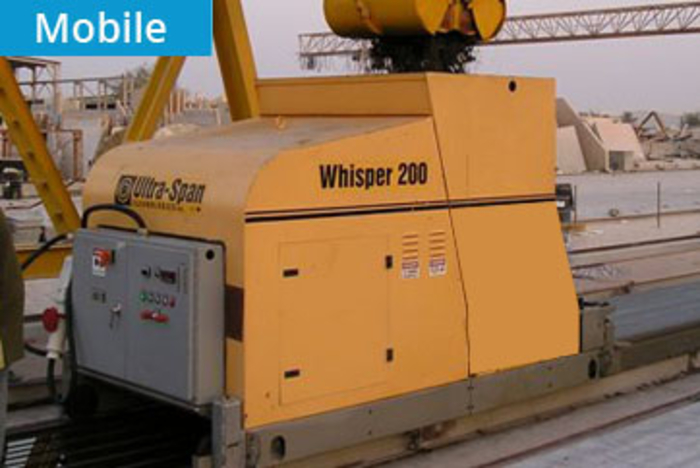 THE ULTRASPAN DIFFERENCE
At UltraSpan, they aim to deliver quality results without cutting any corners whatsoever. This is why they make it their goal to work as closely as possible with their customers in order to ensure a smooth and prosperous partnership. Their simplistic hollow core productions systems are easy to use and hassle-free, making it easier for clients' precast concrete plant to operate at a higher level of productivity.
About UltraSpan
For over 50 years, ULTRASPAN has been supporting precast producers improve their operations. They started by building simpler, smarter equipment with fewer components that used less material. That allowed producers to increase throughput and avoid downtime and costly maintenance hassles.
Over the years, they have worked hand-in-hand with precast producers to evolve their solutions. The company is inspired and driven by customers to focus on what matters – equipment designed with simplicity in mind that increases throughput, reduces downtime, and drives increased profitability. They collaborate with customers over the long-term to ensure they achieve the business results they seek.
In 2013, ULTRASPAN became part of the PROGRESS GROUP. With over 500 combined plants worldwide, manufacturing facilities in four countries, local offices in all continents, a complete product range, and more sales and customer service personnel than any other competitor, the Group continues strengthening its leadership in the industry. Their strength, experience, resources and commitment to the industry is firms customer's peace of mind for any project size.