Airius Europe Ltd is an award winning air circulation specialist focusing on the process known as thermal stratification.
Across The World rising energy prices have resulted in research into reducing energy consumption within buildings. While there are many energy saving technologies available, thermal destratification is rapidly becoming recognised as the most ground breaking, unique and remarkably cost effective energy reduction solution when used in conjunction with cooling systems available on the market.
Thermal stratification is the temperature gradient between the floor and ceiling due to the natural phenomenon of thermal resilience. The Airius destratification system is the perfect solution to improving the efficiency of air conditioning and cooling systems, reducing energy consumption, running costs and carbon emissions by 20% – 40%.
Any building which is artificially cooled with a ceiling height from 2.5 to 38 metres will benefit from the Airius system. Highly energy efficient, Airius fans circulate cooled air more efficiently to balance temperatures and improve internal environments that will eliminate hot and cool spots, make air-conditioning systems work less and prevent large internal atmospheric losses each time doors and windows are opened.
In 2013, in response to requests from facilities managers, architects and building owners for a more stylish design, Airius launched the Designer Series range. This new range offers the same features, benefits and technology as the Standard Series that can be tailored to any custom RAL colour to compliment all architectural designs – saving you energy in style!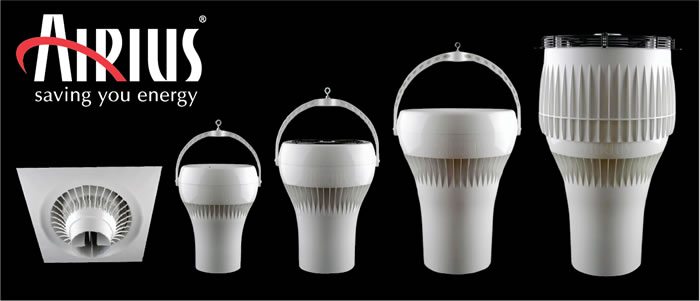 In 2014, Airius launched the PureAir Series. These fan units not only provide destratification, but also include a highly efficient air purification and odour control system to reduce viruses, bacteria, gases, mould and odours by more than 90%, creating clean, healthy and odour free indoor spaces.
Since launch in 2006, Airius has seen a significant success and growth in sales, with over 85,000 fans sold worldwide.  Airius has a number of 'real-world' success stories demonstrating how the team has worked closely with customers to overcome a variety of different energy reduction and environmental issues.
Priding itself on offering the highest standard of service and support for all its customers no matter their geographical location, Airius offer to provide detailed quotations and proposals, energy reduction estimates, installation placement guides, as well as post sales follow ups to ensure customer needs and expectations are met.
Contact
Website: www.airius.co.uk