Effective sewerage systems are an essential element of infrastructure planning, development and maintenance. They ensure that communities live in hygienic conditions through the collection, conveyance, treatment and disposal of wastewater in a non-hazardous manner to people and the environment. A critical function of sewerage systems is to prevent water-borne diseases from becoming active.
The success of such systems is dependent on the design of the system, good quality materials and products, good installation and construction practice and continuous monitoring and maintenance to ensure their effectiveness is not compromised during their service life.
Search for construction leads
Rocla, a leading manufacturer of precast concrete products is an ISO 9001(Quality Management System) certified company and manufactures sewerage system products carrying the CMACS Mark of Approval.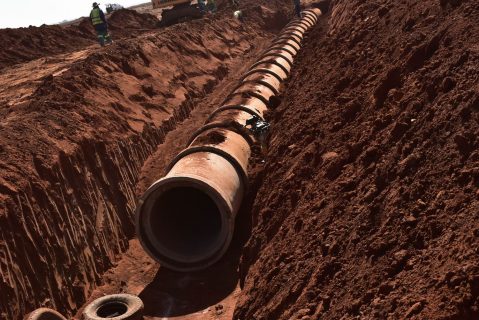 The range of products that Rocla offers in terms of sewer reticulation are:
Reinforced concrete pipes with HDPE lining – The HDPE lined concrete pipe offers the advantages of a conventional concrete pipe as well as a plastic pipe in that it maintains its shape under load and is inert to acid attack. They are an ideal product for large diameter gravity pipelines in almost any condition. The standard HDPE lining is light green and 3mm thick. A HDPE capping strip is welded over the joints after installation to protect the exposed concrete at the joints from corrosive products. These pipes are available from 750mm diameter pipes.
Reinforced concrete pipes with a sacrificial layer – The company manufactures the following types of reinforced concrete pipes with sacrificial layer: The host pipe is manufactured from ordinary Portland cement (OPC) concrete with either dolomitic or siliceous aggregate and the sacrificial layer is manufactured with dolomitic aggregate in an OPC concrete or calcium aluminate cement (CAC) concrete.
Reinforced concrete pipes with Xypex BIO-SAN C500 – Concrete pipes with Xypex BIO-SAN C500 are offered for 300mm to 600 mm diameter pipes. Xypex BIO-SAN C500 is a uniquely designed
admixture for integral, long term protection of concrete in harsh sewerage conditions with high levels of H2S that causes microbial induced corrosion in pipelines.
Infrastructure Accessories
Supporting precast concrete sewerage accessories include:
Pipes with access hole
Bends – custom made bends of up to 30 degree can be supplied
Manholes – HDPE lined manhole chambers, reducer slabs and cover slabs
Rocla products have been utilised in the Waterkloof Quarry and the Nellmapius Ext 22 housing project both in Pretoria, as well as for the Polokwane Eastern Ring Road and rehabilitation of the D528 in George's Valley and the Great North Plaza in Limpopo.
Projects in Cape Town and Mozambique have also sourced the expertise that Rocla can offer when it comes to infrastructure specialist requirements.
Rocla is part of the ISG which also includes Technicrete.
Further information is available from:
Malebusa Sebatane, Group Marketing and Communications Manager
the IS Group Tel: 011 670 7600 Cell: 078 803 9863
email: [email protected]
Issued on behalf of the IS Group by: SJC Creative
Contact Sue Charlton Tel: 0877013860
Cell: 082 579 4263
email: [email protected]