El-Fateh Group is an Engineering group that designs, fabricates, and constructs different projects in a portfolio that spans across different sectors including:  Steel Structures, Caravans, Special fabrications, Steel Towers, Plate works, Commercial Vehicles, Cladding Systems and sandwich panels.
The company provides highly qualified steel structures, special fabrications and plate works (design and fabrication according to international codes) under consideration of all export quality requests (ISO and EN1090 certified) for a wide variety of infrastructural and industrial applications. This includes deliveries for the construction industry, the cement industry, the oil and gas/petrochemical industry, power plants including renewable energy, infrastructure, and airports/stadiums including other architectural steel-glass constructions.
El-Fateh is unique for their expertise in Designing, Engineering, Detailing, Production, Erection, and Shipment (CIF or DDU basis).
Projects
Since the end of 1986 , El-Fateh has built and developed more than 1,000 Projects in more than 25 country (Egypt, Sudan, Austria, Netherlands, Rwanda, Libya, Nigeria, Iraq, Yemen, Saudi Arabia, Qatar, Algeria, Angola, Djibouti, Madagascar, Russia, and Turkistan, etc
El-Fateh considers Africa an important market for their products. Their products could be exported to all Africa. However, the company is doing very good business in Africa. Below are some of their projects they have executed in Africa:
Prime cement plant in Kigali, Rwanda.
Dabasein Bridge in Sudan
• Cadbury industrial plant in Nigeria.
• Main plane hungers for Luanda in Angola.
• Al Aqareyya plant in Libya.
• Kehela irrigation, White Nile, and Jazeera (MW and RSG) gates in Sudan.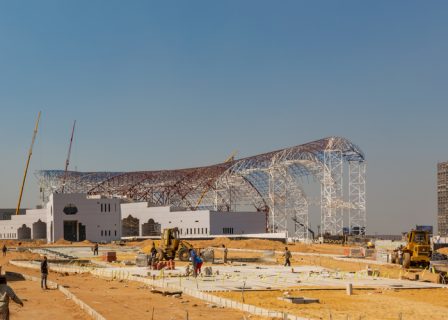 The company's offices and plants
The company already has two offices in Sudan and Libya. They are looking forward to establishing further two sales offices one in East Africa and other one in West Africa.
They have two plants in Egypt. First, in Beni Suef industrial zone with about 30,000 m2 total area. Second, in 10th of Ramadan city Industrial Zone with about 13,000 m2 total area. Their production capacity is 1,200 Ton/month of fabricated steel structures, which can be exceeded as they can rent and operate industry plants, depending on the project demands.