Elba Lubrication Inc.,USA  focuses on building the highest quality lubricants and backing it up with uncompromising customer and technical services. They are recognized as one of the best leader in synthetic lubricant and their product of over 540 products can service almost any industrial application.
The company was created by a group of enthusiastic people who have been working for major oil companies for many years. More and more they didn't feel comfortable with the culture within these companies; slow, large and very impersonal. During the last couple of years, major merges between oil companies have made things even worse.
Very often the contact with the customer appears to be little or even doesn't exist. These large oil companies reduced their R&D facilities to a minimum which have resulted in no further development of products and applications
High-quality base stocks
Along with finding solutions to unique lubrication problems, their research staff is constantly evaluating the latest base stock and additive technology to provide our customers with the best lubricants on the market.
The company has the flexibility to choose from the entire range of high-quality base stocks available to formulate the best lubricant for each application. Elba's commitment to an ongoing research and development program keeps its products on the leading edge of lubrication technology.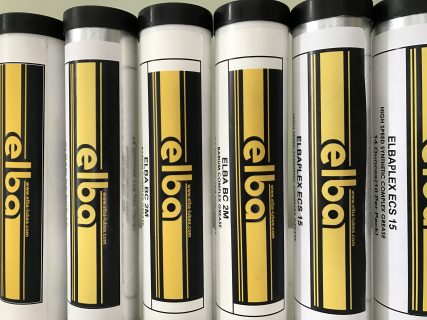 Leading manufacturer
Elba is the leading manufacturer, formulator and packager of a complete line of Specialty Lubricants/Food Grade lubricants for a wide range of industries. They market their brand of Elba Lubes through a worldwide network of Industrial distributors. The firm utilizes the latest in lubricant technologies.
Elba lubrication Inc, sincerely focus on their business, extending presence worldwide and meeting the demands of their customers – no matter what the business of our customers is. The company's products have the reputation of being problem solvers, as they are known to handle the most extreme lubricating conditions.
"Depending on your requirements we can draw from our extensive catalog of stock products, or we can develop a custom formulation that specifically meets your needs. Our lubricants are available in a wide array of container sizes or we can offer custom packaging," says Jason Well, the Sales Director.
More than 75 % of their turnover is attained outside USA Elba specialty oil and greases used in Industry and different mechanical parts such as linear guides, screws, sintered-metal plain, bearings, rolling bearings, gear rim and pinion drives, valves and fittings, springs, gears, plain bearings, chains, compressors
Elba Greases
The following should serve to enable you to discern an application and address it in the proper manner, making the proper recommendation for usage. Elba Greases are suited for most of the applications you encounter and will perform much better than the grease already being used, especially if there are lubrication problems encountered due to friction-related heat and wear.
When it comes to water resistance, dropping point, mechanical stability, shear, oxidation, rust and corrosion protection, pump ability, dispensable and anti-wear capabilities, no other multipurpose grease can compare on either quality or price. Their products are truly the all-temp/water resistant/anti wear grease of the new millennium. It saves and pays to use Elba greases.
Gear Oil Additive Package
Obtaining optimum Extreme Pressure (EP) performance without sacrificing efficiency or cleanliness is a delicate balancing act for gear oil additives. The additive chosen needs to be carefully designed for the extreme nature of the varied industrial applications. This allows for acceptable gear oil life to ensure maximum production and reduced downtime.
Industrial gearboxes operate in different environments. As a result, the oil may be exposed to variations of extreme temperatures, loads and contaminants. Elba gear oil additive package has been formulated specifically to meet those challenges. Formulations containing Elba gear oil additive package maintain a high level of cleanliness helping to protect gear components.
Elba Lubrication Inc is also thermally very stable to maintain performance in the toughest applications and environments. In addition, the excellent EP performance of Elba gear oil is maintained across a broad range of viscosity grades providing the right balance of efficiency and durability for optimum performance.