Evolve Investment Holdings UK Limited has developed a market leading face recognition system and application for customers and governments around the world.
Face recognition technology can be applied in many different ways.
Search for construction leads
Today's main market is security related but there are a variety of applications emerging related to personal use, convenience, productivity enhancement and more.
Security 
Face recognition technology can help enhance security in areas where it is important to verify the identity of persons based on facial images.
Examples of such applications include:-
Border control.
Passport or driver's license issuance.
Law enforcement investigations.
Video surveillance .
Physical access control.
Evolve products enable new commercial and consumer applications using facial data such as:
Recognizing VIP customers.
Analyzing people flow by age, gender and other measures.
Public security 
There is a fast growing demand for solutions from government, law enforcement, retail and industry customers to identify persons from live video cameras or video footage.
Evolve has addressed these demands by offering products that are optimized for the analysis of video streams in order to detect, locate, track and identify faces by real-time comparison to watch list databases.
Entrance Control Solutions. 
Their entrance control solutions offer a secure, convenient and cost-effective way of controlling who has access to your building and when their access is allowed.
All businesses have to protect assets and employees whilst allowing people to move freely in the areas that they need.
It is common in buildings that are secured by locks and keys and for doors that are left unlocked all day.
This opens up the possibility of opportunist theft and malicious damage.
Installing an access control system with face recognition means that you will never have to leave a door unlock or replace lost or stolen tokens.
Their access control solutions consist of:-
Simple stand alone or networked tablets.
Single or multiple tablets connected to staff and visitor management software(s).
Faces can easily be barred from the system.
Tablets that can connect to existing staff and visitor management software(s) via a Wiegand interface.
Their systems can be connected to a standard door or any form of pedestrian/ vehicle entrance control turnstile, gate or barrier.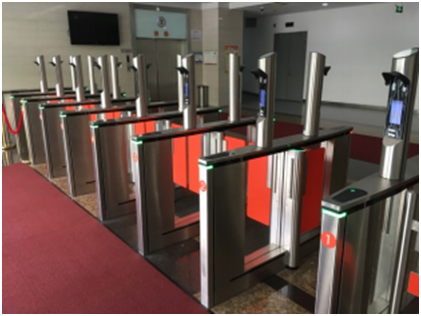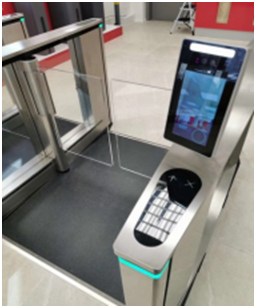 Time & Attendance
Evolve-Face 5 and 5T employee face recognition terminals with time and attendance can also be used as access control to restricted areas.
The terminal is ideal for construction, manufacturing, small/ large companies, food  processing, education, hospitals and surgeries.
Having an accurate and reliable employee time and attendance system is becoming more vital as employees naturally look to find the right work-life balance.
Time keeping disputes are a common occurrence for employers and can often result in a loss of revenue through mistakes made in calculating the actual time worked by staff & employees.
Whether you require a simple standalone solution or a multi-site system, they can offer the right solution to meet your site specific requirements and budget.
The Evolve-Face 5 and 5T terminals provide a simple touch-less clocking in & out system for your employees.
All they need to do is look directly into the terminal and they will be accurately verified in less than 2 seconds.
The terminals can hold up to 3,000 facial templates with 1 million logs whilst remaining GDPR compliant.
This is because it doesn't hold any bio metric data that could be used elsewhere.
A random mix of data form the users face is stored rather than a full identifiable scan.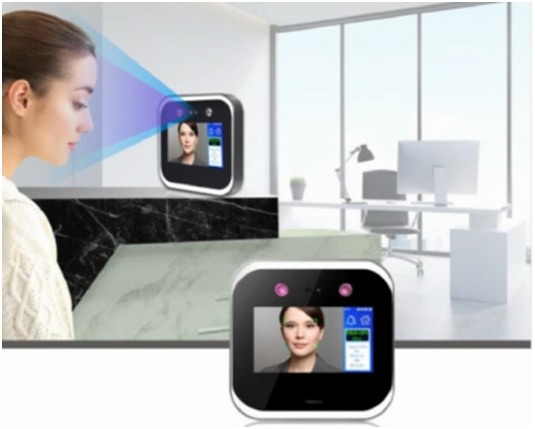 Face Recognition with Temperature Detection 
In the face of COVID-19, Evolve has developed real-time face terminals with temperature measurement and face mask detection.
The terminals can either be standalone or interfaced with most makes of visitor and staff management systems via the Wiegand interface such as the Paxton Net2 controller.
Face recognition means that a person entering the building doesn't need to touch any surface; providing a touch-less entrance control solution.
For even greater infection control, the terminals can be integrated with their 3D two-point verification camera to make sure the person entering has first washed/ sanitized their hands.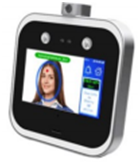 They can also be connected to their thermal imaging cameras.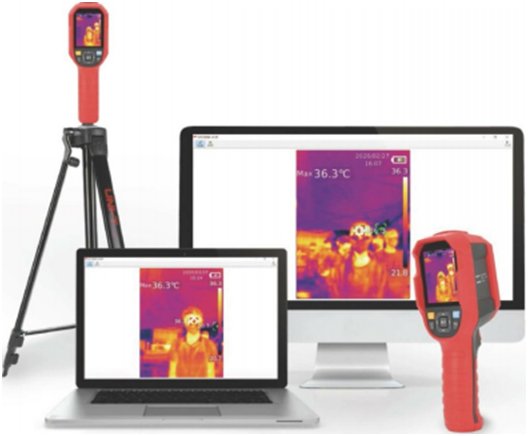 Retail Solution
The Evolve intelligent business store is an all-in-one solution for retail and convenience stores.
It integrates:-
Video management.
Video storage.
Intelligent analyzation.
Face comparing.
The face NVR kit offers mobile viewing and management with business analytics. You can see who was in your store when they were there and what they purchased.
It :-
Helps reduce in store crime.
Helps manage staff and visitor time and attendance.
Helps manage VIP's.
Using age and gender detection means people in the view of the camera can be classified into several demographic groups for marketing purposes.
You can then use this information to:
Enhance marketing promotions.
Anticipate customers needs and desires.
Discover points of engagement and friction.
Improve retail experience.
Measure how shoppers respond.
Detect people looking at selected products or demo times to understand the effect of product display to a specific demographic group.
Airport Solutions.
The worldwide deployment of electronic travel documents like e-Passports are  revolutionizing border control applications.
While border control officers are using bio-metric tools to increase the security of immigration processes.
Self-service immigration using e-Passports and face recognition is now a reality at many airports.
Face recognition combined with e-Passports ensure the secure verification of the traveler's documents/ identity, allowing for streamlined and cost efficient immigration procedures.
At passport checkpoints, facial traits are captured automatically.
The high quality images are passed on to a verification unit and compared with the digital image from the e-Passport.
The captured image can also be forwarded to a video screening system and checked against a watch list of undesired immigrants in real time.
Crime Prevention
Facial recognition cameras help to prevent crime and protect the general public.
The technology maps faces in a crowd and then compares them with a watch list of images which can include suspects, missing people and persons of interest to the police.
The cameras scan faces in large crowds, public places such as streets, shopping centers, sports and music events.
Their systems require human interaction.
It's up to the operator and the person on the ground to decide whether the person is a match or not.
The  person on the ground looking at the individual will make their own assessment and decide whether to intervene and speak to them.
Monitoring CCTV manually has the same "practical impact" on an individual as face recognition cameras.
As far as individuals are concerned, there is no difference in the principle of knowing you are on CCTV and somebody looking at.
Age and Gender Detection
With age and gender detection, people in the view of the camera can be classified into several demographic groups for marketing purposes.
It can also be used to restrict the area to certain age groups such as gaming zones.
Our technology can recognize age within a 10-year age range group (0-9, 10-19, 20- 29, 30-39, 40-59, 60+).
These age groups can be very useful for tailoring different content; for instance young adults vs. seniors.
Their software can estimate age with accuracy up to +/- 5 years.
The highest accuracy can be achieved by creating a suitable scenario for the software such  as placing the camera at eye level of individuals together with optimal lighting conditions.
VIP Management
VIP customers of clubs, bank branches or leisure parks can be automatically identified to allow access or to offer special handling.
Taking advantage of the visitor registration system means you can per-register VIP guests to sign-in using a QR code.
The system promptly alerts you about all details related to venues and meetings via SMS and email.
A key component of visitor management is automatic facial captures.
The  camera captures images of all visitors entering your premises, heightening your facility's security.