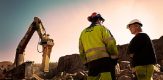 Fayat Group are set to acquire the Road Construction Equipment Division of Atlas Copco, which manufactures rollers for asphalt and soil applications, pavers and planers.
Fayat are executing plans to strengthen its strategic position in road construction and maintenance equipment through the acquisition of Dynapac, the trade name of the Road Construction Equipment Division of Atlas Copco.
Search for construction leads
Fayat currently operate in Equitorial Guinea, Cameroon and Angola as part of RAZEL, in addition to operations of the Eastern coast of Mozambique and Madagascar.
Fayat has deep expertise on this market through the companies Bomag, Marini, Marini-Ermont and SAE, Secmair and Breining.
The agreement includes sales and service operations in 37 countries and production units in five countries: Sweden, Germany, Brazil, India and China.
The acquisition is subject to regulatory approvals and is expected to be completed during the second quarter 2017.
"We are very happy and proud to integrate Dynapac, a highly recognized brand, into our Group" said Jean-Claude Fayat, President of the Fayat Group. "We will continue to leverage the strengths of our existing organizations and Dynapac, in parallel: all customers will continue to be supported with their products.
Dynapac has an excellent strategic place in our Group and we plan on growing and expanding its presence and product offering. We will leverage its expertise and technologies together with our existing portfolio to continuously develop equipment that closely addresses our customers' needs."