Hydra-Tech Pumps, a USA manufacturing company has been designing and building hydraulic pumping solutions since 1977, giving more than 40 years of experience and expertise.
As a manufacturer of hydraulically driven submersible pumps and hydraulic power units, Hydra-Tech offers high quality, low lifetime cost products for a variety of pumping applications.  Their systems are designed to cover the widest range of applications including construction, OEM, municipal, petro-chemical, mining, marine utilities and government customers.
Search for construction leads
There are several different types of pumps designed and manufactured by Hydra-Tech, including slim line, general purpose, axial flow, sand/slurry, solids handling, and shredder and specialty pumps. Many models are produced in various materials of construction to handle the most difficult job conditions. Pairing Hydra-Tech's submersible pumps with their standard line of hydraulic power units insures that your pumping system will operate with maximum performance, efficiency and reliability.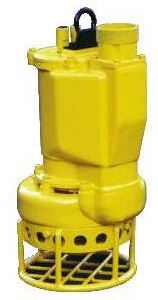 Customer Focused
For 40 years, Hydra-Tech has been listening to what the customer wants to accomplish and then applying their engineering and manufacturing skills to meet those requirements. Whether it's a catalog or custom product, they promise to do the work up front to make sure that the product they deliver exceeds customer expectations. After the sale, they offer product support at a world class level.
Uniqueness
Their pumps are hydraulically driven, not electric which is unique in the market place. With Hydra-Tech Pumps you can expect: No Shock Hazard, Easy setup, No priming pumps, No Suction Hose Failures,   Field Serviceability, Pound for Pound Lighter, Stronger and more Efficient Pump than comparable Electric Submersibles. Hydra-Tech also customizes the pumps and power units to provide exactly what the customer needs. Whether it be just a simple color or a custom hydraulic circuit they can provide what the customer needs.
Fuel Efficient
Hydra-Tech Pumps systems transfer energy from the electric motor or gas and diesel engines to the hydraulic motor on the submersible pump with 92% efficiency. The resulting total system efficiency rivals that of any like sized electric submersible run off a generator.
Versatile
All of their hydraulically driven submersible pumps are capable of adjusting easily to different pumping conditions. And, because they design many of their pumps with an eye towards satisfying the needs of rental customers, a single model can handle many tasks like sewage, sludge, driller's mud and just plain water. On the power unit front, we can and do build systems to run any device requiring hydraulic flow and pressure.

Low lifetime cost
With an initial cost about the same as a direct coupled centrifugal pump and typically less than an electric pump with generator, an investment in Hydra-Tech equipment makes sense up front. And, when you think about the ease of repair, minimal number of wear parts, relatively low cost replacement parts and overall efficiency, it is easy to understand that over the years and years of use, these pumps and power units will pay for themselves.
Full factory warranty
Hydra-Tech stands behind their products with a two year warranty on pumps and a one year warranty on hydraulic power units.
Fun fact:  Africa helped Hydra-Tech get their start
When Ken Reim, the founder of Hydra-Tech pumps needed a product that wasn't available to him to solve a problem for the Peace Corps in Sierra Leone, Africa in 1977, he designed and developed the HT8G and S2, the first power units and pumps sold by Hydra-Tech. This was the beginning of Hydra-Tech Pumps.