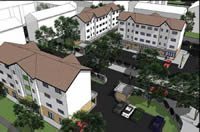 Using Architecture to Improve Life
We aim to design with conviction, to the highest of standards, in a sustainable manner that provides both client and user with what they need, to a realistic budget and within a time scale agreeable to all
Symbion is committed to understanding the needs of our client's, resolving complex problems and delivering good architecture for the benefit of all.
As a practice we look to inform the built environment in which we live, through considered yet innovative design, capturing both the poetry of our client's imaginations and the desire to create something useful yet sublime. In doing so, we strike a balance between the ambitions of a project against the practicality and responsibilities of bringing it to fruition, assessing the issues involved and providing appropriate solutions. We believe the power of architecture can shape our communities, our memories and our ambitions beyond the dimensions of individual buildings; we believe architecture is about making life better.
DESIGN APPROACH
The way of life on our continent is evolving at pace and we, as it inhabitants must evolve with it not only as designers but as a community – upholding values and concerns that were previously considered unimportant or relegated over others. No longer is African architecture solely about functionality and profitability but about an emerging consciousness of a continent on the brink of lasting change – bringing greater opportunities, higher expectations and a better quality of life across the board.
The manifestation of this architectural vocabulary should not be imported from other parts of the world but only informed by it – this is Africa and in the spirit of self determination should develop an architecture that takes into consideration its origins, context, climate, geography, history, tradition, materiality and environment.
We aim to design with conviction, to the highest of standards, in a sustainable manner that provides both client and user with what they need, to a realistic budget and within a time scale agreeable to all.
PRACTICE PROFILE
Symbion is a leading architectural design practice with a broad portfolio of projects, of varying scale and complexity across a multitude of sectors.
We offer a range of services including; Architecture, Interior Design, Project Management, Contract Management and Urban Planning.
The practice was established in Nairobi, Kenya in 1980, going on to deliver projects in the Seychelles between 1986 and 1995 and establishing associate offices in Uganda in 1993 and Tanzania in 1994. In 1998 Symbion acquired Conscom Botswana Ltd. and established a presence in southern Africa working on a variety of commercial, healthcare and institutional projects in the region.
The latest entrant to the Symbion Group is Symbion Mombasa which came into operation in 2005 after the acquisition of an existing practice at the Kenyan coastal city. The practice has since shifted in its organization from a partnership to a limited liability company forming a group of design practices under the umbrella of the Symbion Group.
The group presently boasts a compliment of over 120 staff, across 5 offices in 4 countries, 8 Directors, and around 75 technical staff. As a practice we believe that the quality of our work stems from the quality of its members and a policy of continued professional development and investment in our office staff is Key to the success of the Group as a whole.
COLLABORATION
The various offices work independently and together sharing knowledge and skills as a group of construction professionals in the best interests of our clients and each other.
We work with the best consultants across the regions we operate in and where certain expertise is lacking, collaborate with architects, engineers and other construction professionals alike across the globe. Together we strive for excellence and endeavor to achieve it, in our creativity, professionalism and ethical obligations.
THE FUTURE
Symbion has grown from strength to strength through the years and has expanded its operations to more than seven countries across the continent, with more markets now opening up to those willing to explore.
In 2011, the practice broke ground on its first project in the new Republic of South Sudan – a 12 storey commercial tower in the current capital city of Juba and soon to be the tallest building in the country.
Since doing so, Symbion International has explored a number of other opportunities not only in South Sudan but other fast growing and emerging markets in the region. It is our desire to be better and through continued investment in our members, sound planning and quality assured growth we will be looking to take the group to the next level, as designers and as a business, exploring these new markets and others as the world around us changes.
PROJECTS
Project : Equatoria Tower, Juba, South Sudan
Client : UAP Properties Ltd.
Year : 2011 – Ongoing
Value : $12m USD
The development comprises a 12 storey commercial high rise building to be named Equatoria Tower and it will be the first modern high rise building of its kind in Central Equatoria State and South Sudan.
The building includes; ground floor retail space ideal for a signature restaurant, coffee shop, banking services and above 9 floors of office space and two executive penthouse apartment s on the top floor.
Project : Toyota Showroom, Waiyaki Way, Nairobi, Kenya
Client : Toyota
Year : 2011
Value : $2m USD
Comprising a total gross area of 2,070 sq.m, the project is a new spare parts sales and vehicle servicing outlet for Toyota East Africa Ltd. It comprises a two storey building with a spare parts retail outlet and staff offices, a workshop for vehicle servicing, and a services building.
The brief required a state-of-the-art facility that communicates Toyota's corporate image as a leading global car manufacturer, on a tight site, and that could be constructed in the shortest time possible.
The proposed design solution employs a variety of cost saving, sustainable-design strategies as well as advanced IT features and security systems.
Project : Villa Rosa Hotel, Nairobi, Kenya
Client : Simba Colt Auto
Year : 2011 – Ongoing
Value : $25m USD
A premier hotel accommodating 174 guest rooms, 2 presidential suites, a banqueting hall, conference facilities, shops, restaurants, bars, gym, spa and out door swimming pool. The location is fantastic close to the heart of the city providing an upmarket 'one stop shop' entertainment and recreation facility.
Project : Standard Chartered Bank Head Quarters, Nairobi, Kenya
Client : Standard Chartered Bank
Year : 2007
Value : $25m USD
Symbion were commissioned to design Standard Chartered Bank's new headquarters building in Nairobi, comprising 2 wings each measuring 1000sqm, a central atrium, gym, canteen and conference rooms. There were some special services provisions for the central data handling areas and ventilation strategy for the building using a hybrid system of passive and mechanical movement of air.
Project : Kensington Luxury Heights, Kampala, Uganda
Year : 2008 on-going
Value : $8.95m USD
An award winning residential development located at Kisaasi, 15 minutes from Kampala Central Business District. Kensington Luxury Heights consists of 144 town houses, bungalows and villas set in beautiful landscaped surrounding and ranging from two to five bedroom units within a contemporary master-planned gated community.
Project : Nyayo Housing Estate, Embakasi, Nairobi, Kenya
Client : NSSF
Year : 2000-2012
Value : $250m USD
This large development consists of 3 phases of construction providing a total of 4,774 Units for middle income families living in Nairobi. The accommodation provided is a
mixture of Self-contained Maisonettes, Duka Maisonettes, local shopping facilities and clusters of 4-Storey 8 Unit Apartment Blocks.
The entire site is being provided with a modern road network, independent water supply, upgraded electricity supply and connection to Nairobi's existing sewer system. In addition, sites are allocated for provision of special-purpose plots, religious facilities, shopping and medical facilities, nursery schools and primary schools.
Project : Kigali Serena Hotel, Kigali, Rwanda
Client : Serena Hotels
Year : 2008 – 2012
Value : $10.5m USD
The existing hotel and conference centre, required the addition of a new block of guest rooms, reconfiguration and rebuild of the swimming pool and in a later phase introduction of a presidential suite of rooms. Further work will involve the construction of new rooms on top of the existing hotel block, the reception renovation and re-planning of the public area lounges, bar and poolside restaurant.
Project : Hotel Polana, Maputo, Mozambique
Client : Serena Hotels
Year : 2011
Value : $22.5m USD
Symbion created a master plan for the development of the existing Polana Hotel and the more modern Polana Mar bedroom extension. The scope of the entire site potential has culminated in a complete refurbishment of the main historic building. All public areas are being created with the magnificent ballroom being returned to its former glory. New restaurants linked to the existing kitchens and each of the hotel's many varied bedrooms is in the process of being completely renovated.
The magnificent swimming pool area has also been upgraded and re-landscaped together with a new health spa and meeting / conference facilities incorporated into the overall project.
Symbion have coordinated the entire consultant team comprising Kenyan, South African and Mozambican professionals from its base in Nairobi.
Project : Mahalapye District Hospital, Botswana
Client : Government of Botswana
Year : 2005
Value : $45m USD
Upgrading and extension of existing hospital to district hospital status. New overall master planning and design of various aspects of the hospital. Single storey concrete framed structures to house medical records, x-ray departments, mother and childcare, maternity wards, paedia