Lubrita lubricants has two production plant one located in Germany and the other one in Europe near the sea port of Rotterdam in Netherlands (Holland), with a large storage capacity for base oils and storage tanks for the finished products and additives, which makes it an exceptionally attractive Lubrita International position in the Global Market.
Productions at the factory is increasing with a current production capacity of over 130.000 tons finished lubricants per year.  The Lubrita lubricants products range are developed and produced by specialists from a wide variety of base oils and additives to meet latest lubricants specifications and approvals –OEM's (Original Equipment Manufacturers) and EB's (Equipment Builders) engineering recommendations.
In addition to production, they also provide support to their customers for the transportation of Lubrita products by bulk, sea-going containers, flexi-tanks or road trucks for packed goods.
Quality and sustainability
Manufacturing is done in accordance to certificated ISO-9001:2008, ISO-14001:2004 and OHSAS-18001:2007 which means that the company's policy is aimed at meeting customers requirements as much as possible, without losing sight of aspects like security, health and environment.
With their extensive range of high quality oils, a growing number customers now trust Lubrita lubricants to provide cleaner running engines, better fuel economy, lower maintenance costs and longer equipment life.
Products range 
Lubrita Lubricants produce and supply to Lubrita distributors such as racing engine oils, Passenger vehicle engine oils, Heavy duty diesel engine oils, Agricultural oils, Automotive gear oils, Automatic transmission fluids( ATF), Hydraulic oils, Biodegradable Hydraulic oils, Industrial Gear oils, Compressor oils, Refrigerator oils, Turbine oils, Slideway oils, Vacuum pump oils, Pneumatic Tools oils, Chain-saw oils, Industrial form and Mould oils, Spindle oils, White oils, Industrial Gas engines oils, Metal working oils / MWO, Motorcycles 4T oils, Motorcycles 2T oils, Motorcycles Fork oils, Outboard – Boats oils, Marine oils, Steam cylinder oils, Heat transfer thermo oils, Transformer oils, Brake fluids, Various petroleum products.
Benefits
Lubrita International has exclusive market distributors offering personalized sales and marketing support, high edge products for their specific markets, and responding to customers needs with a flexible user innovation model. With all of its products, Lubrita improves personal safety by taking on global traffic challenges. They invest heavily in products development and research to produce the most advanced lubricant formulations and offering to the market creative solutions.
The company is quick to adopt new technologies and advances, and to recognize how these can be developed for their customers benefits. Lubrita oils brings to their customers significant cost saving , lower maintenance costs, reduced downtime and prolonged engine life.
All together, constant innovation has created a range of Lubrita products; this shows perfect results and efficiency!
Excellent Technical Support.
They are not just supplying oil and grease, but their products are backed up by an accessible technical support service that's open to all customers. Available oil sampling services, which allow you to monitor the condition of your automotive engine oils, as well oils for various industrial equipment. These lube diagnostic tools designed to help you manage your fleet, automotive and industrial equipment more effectively.
They are dedicated to improving their products and developing new, as they are keen to markets trends. Lubrita technical teams constantly develop new approaches and reviewing existing products regularly to identify further opportunities for development new technologies as life moves on.
They work with leading base oils and additives suppliers to develop and bring to market the most technologically advanced petroleum products. Every part of your car engine, machine or process has been meticulously engineered, so you need to use a lubricant that has been designed to ensure that your equipment is well protected and works long and efficiently without outages. The company works hard to keep their customers in the lead position!
Lubrita Greases
The independent company Lubrita is a leading lubricating grease supplier, from Sweden, Netherlands, France and the USA. Their products have been designed to meet consumer requirements in a wide range of different applications. They are able to supply greases to many different industries, including ranges of industrial and automotive greases developed for different applications.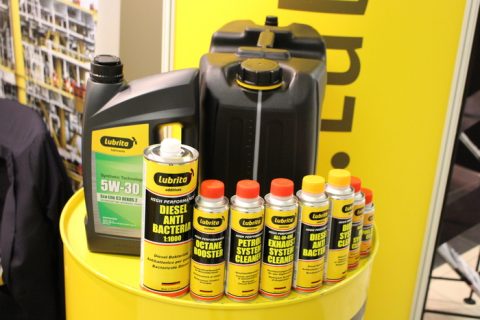 Lubrita Chemicals
Lubrita supplies anti freezes and coolants with approvals from OEMs as well as economy grade products without approvals. They supply in bulk (auto cistern, flexi tanks), but can also arrange filling bottles from 1L to IBC 1000 L containers at plant. An extended-life antifreeze coolant, the Lubrita H-XLC has many OEM approvals and is available in two colors – orange and red. The Lubrita H-XLC has been approved by many engine manufactures, both car and truck manufacturers.
BS Coolants – an economy product meeting BS – British standard, available in dark blue, light blue, colourless, yellow and green. Lubrita BS Coolant is an economy coolant concentrate providing frost and corrosion protection. The coolant is recommended when price considerations take priority over quality. The Lubrita BS Coolant offers the following benefits to its users: corrosion protection, also for non ferrous metals, frost protection, boiling protection, miscibility, seal compatibility, hard water stability and low cost.
Lubrita Cleaners
They provide cleaning products to the agricultural, automotive, construction, food processing, petroleum, petrochemical, processing and production industries, for facilities maintenance, institutional cleaning, shipping (inland navigation, fishery, marine & offshore) and for transport cleaning (car washes, truck washes and in aviation) under Lubrita brand names.
Lubrita technical aerosols and sprays
Industrial works are inconceivable without technical aerosols. It is unlikely to find where these comfortable universal measures are not used. Aerosols apply to the heating, air conditioning, and sanitary ware, vehicles, in various industries, construction, the forestry sector, and services. Their customers and business partners are pleased with its very high quality and assistance consultation.
To meet the latest needs of the market they are constantly improving their products and continuing to expand our offered services. Our new products currently account for more than 150 various aerosol sprays products produced in Germany. They are presented in different forms of packaging depending on use.
Exceptionally attractive position in the Global market
Lubrita international (B2B, Business to Business) and LUBRITA check oil level conception (B2C, Business to Consumer). Lubrita company provides a comprehensive selection of high quality automotive and industrial oils, lubricants and greases manufactured for today's markets.
Logistics
LUBRITA International supplies a complete range of Lubrita Products for a limited number of customers. So, we would like to have one main importer-distributor per country. The factory is set for the production of large quantities at the same time. Besides production, we also provide support for the transportation of the Lubrita lubricants to the customers. This transportation goes by ships containers, tankers or by road heavy trucks.
Laboratory
The Factory has fully equipped ISO 2001 certified laboratory and a large scale of special equipment. These equipment are being used for the analyses of each new lubricant blend, fuel samples and used lubricant for third parties. Each incoming sample gets its own barcode and will be analysed and stored for short time.
Lubrita Distributors
They are an open and efficient company that supports its distributors. All Lubrita branded products are carefully selected to meet today's needs and lubricants applications. Lubrita Products are regularly tested and approved by many OEMs (Original Equipment Manufacturers) and EC (Equipment Builder) manufacturers. Globally available through LUBRITA INTERNATIONAL official distributors.