Since its establishment in 2014, Suntint Interiors has evolved in an effort to provide a state-of-the-art interior design and construction services.
According to Mr. Lucas Mwangi, the Managing Director at Suntint Interiors, it is very essential to use reliable and durable products in order to deliver superior interior design services. For this, the firm has made tie-ups with major manufacturers both local and international to ensure they deliver the best quality of services at the most competitive prices.
"We believe deeply in the power of collaboration among ourselves, other professionals in the construction field, and especially our clients. In that case we provide a wide and complete range of design services, beginning with an initial design concept through installation and detailing of final design rudiments to complete the project. We specialize in interior and exterior design, office renovations, window blinds, flooring, air conditioning; fit-outs like ceiling, among other services," he clarifies.
Additionally, Suntint Interiors undertakes turnkey interior designing and fit out projects, right from a shell and a core building to a fully fitted commercial space ready to occupy. "We do all frameless glass partitioning, tiling, painting, window films and blinds, and even epoxy flooring. This is achieved by partnering with local and international manufactures; and sourcing the best resources to deliver international standards at affordable prices," he added.
We understand each project we begin has specific needs, budgets, and a level of quality. Each office or home starts with a personalized concept that directly correlates to the needs of our clients and their individual style. We rely on our professional knowledge and advanced experience in the design field to walk our clients through the process of interior remodeling, new construction, and interior finishing with exceptional customer service.
"We offer interior consultation services to our clients at no cost. For instance we advise clients on the kind of ceiling to be used after understanding their business; Open ceiling / Industrial Ceiling is a new design trend which is modern, cost effective and faster in installation," he intensifies.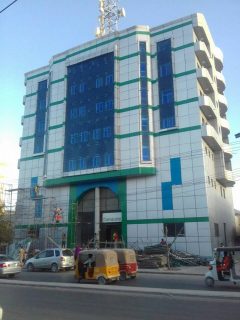 The practice's approach to interior design is based on accurate spatial planning; this understanding of interior spaces is fundamental to each project undertaken: improving the flow of the each interior space by means of structure, detail, light, fixtures and finishes. Along with establishing the best possible spatial layout, Suntint Interiors prides itself on being able to provide a full remit of design services.
Suntint Interiors provides full project co-ordination, with a flexible and adaptable approach to suite to each client's needs and each project's individual requirements. The firm has employed a talented team of interior designers, who transform any space into a work of art naturally. An exceptional discerning eye for interior design and trends has propelled the firm into the mainstream spotlight.
The firm strategically uses the very best of different styles to create a sophisticated, distinctive and timeless design. The firm can produce CAD (Computer – Aided Design) plans as well as computer rendered images of interior design projects. "Our work relies on a computerized programme; this system is fast and it enables us to share with clients on the progress of the project," he intensifies.
The company has trusted and reliable workers, who keep an eye not only on the products but also on the finishing quality of the projects. This has allowed them to be consistently recognized for their business acumen and its variety of innovative design solutions that impeccably blend functional and refined needs. The challenging and prestigious projects that the firm has undertaken successfully are an outcome of effective planning and management of time and resources. They include: British High Commission, Apollo Group Ltd, Dahabshil Ltd to mention but a few.
However, just like any other industry; they are some obstacles that drag the industry. As he clarifies, "the interior design industry is begging to warm up; nevertheless we find difficulties in accessing the requisite materials as most of them are imported.
There is also the problem of occasional fluctuations on the price of the raw materials Furthermore, financial institutions are reluctant in giving Interior Designers loans in meeting cash flows gaps for smooth business operation," he laments.
Mr. Lucas urges clients to use experts in each stage of the construction process. "It saves time and money to hire interior designers to do the work since they utilize their professional expertise and experience enable you achieve the project objectives.
"Some of the work we have been doing is a repeat work that was done by artisans and not professionals in the interior design industry," he explains. "If you want to get value of your money employ the experts," he advises.
"Our goal is to offer unparalleled quality in what we do. Therefore, it is essential for us to deeply understand the different areas that affect and shape our business environment. And thereafter establish a clear focus on how we commit to them. We will always stand true to these principles," he added.
Suntint Interiors Limited offices are located at Old Block, Westlands Commercial Centre in Westlands, Nairobi along Ring Road Parklands, right opposite 9 West Building.