Tapflo Group is an independent, family owned, Swedish manufacturer and global supplier of Air operated diaphragm pumps, centrifugal pumps and other industrial process equipment. With experience from industrial fluid handling and pump manufacture since 1970, the company's ambition is to provide a wide range of premium products for various industrial applications.
Since Tapflo begun their manufacture of air operated diaphragm pumps, they have always had their winning concept in mind: to create compact diaphragm pumps for reliable duty and with a minimal number of components enabling easy maintenance. The company is always keenly aware of new requirements and ideas from their customers. The products are therefore always in continuous progress with improved detail solutions, new materials and further accessories.
Tapflo Group is represented by own com­panies and independent distributors in more than 60 countries spread over the world on 6 continents – products and spare parts are available worldwide.
Below are some of success stories from happy Tapflo customers from around the world.
Intelligent Pump for the Ceramic Industry
One of the ceramic industry leaders had a hard time finding an appropriate pump for their production line. They tested solutions from a few brands but nothing met their requirements until they did run Tapflo TC50 intelligent pump fitted with the LEAP® technology.
In the tested application, the pump transfers ceramic glaze from the container directly to the robot which sprays the glaze on the bathroom's ceramics like sinks, toilet bowls, etc. the client was astonished by the smooth operation, low pulsation, and noise and air consumption reduction. It is worth to mention that the pump was tested with an airflow meter and TC50 consumes 60% less air than the direct competitor! Upon testing the client ordered more of TC50 pumps for the other machines.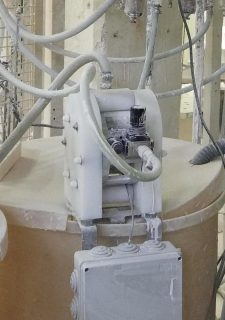 2. PE & PTFE Diaphragm Pumps for the Surface Treatment Industry
Back in 2004, Tapflo delivered more than thirty diaphragm pumps to a hot-dip galvanizing plant in Sweden. At that time this plant was one of the world's most modern of its kind, with one manual and two fully automated facilities.
It was an explicit demand of the plant's maintenance manager to use diaphragm pumps from Tapflo: – "Because I know it works!" he said.
The pumps are used to pump wastewater, acid, lye and flux to various parts of the treatment plant. All pumps are made of polyethylene (PE) with diaphragms in PTFE, a proven solution in the surface treatment industry. They have lived up to the expectations and most of the pumps are still running since they were put into operation more than 15 years ago.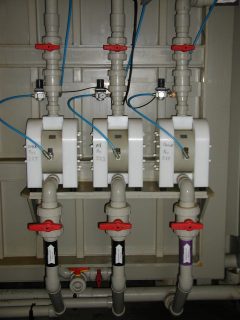 3. Diaphragm Pump for the Nuclear Industry
Tapflo has delivered a pneumatic diaphragm pump of its largest model for use in various applications in the nuclear industry. The pump, which is presumably the first of its kind in the world, has been developed in cooperation with the Fagerstrom Industry Consultant with extensive experience from deliveries to the nuclear industry.
In a first application, the pump is installed in a mobile system for decontamination. The system's task is to clean and remove radioactivity from different parts during the inspection, servicing and replacement of a nuclear power plant. More applications can, however, be considered as a pump of this kind requested from several directions.
The pump, which is a special version of Tapflo largest T825 model, meets the requirements for a Class 3 component, which means that it is approved for inclusion in the system used for the plant's operation.
"It was a long and demanding project", says Henrik Borisch, product manager at Tapflo, who also directed the project. "It took a lot of calculations, documentation, and testing before it was approved and clear but at the same time it is comforting to know that you do not compromise on anything when it comes to equipment of this type."