The company take part in the projects of the key sectors of Ukrainian economy by building national scale projects (airports, railway stations, stadiums, plants, bridges, motorways, electric power transmission lines, storage tanks parks etc.), developing infrastructure, business environments and supporting national economical grow. Having diversified portfolio of produced products, it is easier to say what the firm cannot produce.
The structure of UKRSTAL CONSTRUCTION PJSC consists of design department, six manufacturing plants and engineering-construction company. This is the key feature of the company which allows them to perform «turn-key» service in steel construction, beginning with design solutions and finishing with installation works on the site. Considering complex range of services, the works are being coordinated by the experienced engineering group to gain the main target of the Client. Transforming investments into the profit we build efficient real-estate for the future generations.
Search for construction leads
"The last few years we are highly successful in construction of industrial projects of metallurgy, agro-industrial and road construction sectors of national economy. As a Producer of steel structures, we are available on the markets of Europe (Poland, Hungary, Italy, Germany), Nordic region (Denmark, Sweden), Baltic region (Lithuania, Latvia), focusing but not limited by mentioned countries.
On the local market   «UKRSTAL CONSTRUCTION» PJSC is one and only market player who produces storage tanks (Made from carbon steel) by the roll method. Thereby, giving a possibility to our clients to contract timeline and minimize expenses of construction Works on the site.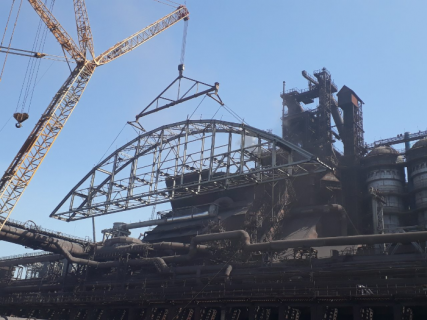 Developing of project documentation and performing static strength calculations is being carried out by the resources of design department by using design and advanced graphic software complexes  SCAD, Lira-SAPR, TEKLA STRUCTURES, AutoCAD etc.
Integrated BIM-technologies allow us to carry-out the works on-line and manage all involved in a project engineers' teams in any time and every phase.
Implementing installation and construction works we use our own production and technical base (Cranes, trucks, machines, equipment…) we execute engineering and construction tasks with maximum efficient in the shortest terms.
Mentioning the advantages of our company we can confirm needed technical parameters and strict correspondence with the project documentation requirements. Our scope of steel structures supplying can be calculated in thousand tones per month. The shortest possible terms of delivery. So, we can support the biggest African projects. Anyway, the details must be agreed.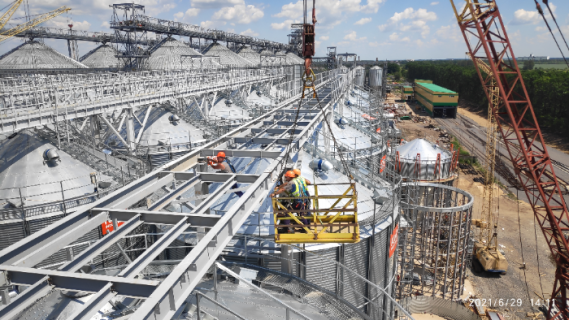 The main massage we would like to send to our potential Clients is to be brave and strong taking part in international projects and not to be afraid to collaborate with unknown business environment. Beginning from nothing, you open new markets, gain experience, meet the people you'll be in strategic partnership for decades. Mistakes are also one of the main components of the success.
We invite you to collaborate, offering reliable, efficient, strategic partnership. We are ready to support you," explains Artem Pogrebniak engineer of Commercial Department.