In recent years, concrete has been one of the most popular construction materials for residential properties. It's a no-brainer why this material is gaining popularity in the homebuilding industry. Concrete boasts various advantages that make it ideal for constructing homes.
Most homeowners and concrete solutions experts are now opting for concrete homes as they offer several advantages. Here are eight reasons you should consider this material for your next construction project.
1. Durable
Search for construction leads
Homes constructed using concrete are incredibly durable and can withstand extreme weather conditions. This material is known for its strength and stability, making it ideal for building houses in areas prone to earthquakes, storms, or other natural disasters.
On top of that, you won't have to worry about constant concrete repair or replacement, as it's unlikely that your concrete home will experience any structural damage over its lifetime. That's what makes this material a cost-effective and long-term investment for your home.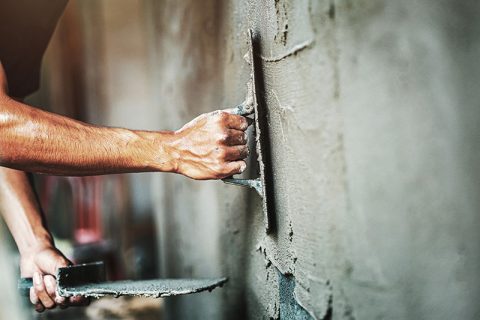 2. Low Maintenance
It's no secret that concrete is practically low maintenance with minimal effort on your part. This material is resistant to warp, rot, and pests, so you won't have to deal with these problems down the line. Additionally, concrete is easy to clean and doesn't require special care or cleaning products. So, you can rest assured that your concrete home will always look in tip-top shape for many years to come.
3. Energy-Efficient
If you want to save on your energy bills, concrete homes are an excellent choice as they're highly energy-efficient. This building material has a high thermal mass, which helps regulate the indoor temperature and improve the home's energy efficiency. In other words, concrete mass slows down the movement of heat, keeping your home warm in winter and cool in summer. As a result, you'll be able to reduce your energy consumption, decreasing your carbon footprint in the process.
Furthermore, adequately sealed concrete walls can lessen air infiltration, further enhancing the home's energy efficiency. After all, air leakage is one of the leading causes of high energy bills.
4. Sustainable
More and more homeowners are now looking for sustainable architecture and materials for their home building projects. Concrete is one of the most environmentally-friendly construction materials as it can be recycled and reused. What's more, concrete doesn't off-gas or release any toxins into the air, making it a safe and healthy choice for your home construction.
5. Fire-Resistant
Safety is always a top priority when it comes to building homes. It should never be sacrificed, no matter what construction material you use. Of course, you don't want your family to be in danger in case of a fire.
Fortunately, homes made of concrete are much safer as this material is naturally fire-resistant. Concrete is a non-combustible material that doesn't contribute to the spread of fire. It has an extra layer of protection against this disaster, giving you peace of mind knowing that your family is safe.
Hence, in the event of a fire, your concrete home is more likely to withstand the blaze, giving you and your family more time to escape. This quality is paramount if you live in high-risk fire zones.
6. Design Versatility
The versatility of concrete can't be overrated as it offers endless possibilities in terms of design. This material allows architects and designers to be creative in their residential house projects, resulting in unique architectural features. Whether it's a countertop, flooring, or walls, concrete can be molded into any shape or form to achieve the desired look.
7. Increased Property Value
Investing in a concrete home is a wise and clever choice as it'll raise property value. That's because concrete homes are durable, low-maintenance, energy-efficient, eco-friendly, and more. These features are highly sought-after by home buyers, so you can be sure that your concrete home will fetch a great price if you ever decide to sell it someday.
8. Aesthetically Pleasing
A home is a reflection of your style and taste. It should be a place where you can feel comfortable and relaxed. Ultimately, concrete homes can be beautiful and aesthetically pleasing. Whether you want a modern, minimalist home or a more traditional-looking abode, concrete offers the perfect solution to make your home stand out.
What's more, concrete homes are customizable to match your preferences. You can choose finishes such as smooth, polished, or a more rustic, textured look. You can also choose from various colors and patterns to create an eye-catching effect. The sky's the limit to concrete design, giving you the freedom to let your imagination run wild.
Conclusion
There's no doubt that concrete homes offer many advantages, making this material an excellent choice for residential construction. They're resilient, eco-friendly, fire-resistant, and more. Plus, they can also increase your home's resale value. So, if you're looking for a solid investment, concrete homes could be worth considering.