There are many ways of treating concrete floors once they have been placed as well as many methods of concrete driveway resurfacing. This depends on the performance which is required for the designated client. This could be polished concrete, an epoxy coating, a resin, or just even sealed.
Such treatment has a positive effect on the floor's functionality and other similarly important issues. One of the companies that trades in Concrete, mixtures and chemicals for construction is the Concrete Additives and Chemicals Pvt. Ltd.
Their parent company began its journey in 1942 with trading in chemicals. As a natural progression we got into manufacturing lignin products in 1966 – the 1st generation plasticizer for concrete, diversified into SNF – 2nd generation plasticizer for concrete, further diversified to manufacture Poly Carboxylate Ether (PCE) – 3rd generation plasticizer for concrete.
They have been a leading supplier of these key raw materials to admixture companies globally. With a robust infrastructure, several integrated facilities located in India and the Middle East, we are exploring African continent as it has a great potential.
CAC have now looked beyond admixtures and forayed into underground construction with Alkali Free Accelerators, TBM aids, PU Injection Grouts, Sprayable Waterproofing Membranes, Polysulphide Sealants, Epoxy Resin Grouts, and Water-Based Concrete Curing Sprays, Bipolar Organic Corrosion Inhibitors, Soil Stabilisers for road construction and much more.
According to Joseph Dacosta, Regional Sales Manager Laticrete Africa, properly cured concrete has an adequate amount of moisture for continued hydration and development of strength, volume stability, resistance to freezing and thawing, and abrasion and scaling resistance.
"Curing of concrete is done to maintain the Optimum moisture content (OMC)  to prevent the loss of water which is required for the hydration of cement, to avoid shrinkage cracks and premature stressing or disturbance in concrete." Said Manav.
Reduced maintenance costs, Abrasion resistant concrete floor dust proof and lower absorption are some of the key benefits of polishing concrete floors. This could be polished concrete, an epoxy coating, a resin, or just even sealed. Such treatment has a positive effect on the floor's functionality and other similarly important issues. This is according to Louis Downes, Head Sales Far East and America of Becotreat , a company popular for its Becosan product which is is a grinding and polishing system designed to treat power troweled concrete floors. The system removes the micro-roughness and with the application of the BECOSAN Densifier and Protective Sealer it creates an easy to clean dust-proof concrete surface.
Moreover, Mr. Christophe BAUDE, Technical expert of OMNOVA Solutions notes concrete surface treatment plays a crucial role in cement curing "It helps to regulate water evaporation, which optimizes the hydration mechanism and therefore the mechanical properties of the cement. This feature is key in countries with high temperatures, which raises the risk of a too quick evaporation leading to poor curing of cement that endangers the cement mechanical properties. Coatings based on styrene acrylic binders like PLIOTEC® SA40 from OMNOVA Solutions are able to provide this performance. Due to extremely high pH, alkalinity resistance of membrane plays a crucial role in cement curing."
"In addition, the cement may further benefit from a "sealing" effect providing it an additional durability. This "sealing" aims to provide further resistances, in particular against UV exposure, especially appreciated in countries with large hours of sunshine. This kind of coatings are preferably based on pure acrylic chemistry, like PLIOTEC® PA90MT from OMNOVA Solutions," said Mr. Christophe BAUDE.
When assessing the sustainable aspects of concrete buildings, durability is one item of interest. According to Steve McDonald of McTech Group, "More durable building assemblies—whether they are walls, floors, or roofs—contribute to overall sustainability by increasing the life span and decreasing the need for repair and maintenance. Concrete floors are common in commercial and industrial structures no matter which material is used for the structural frame, so anything done to increase concrete floor durability has sustainability benefits for the entire building."
Mr. Riley, Director of Business Development at Crete Colors International notes that after concrete hydrates and cures, the concrete surface has calcium hydroxide, which is a soft, weak compound that releases dust into the air. Silicate hardeners convert the soft calcium hydroxide into strong calcium silicate hydrate. "This is a strong  benefit and element as it fills the pores of the surface of the concrete and creates a hard, strong, abrasion resistant, and dust proof surface. Concrete surfaces left untreated will scratch easily, release dust into the air, and become stained and dull."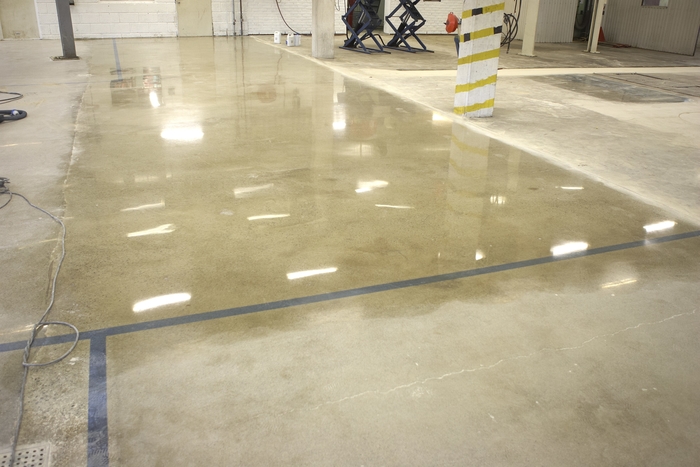 Surface preparation methods for concrete floors
As a first step, all traces of calcareous salt, grime, oil and paint stains should be removed from the concrete floors to be treated. Next, all laitance must be removed from the floors. Laitance refers to a layer located on top of a concrete surface, consisting of water and fine sand known as filler, which rises to the surface while the concrete surface is being floated. When laitance hardens, it forms a dense but brittle layer.
The laitance layer needs to be removed in order for the primer — which is used in the surface treatment of concrete floors — to be able to penetrate the porous concrete properly. Laitance can be removed either mechanically or chemically. An untreated concrete floor should be covered with protective covers during construction-phase painting and installation. This will prevent the need to remove oil or paint stains at a later stage.
Grinding
Grinding is the most widely used method of removing laitance layers and other impurities. The process of surface grinding removes all fine laitance and other traces of weak surface layers from the entire floor area, revealing the fine-grained aggregate.
Surface grinding can be regarded as a minimum requirement in the preparation of industrial facility floors. The process of in-depth grinding removes a floor's surface layer from the entire floor area, revealing the coarse aggregate.
Scarifying
A concrete floor can be scarified using a pneumatic, electrical or internal-combustion driven milling cutter, which creates a rough surface and removes all of the laitance. This is a highly effective and efficient technique, especially for the removal of oily or grimy surfaces from old floors, and of coating films and peeling paint surfaces. When performed correctly, scarifying is carried out twice, with the second round being performed perpendicular to the first.
The form and depth of the marks left by the milling cutter depend on the type of cutter (its steel type) used and the cutter's depth adjustment. Different cutters are available for different surface materials. Hard metal cutters are normally used in the scarifying of concrete surfaces. Dust nuisance can be alleviated by using milling cutter devices connected to industrial extractors.
Shot-blast cleaning
Shot-blast cleaning is one of the most efficient methods of removing laitance, grime and poor surface material. In shot-blast cleaning, steel pellets are blasted with huge force at the floor surface to be cleaned. By varying the pellet size and velocity, it is possible to adjust the efficiency of the cleaning process and the resulting surface profile.
A shot-blast device is constructed in such a manner that all loose laitance, all dust and all steel pellets can be collected using an extractor. The device separates cement dust from steel pellets, which are recycled during the cleaning process until they themselves turn to dust and are deposited in the dust container.
After a shot-blast cleaning operation, a separate vacuuming process is usually unnecessary. If the floor has deep potholes or cracks, shot-blasting may leave steel pellets within such fissures. Should this be the case, all pellets must be removed before the coating is applied.
Shot-blast cleaning is practically dust-free. As a cleaning method, it is ideal for the removal of laitance from even, hard industrial cement floors. However, shot-blast cleaning may be too efficient for the removal of laitance from hand-floated cement floors. The surface profile left by the device could be too rough if the blasted floor is to be coated with only a thin paint or varnish coating. Shot-blast cleaning is also suitable for the cleaning of horizontal steel and asphalt surfaces.
Factors to consider when purchasing and applying a concrete surface treatment.
Andrew Dekker National Operations Manager at Tal insists that the client should specify the performance and products they actually need for the specific job. "Ensure they are applied correctly and perform to your requirements and also use an ISO certified supplier with a track record," he said.
Tal is a major player in tile and construction adhesives with a track record of more than 40 years "We manufacture our products in South Africa, Kenya, Egypt and Tunisia. We export from these manufacturing units to 25 African Countries. Majority of our products are water based and environmentally friendly. If available we also use recycled material but this depends on sophistication of the recycling market in particular African countries," asserts Mr. Dekker.
"Discuss in detail with the material manufacturers your actual requirements. It is standard practice to follow old outdated specifications," said Mr. Dekker. "Education and training is required for the whole market," he added.
Julie Holmquist, content writer at Cortec® Corporation, comments that budget, degree of corrosion protection, type of inhibiting action, and whether or not there is a desire for water repellency are important factors for choosing the best surface treatment for the situation.
"Our MCI® surface treatments are available with different types of water repellents and different levels of inhibitor concentration. Some have a greater percentage of water repellency with a smaller dose inhibitor, while the MCI®-2020 series has no water repellant but contains a significantly larger percentage of Migrating Corrosion Inhibitor. The choice will vary depending on budget and type of protection needed. Another consideration is whether corrosion inhibiting action is desired at the level of the rebar. Some non-MCI® corrosion inhibiting products only provide protection by sealing the surface from ingress of contaminants. This works well until a breach or a crack allows corrosive elements to enter and reach the rebar level. Migrating Corrosion Inhibitors have the advantage of protecting below the surface even after cracks occur," said Julie.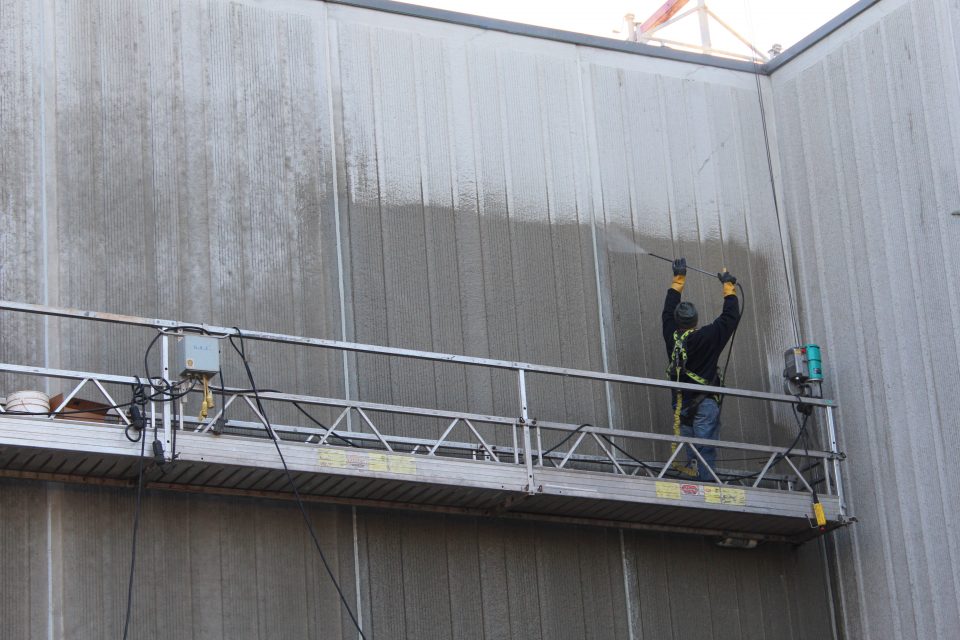 While searching for materials that meet your budget, Ian Shaw Mnaging Director at Rust-Tech, points out "keep in mind that the cheapest option isn't always the best one —and could end up costing your clients a lot more in the long run. At first glance, epoxy appears to have a smaller "per-gallon" cost, but the overall cost per square foot evens the playing field. Although polyurea seems to have a relatively high material cost, when you consider cost of labor and area covered, it saves you and your customer money in the long run."
When it comes to concrete admixtures, Borregaard LignoTech suggests Lignosulfonate based admixtures. "Lignosulfonate based admixtures should be used since they are the only type of admixture that can cope with the number of concrete parameters that change on a daily basis. Use Lignosulfonates and work as accurate as possible and use exact dosing equipment. Keep timing and mixing constant at all times. Our products are robust admixtures that can produce good quality concrete even with high variations in mix design, water amount and dosage changes. Our products are produced with highest consistency."
Miguel Angel Ruiz, Business Line Manager for Building Chemicals of Bozzetto Group, explains that "another very important factor to have a good quality concrete after the curing time is the quantity of bubbles in the mix that will be affecting on the compressive strength obtained."
Bozzetto Group is focused on super plasticizers for concrete application since more than 50 years. Able to adapt to the different customer needs, the company's naphthalene sulfonate superplasticizer, FLUBE®, and polycarboxylate superplasticizer, SUPLA®, makes the concrete reach optimal properties and an accurate quantity of air.
Mario Baggio of Alchemco manufactures points out that it is important to follow good engineering practices for curing the concrete for better results. Alchemco manufactures several waterproofing products for concrete. Their main product is TechCrete 2500 Waterproofing Agent, a formula that penetrates in the concrete and forms a sub-surface membrane to protect the concrete from the water. This product has the ability to seal cracks up to 2mm and cracks that are developed after application up to 1mm. We have a unique formula sold in dozens of countries since late 80's.