The rapid infrastructure development in Africa that brings a big boom to the construction industries has lead to the installation of numerous concrete batching plants which are now widespread. According to Murat Bozdag a Company Partner at Bozdag Engineering in Turkey, it is a fact that creating infrastructure like housing, road, energy and water that help boost development in developing countries need one very important raw material which is concrete. Therefore, the African market has a huge potential for different types of concrete batching plants; stationary and mobile.
He further explains that, dry type batching plants which do not have a concrete mixer hence increases homogenity of the concrete have been preferred in the African ready-mix concrete sector until recently. However, because of improving the mix and the strength of the concrete, wet type batching plants have also picked up pace.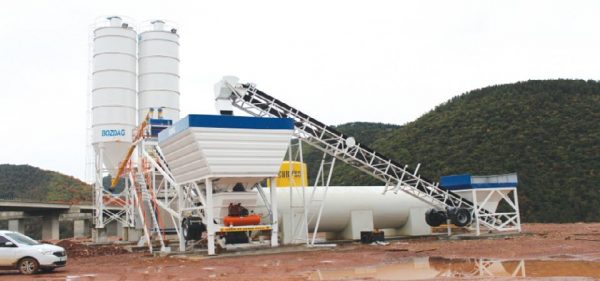 "Wet type batching plants have different capacity of concrete mixers. Concrete mixer capacity gives the batching plant capacity as well. Concrete mixer is produced as 1 m3 – 2 m3 – 3 m3- 4 m3 – 4,5 m3 – 5 m3 – 6 m3 compacted concrete capacity. How concrete producers select batching plant capacity depends on the project. For example, one concrete producer chose 100 m3/h capacitated mobile batching plant with a twinshaft mixer 2 m3 compacted concrete for a temporal work that involved housing infrastructure in Morocco; 180 m3/h capacitated stationary batching plant with a twinshaft mixer 4,5 m3 compacted concrete was preferred a highway project in Algeria," he adds.
The significant environmental impacts of the operation of a concrete batching plant are a concern thus, thorough environmental assessment is necessary to identify and address such impacts prior to the construction and operation of the batching plant's facilities.
Buffer Distance Requirement
Proponent of permanent concrete batching plant will determine the plant's primary impact zone and will establish a safe buffer zone around the plant's facilities. The use of buffer zones around batching plant facilities is one of the approaches in minimizing its immediate and adverse environmental impacts to sensitive areas such as residential, institutional and public areas due to dust emission and noise pollution.
The required buffer zone for temporary concrete batching plant should not be less than 500 meters from sensitive areas such as nearest residential areas, institutional zones and inhabited areas. However, it should be noted that the buffer distance is based on the assumption that good pollution control technologies are also being used and with best practices being implemented. A concrete batching plant with inefficient air pollution control facilities would require a larger buffer distance subject to evaluation of the EIA report for the project.
Buffer zones should not be considered as a primary means of control, but as a means of providing an additional safeguard in the case of unintentional or accidental emissions.
Also Read:Wet batch plants provide quality concrete at reduced operating costs
Dusts Emission from Paved Plant Yard Surfaces
Dust deposits on paved surfaces can be thrown into the air by wind or by vehicle movements. Dust emissions from paved surfaces can be minimized through the use of the following measures:
The movement and handling of fine materials should be controlled to prevent spillages onto paved surfaces.
Minimize mud and dust track-out from unpaved areas by cleaning the trucks before leaving the plant's yard specially its wheels by the use of wheel wash facilities. Wheel wash facilities shall be installed at the main gate.
Regular cleaning of paved surfaces, using a mobile vacuum sweeper or a water flushing system.
Observing speed controls on vehicle movements at plant yard at 10-15 km/hr.
Dusts Emission from Unpaved Plant Yard
Dust emissions from unpaved surfaces are caused by the same factors as for paved surfaces, but the potential emissions are usually much greater. Dust emissions can be controlled using the following procedures:
Wet suppression of unpaved areas should be applied during dry windy periods, using a water cart and/or fixed sprinklers. As a general guide, the typical water requirement is at least up to 1 liter per square meter per hour. It is important to check that available water supplies and the application equipment are able to meet this requirement. Untreated wastewater generated from the plant's activities should not be used for wet suppressions. Likewise, treated waste water intended for dust suppression should be used only after taking permit from Environment Department.
Surface improvements. These include paving with concrete or asphalt, or the addition of gravel to the surface. Paving can be highly effective but is expensive and unsuitable for surfaces used by very heavy vehicles or subject to spillages of material in transport. In addition, dust control measures will usually still be required on the paved surfaces. The use of gravel can be moderately effective, but repeated additions will usually be required.
Speed controls. Observe speed limits vehicle movements at plant yard at 10-15 km/hr
Materials Loading/Unloading activities
Loading /unloading activities and transferring of fine materials from one place to another in a concrete batching plant are a major source of uncontrolled dusts emission. Fine materials taken by shovel from stockpiles and transferred to loading bays are potential sources of dust, either through wind entrainment or spillages. Dust emissions due to such activities can be minimized with the following controls:
Limiting load size to avoid spillages.
Minimizing travel distances through appropriate site layout and design.
Minimizing drop heights at transfer points.
Minimize dust dispersion by providing special (covered) area for loading /unloading process.
Material Handling/Storage (Stockpiles Management)
Fine material stored in stockpiles can be subject to dust pick-up at winds in excess of about 5 m/sec (10 knots).
Aggregates with 5mm or smaller in size shall be stored in a totally enclosed areas. Dust emissions can also occur as material is dropped onto the stockpile from a conveyor. The options for dust control can include the following:
Wet suppression using sprinklers.
Covered storage of fine materials, enclose stockpiles on at least the top and 3-sides and install a flexible curtain to cover stockpile entrance sides.
Limiting the height and slope of the stockpiles can reduce wind entrainment. A flat shallow stockpile will be subject to less wind turbulence than one with a tall conical shape. Angle of stockpile shall not exceed 40 maximum at any conditions.
Limiting drop heights from conveyors.
Use of wind breaks. Wind speed near the pile surface is the primary factor affecting particle uptake from stockpiles. Although a large, solid windbreak is the most effective configuration, aesthetic and economic considerations may preclude that from being appropriate.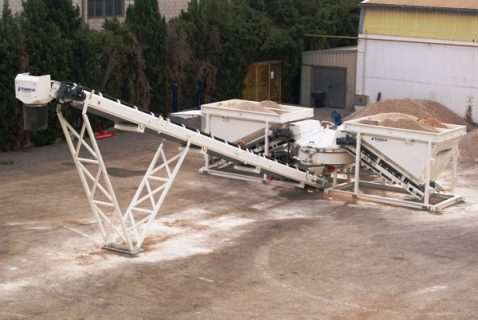 A 50% porous windbreak is almost as effective as a solid wall in reducing wind speeds over much of the pile, when constructed to the following specifications:™
Height equal to the pile height;
Length equal to the pile length at the base; and
Located at a distance of one pile height from the base of the pile.
According to Mr. Alessio Nannini CEO of Kimera, a manufacturer of mobile dosing systems in Italy, the best suggestion for a construction company which is looking for a concrete batching plant is to choose a unit able to satisfy different needs to optimize its investment.
"Choose a mixer that is able to produce different mix designs to let the customer be totally independent from external suppliers and reduce down times, due for example to delivery delays," said Mr. Alessio Nannini.
Kimera concrete production plants stand out from its competitors for their unique characteristics of mobility, versatility and precision. All Kimera systems can be installed on trucks, trailers and semi-trailers and are equipped with an advanced electronic management system and a sophisticated weighing system that allow constant monitoring of the dosages and the possibility of repeating the recipe.

Reception of new technological trends
The potential for concrete batching plants in Africa has given rise to the introduction of new technologies in the market which look to improve the concrete production process plus the quality of the concrete itself. In spite of the progress in the last 10 years, Africa continues to trail other continents with regards to technology, with just a few companies performing at a higher level.
However, with need for concrete in Africa rising, Mr. Jigar Patel of Venus Industries in India mentions that, there has been a great demand for the smaller size and medium size concrete batching mixing plants in African countries, as now people are well aware about the benefits of having a concrete batching plant at site and the importance of a quality mix.

According to Serkan Ozkan the Mechanical Engineer at Elkon Concrete Batching Plants in Turkey, the African market has been quite positive with regards to reception of new technologies. "We recently introduced ELKON Mix Master-30 On Site Concrete Plant to the market. These are ultra mobile concrete batching plants; all components of the on-site concrete Batching Plant, including aggregate storage bins, pan / planetary mixer, cement, water and additive weighing hoppers, water pump, control panel and power board are installed on a single trailer chassis equipped with axle and tires," says Mr. Ozkan.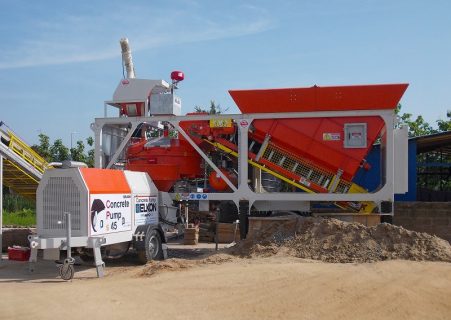 "Additionally, on Site Concrete Batching Plants are becoming so famous in Africa as they are very simple plants to operate and as they allow customers to make their concrete production on site. Because the plant is fully mobile and does not require any installation. Therefore, it can be even towed by a land vehicle over the user's job sites and the plant van be ready for concrete production within less than an hour," added Aybike Düşünmez a Mechanical Engineer at Elkon .
ELKON produces and sells around 300 batching plants annually in Africa. Companies including Dangote, Lafarge, Group 5, WBHO all use ELKON equipment.
Bill Fleming of Global Machine Market based in USA sees concrete veneer stone products, paving stone market and landscape product as a continuing growth in the concrete market. The company has developed automatic demolding systems for making veneer stone which traditionally had to be done by hand. Also the development of having totally automatic systems that allow concrete products, such as pavers and hardscapes products to have multiple blended colors in the same product! These developments have resulted to a technology breakthrough in the industry.
Dustin Strever Director of Shotcrete Africa SCP comments that  Wet Shotcrete is a growth industry with better mix designs that are enabling stronger "fit for purpose" concrete as well as assisting with longer distance pumping. Decorative concrete is also emerging as an efficient way to replace the additional cost of tiling etc.
He further adds that larger hydraulic pumps such as REED Pumps are also fast growing in the market, since they are built with best components that result in long lasting and easy to maintain wear parts that keep the pump working.
Challenges
As a whole, ready-mix concrete is a relatively new business in Africa thus creating the opportunity to create modern structures and designs, previously unheard to face the African market and catch the opportunities that this growing market is already offering; this is according to Richard Isaacson of Iwi Group from the US.
However, this opportunity also came with its challenges as Mr. Rob Haynes of ECEM in South Africa explains. "Transport of heavy equipment to site is not always easy with the road infrastructure to remoter areas plus certain countries have wide load restrictions for transporting heavy/wide goods which means downsizing. Also, site establishment is not always up to standard, short cuts create major problems when the rainy season is encountered; and also certain areas and countries have no bulk supply of cement powder, making the concrete more expensive and creating an unhealthy environment," he asserts.
Furthermore, with regards to the equipment knowledge, Mr. Marwa Berriri the Foreign Trade Representative at Goker a manufacturer of concrete batching plants in Italy adds that, sometimes it takes time to train the locals on how to operate the equipment since they are not quite familiar with them.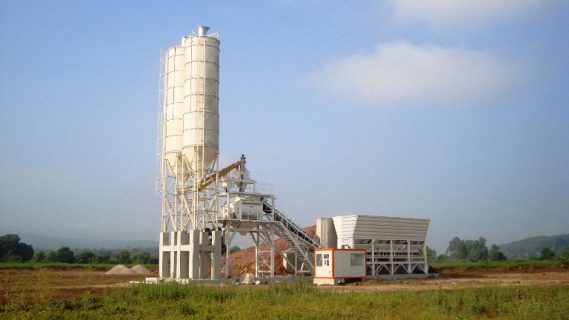 "However our products are popular due to their high quality, adaptability to user needs as well as to construction site conditions," he adds.
Goker exports to many countries like Germany, Holland, Romania, Bulgaria, Belgium, United Kingdom, Albania, Kosovo, Russia, Ukraine, Turkmenistan, Azerbaijan, Kazakhstan, Uzbekistan, Siberia, Korea, United Arab Emirates, Dubai, Qatar, Saudi Arabia, Syria, Iraq, Libya, Jordan, Tunisia, Algeria, Lebanon, Naxcivan, Tajikistan, Afghanistan, Sudan, Yemen, Guinea.