Despite building the 10,000 km of roads that were first committed to at the start of President Uhuru Kenyatta's tenure in 2013, the government will continue constructing more roads as well as other infrastructure projects across the country.
The state has since tarred 10,500 kilometres of roads nationwide, beyond the initial pledge it made in 2013, according to Transport Cabinet Secretary James Macharia.
Search for construction leads
According to Macharia, the growth of the economy relies on infrastructure. In an effort to make it less difficult for Kenyans to travel throughout the country, they embarked on a quest to open up the country.
He said that at first, they committed to laying down 10,000 kilometres of tarmac by the end of 2022, but they exceeded that target and were approaching 11,000 kilometres.
He said this during a road inspection tour in the counties of Murang'a and Nyeri. Regional leaders such as Peter Kimari of Mathioya, Mary Waithera of Maragua, James Mwangi of Tetu, Anthony Kiai of Mukurweini, and Gichuki Mugambi of Othaya were in his company.
Reported on  October 19, 2015
Kenya's 10,000km roads construction project kicks off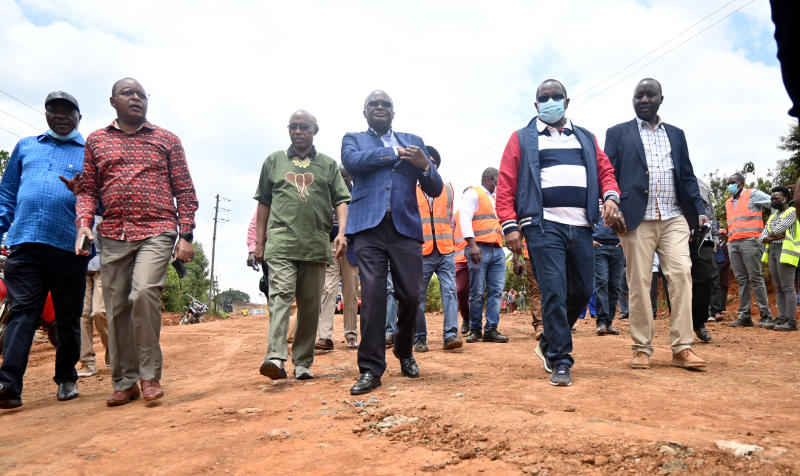 The ambitious 10,000km of road construction project embarked on by the government of Kenya has finally kicked off. The roads are going to be constructed in three phases, which will be divided into 2000km, 3000km and 5000km. The first phase has been subdivided into 45 lots.
The Permanent Secretary for the Ministry of Transport and Infrastructure, Eng. John Mosonik indicated that the government has already received bids from 49 individual bidders who have also been pre-qualified.
He also said that they are currently accepting bids for the first nine out of the total 45 lots in the country. This covers 720km of road network. The bids for the remaining 36 lots are to be received by February 6th this year. The successful completion of this process will then make way for the launch of the second phase of the construction project.
The road project will be undertaken within a period of three years under a Public Private Partnership (PPP). The total estimated cost of the project is USD 9bn. Another source of funding will be local banks and other financiers under the annuity model with minimum state funding. In this model, the contractors will be tasked with constructing, operating and maintenance of the roads.
The commencing of the project is good news for all stakeholders. For the public, it is estimated that almost 137,000 jobs will be made available through the project. Other stakeholders include banks that will provide the loans needed by the contractors, manufacturers of cement and other construction-related materials and companies involved with leasing construction equipment.
Once completed, the cost of doing business in the country will be reduced due to better connectivity. This will improve trade and investor interest in the country.