A contract has been awarded for the King Khalid International Airport Project. Saudi-based Al Rashid Trading & Contracting Company (RTCC) secured the contract.
The project involves the reconstruction of two terminals at the King Khalid International Airport in the capital, Riyadh. According to the project's contract terms, IC İçtaş will take on the redevelopment of the first and second halls. Moreover, the contractor will develop the connecting portion between the two halls, a senior official noted.
While commenting on the contract, General Manager at IC İçtaş expressed excitement and gratitude. Ibrahim Donmez said that the firm is greatly committed to leveraging expertise in addition to exceptional engineering capabilities towards development.
Furthermore, the General Manager revealed that they had completed engineering and construction works at the same airport last year. In partnership with RTTC, development works were successfully done on the third and fourth terminals.
The successful venture highlights the company's expertise, especially in airport construction. Moreover, it strengthens its reputation within the industry. In addition to demonstrating the company's capability in delivering high-quality engineering solutions.
Read Also: Deal Signed for New Coke/Synthetic Graphite Complex Project in Rabigh, Saudi Arabia
An Overview of the King Khalid International Airport Project
King Khalid International Airport's start year was 1983 with the General Authority for Civil Aviation (GACA) of Saudi Arabia contributing as a sponsor. Its design was by Hellmuth, Obata, and Kassabaum (HOK), a US-based architecture engineering firm.
Currently, Riyadh Airports Company (RAC) is the international airport's operator. Initially, from 2008 to 2014, Fraport was the airport's operator under a six-year contract.
The current project is a part of the country's enormous investment in tourism infrastructure. Furthermore, it plays an essential role towards a strategy to attract over 100 million tourists, annually by 2030. As a result, the airport's design strives to accommodate up to 120 million travellers by the same year.
Reported earlier 
Sep 2020
Riyadh Airports awards project management consultancy services contract for KKIA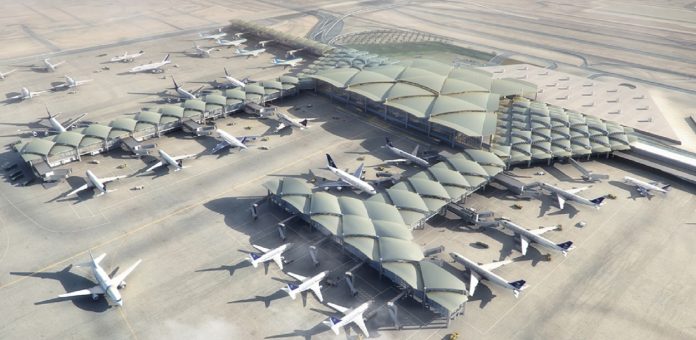 Riyadh Airports has awarded a contract to Egis and local subsidiary Projacs to deliver project management consultancy services for airside projects at King Khalid International Airport (KKIA).
It is currently working on upgrading the airside infrastructure, adding new services and facilities. In an effort to ensure that customers continue to enjoy pleasant, safe, and efficient services.
Scope of work
Egis and its local subsidiary Projacs, which specialises in project management in the Middle
East, will be project management consultants for design review, construction management
and supervision of new airside infrastructure.
These services include the review and approval of contractors' technical deliverables relating to infrastructure, airfield ground lighting (AGL), NAVAIDS and an upgrade of baggage handling systems at Terminals 3 and 4.
Most of the airside infrastructure will be redeveloped, including the two runways, taxiways, cargo aprons and isolated parking positions. The entire AGL equipment and systems will be replaced by a LED lighting system with a dedicated IT control system.
Remarks on the project 
According to Cédric Barbier, Executive Director, Aviation for Egis, Egis has been working
at Riyadh Airport for more than six years now, including on equipment and systems
operations and maintenance contracts.
For this particularly large and complex project, the company will mobilise a multi-skilled team of around 90 employees whose work will focus on delivering a sustainable development that complies with all the relevant international and national regulations, codes and standards.
"Sustainability, safety and innovation will constitute the governing principles of how this project is managed. A full Program Management system will be deployed accordingly. These construction supervision and management services will help KKIA meet the future air traffic needs safely and effectively, " he added.