Hilco Redevelopment Partners  is marking a significant milestone by starting construction on the first phase of the Bellwether District project in South Philadelphia on a 1,300-acre site acquired from the Philadelphia Energy Solutions refinery. This phase will feature two industrial buildings, signaling the beginning of a remarkable transformation.
Hilco CEO Roberto Perez is delighted to announce that the $4 billion Bellwether District project is advancing at a pace exceeding expectations, set to be realized in 10 to 15 years. Once completed, this visionary district is slated to offer a staggering 10 million square feet of industrial space. Moreover, a significant segment of this vast expanse will be dedicated to life sciences, covering the northern 250 acres of the campus.
Read also: Raleigh senior living facility is undergoing a $385M redevelopment project
The inaugural building within this Bellwether district project in South Philadelphia is projected to encompass 326,340 square feet of space. The construction of a second, much larger building, spanning 727,000 square feet, is scheduled to commence within the next two to three months.
Perez revealed that since the first two buildings are speculative developments, their ultimate use remains to be determined. These versatile structures could cater to warehouse distribution, cold storage, light manufacturing, or a combination of these. As Perez stated, "Our product that we're developing can be nimble and handle any of those requirements."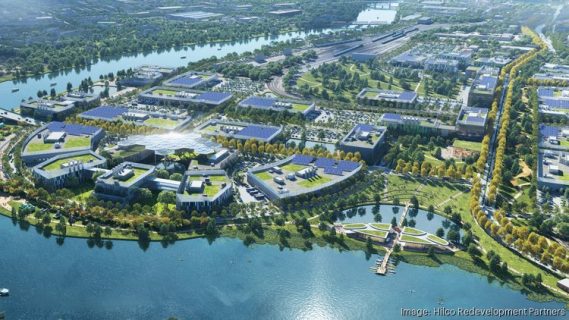 First Bellwether District building completion date in South Philadelphia
The first building is anticipated to reach completion by late 2024 or early 2025, with the second following suit within two to three months.
Situated along the east side of the Schuylkill River in South Philadelphia, the Bellwether District site's strategic proximity to Philadelphia International Airport and the airport's expanding cargo facility is a significant advantage. Perez envisions the Bellwether District as a hub for companies operating through the airport or the Port of Philadelphia, as well as a magnet for new enterprises.
These warehouses are designed to meet stringent environmental standards, aiming for LEED certification and boasting solar panels on their roofs. The ambitious plan also includes future provision for electric charging stations for trucks, reflecting a commitment to sustainability and readiness for evolving technology.
In 2024, the Bellwether District is set to embark on its life sciences phase, with preparatory site work, road enhancements, and utility installations. Hilco aims to capitalize on its proximity to University City and the burgeoning life sciences sector in Philadelphia.
This expansive development is expected to be a catalyst for employment, with an estimated 27,500 construction jobs and 19,000 permanent jobs on the horizon.