---
Amegy Bank, with a $50 million financial commitment, is set to pave the way for new Houston's affordable housing projects through its partnership with New Hope Housing (NHH). The collaborative effort will yield two promising projects, NHH Gray and NHH Berry. Creating 300 affordable housing units for the city's low- and moderate-income residents.
Ray Miller, Amegy Bank's real estate lending team lead, expressed the significance of these initiatives. Stating, "The development of the NHH Gray and Berry affordable housing projects are key investments in the well-being of Houston's community and economy." He continued, "We feel honored to contribute to such significant projects that will provide affordable and stable housing for Houstonians, all thanks to the inspiring vision of New Hope Housing and our collaborative financing model."
Read also: Thackston Park II Opens: A New Affordable Housing in York
New Hope Housing Berry, at 706 Berry St., will offer a total of 180 one-, two-, and three-bedroom apartment homes. While NHH Gray, situated at 2604 Gray St., will consist of 135 one- and two-bedroom apartments. These developments will provide essential amenities including central air conditioning, washer and dryer units, modern kitchen appliances. It will also feature communal spaces such as a well-equipped community kitchen, a library, meeting rooms, and social service offices.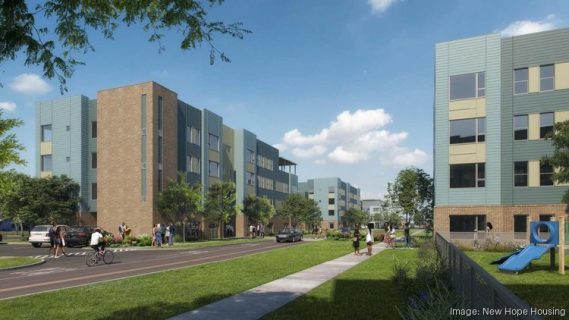 New Hope housing's Houston affordable housing construction start date
They have scheduled construction to start in October, and they expect to complete it by July 2025. In addition to amenities, both NHH locations will host on-site branches of the Bezos Academy, a tuition-free, Montessori-inspired preschool backed by billionaire philanthropist Jeff Bezos. The academy offers comprehensive full-day programming for children aged 3 to 5, five days a week, year-round. The curriculum, as outlined on the Bezos Academy website, promotes social-emotional development, language skills, mathematics, practical life skills, sensory development, outdoor exploration, enrichment activities, and exposure to art, music, and movement.
New Hope Housing, with 11 affordable housing locations across Houston, continues to make strides in addressing the city's housing needs. With NHH Savoy project in southwest Houston already opened earlier this summer. Also these initiatives represent a concerted effort to enhance the lives of Houstonians by providing accessible and dignified housing options.