According to a report by the Ministry of Roads and Highways, the Oti Damanko-Nakpanduri Road in Ghana is progressing steadily. Moreover, the project's site underwent an inspection from Stephen P. Jalulah, Deputy Minister for Roads and Highways. Thus far, with the quality of work done, Stephen alongside a team of engineers, expressed satisfaction.
The Oti Damanko-Nakpanduri Roads funding is from both the Brazilian and Ghanaian Governments. While Ghana is putting in about Us$50 million, the Brazilian Government is providing the US 240 million. As a whole, the 209-kilometer project is a part of the Eastern Corridor Road Projects. Therefore, it serves to represent the government's commitment to greater development across the region.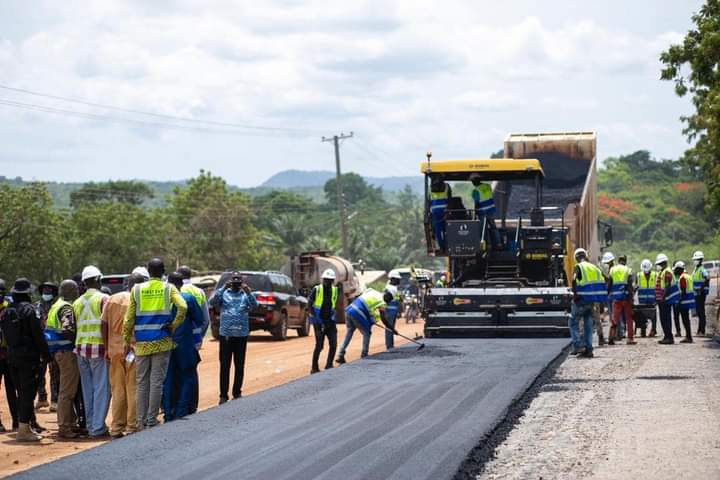 Reported On 13 Oct 2015
Ghana commences the US$290m Oti-Nakpanduri road construction project
The Oti Damanko-Nakpanduri road construction project in Ghana aims for completion in October 2016. This was through an announcement by President John Mahama during the sod cutting in Yendi for the commencement of the 209 km road project.
Ghana and the Brazilian governments are jointly financing the project; Ghana is contributing US$50m while Brazil is providing US$240m. The president said the government has a strong commitment to infrastructural development. More especially, to connect regional and district capitals for easy transportation and economic activities as well as improve the condition of the road network of the country, including the reconstruction of the Western Corridor roads. He said construction work on some roads would start this year.
On completion, the road construction project is expected to improve economic activities between the Volta and Northern regions. President told contractors to use quality and modern materials to ensure the durability of the project.
Minister of Roads and Highways, Alhaji Inusah Fuseini said environmental, safety, and traffic management measures would be taken to minimize inconveniences during the reconstruction period.
Brazilian construction companies Andrade Gutierrez and Odebrecht won the road construction contract. The two companies have successfully engaged more than 500 local people for the reconstruction to ensure on-time completion as scheduled.