According to sources in the know, India is on course to wrap up the construction of the Mauritius Metro Express project, which will cost $550 million, by the end of 2024.
Construction contracts were handed to Indian infrastructure powerhouse Larsen & Toubro. The project, which began in 2017, has been moving forward at a record pace. A combination of grant funding and an Indian Line of Credit is used to support the metro financially.
In January 2023, the project's third phase—which connects Rose-Hill as well as Reduit—was inaugurated. Phase 4, which would extend the line from Reduit to Cote d'Or, is expected to get underway soon.
It will be completed in the latter half of 2024. India will also provide a $300 million line of credit and a grant totaling $25 million.
Benefits of the project so far 
Nandini Singla, the High Commissioner of India to Mauritius, claims that more than 14 million Mauritians have already used the metro. It has an average daily usage of over 45,000. The project also includes participation from Rail India Technical and Economic Service (RITES). It has provided consulting services.
The metro is India's first project of its kind in Africa. It also underscores New Delhi's dedication to promoting economic development as well as connectivity in strategically situated island nations like Mauritius, which is part of the Indian Ocean strategy.
In Mozambique, it is said that India carried out similar railway diplomacy. S. Jaishankar, the minister of external affairs, traveled in a train that Mozambique procured using funds from an Indian-funded Line of Credit (LoC) during his most recent tour to the country in April.
As Beijing and New Delhi compete for influence in the region, this development is partly the result of growing naval and economic rivalries with China. 2019 saw the signing of a Free Trade Agreement (FTA) between China and Mauritius. It was lauded as a significant advancement for Beijing's Indian Ocean strategy.
Mauritius Metro Express project overview
Subsidized by the Government of India, the entire Mauritius Metro Express project covers approximately 26 km and connects Curepipe to Immigration Square in Port Louis with 19 stations, 2 of which will be state-of-the-art elevated stations. The system will also be linked to three major bus interchanges in order to enable a multi-modal urban transit solution.
The scope of the project entails the construction of viaducts & bridges, track works (with substantial ballastless tracks including plinth, embedded, and grass tracks), and integration with road traffic through advanced signaling systems, procurement of rolling stock from world majors in LRT (Light Rail Transit) and construction of depots along with maintenance equipment.
Upon completion, the Mauritius Metro will feature world-class rolling stock, multiple track forms for best-in-class urban design to lessen noise and vibration, energy-efficient traction power supply systems, advanced signaling systems, a state-of-the-art Operation Control Centre, simulators for rapid driver training and passenger-friendly electronic ticketing and information systems.
Reported on Aug 15, 2021
Larsen & Toubro deliver Phase 1 of Mauritius Metro Express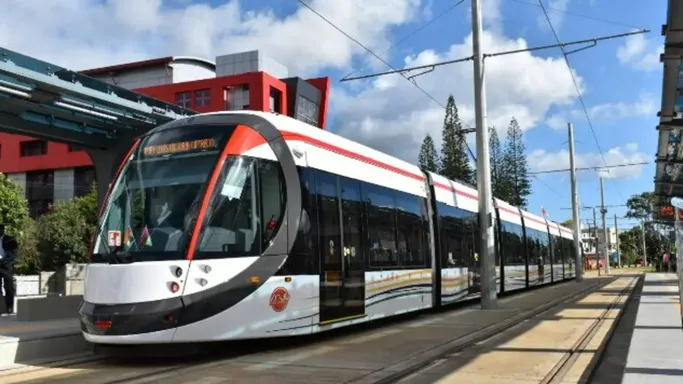 Larsen & Toubro (L&T), the leading technology, engineering, construction, manufacturing, and financial services company has handed over Phase 1 of a Light Rail System (Metro Express) to the government of Mauritius.
Designed and constructed by L&T, the 13km Integrated Light Rail-based Urban Transit System will initially operate between Port Louis, the country's capital city, and Rose Hill.
The fastest-executed transit system 
Speaking during the inauguration of the project in the presence of the Prime Minister of Mauritius and his counterpart from India, the CEO & Managing Director of L&T Mr. S.N. Subrahmanyan said that the Mauritius Metro Express is the fastest executed transit system by the company, from a green field to the present status in barely two years' time.
"'Scale and Speed' have been the hallmarks of L&T projects and our approach has been to provide a modern and unique solution by implementing cost-effective construction methods to enhance the speed of execution with minimum disturbance to the people."
"This project also marks a new high in Indi-Mauritian relations that will definitely bring huge economic advantages and offer opportunities in engineering and technical skill development for the African island nation," he added.