Centenary City is a planned city in the Federal Capital Territory capital in Abuja, Nigeria. The concept of the city was conceived as a legacy project to mark the 100-year anniversary of Nigeria by January 1, 2014, during the administration of President Goodluck Jonathan.
As of August 2018, plans were afoot for the project to get back on track after three years of administrative and land acquisition setbacks. Construction eventually began and as of this month, the Abuja Property Development Company (APDC) announced they will be building district hospitals on site.
Reported in June 2014
Nigeria's $18 billion Centenary City construction kicks off
Nigeria's President Goodluck Jonathan flagged off the construction of the ($18b) Centenary City in Abuja to mark Nigeria's 100 years of nationhood.
At the groundbreaking ceremony of the City along Airport Road, Goodluck described the project as not just a residential, but also an economic city that will be a trade-free zone, modern and unique. Among the state-of-the-art facilities is a Presidential Archive in a city that will represent modernity and Nigeria's distinct cultural heritage.
He said it would also provide an opportunity for Nigerians to share in the progress and aspirations of the country, stressing that it marks the coming of age of the participation of the private sector in the development of the economy.
"It is our dream to leave a legacy to mark 100 years of our nationhood. We want Nigerians to appreciate our journey of 100 years. It will be a city of hope and elegance and a symbol of our unity." He stated.
Secretary to the Government of the Federation, Anyim Pius Anyim, whose office midwife the project, explained that 500, 000 visitors are expected daily, including shoppers, workers, and tourists, among others.
It is to be managed by Centenary City Plc, a consortium chaired by former Head of State Mr. Abdusalami Abubakar, and developed by Eagle Hills Ltd of United Arab Emirates (UAE) at no cost to the federal government.
The city is expected to be the biggest private city in the world, one of the few Free Trade Zones of its status, and will signpost a new approach to attracting foreign direct investments.
Federal Capital Territory Minister Mr. Bala Mohammed said the city will sit on 1,200 hectares of land, and that the FCT administration that provided the land, would be given five percent equity in the project.
Reported On 10 Sep 2015
Nigeria: Construction of Abuja City Center to cost US$3.5bn
Construction work on the Abuja City Center in Nigeria will commence in May this year. Moreover, it will take up to US$3.5b. The Minister of the Federal Capital Territory (FCT), Senator Bala Mohammed, during the investor's presentation to the Federal Capital Territory administration's team at the Banquet Hall of the minister's residence in Abuja, spoke about the project.
The two phases construction project of the Abuja City Center will be laid on 17 hectares of land. It will include four international hotels, residential houses, offices, shops as well as condominiums according to Executive Director-Africa, Eagle Hills, Abu Dhabi, and Jaimal Shergill.
The development will potentially boost economic growth in Abuja. In addition to the entire West Africa sub-region. The project's development will be by the Chicason Group in collaboration with Eagle Hills, a reputable international developer.
According to Senator Mohammed, the Abuja City Centre construction project will be a mixed-use in nature. Furthermore, it will generate about 10,000, and impact positively, the country's economy and that of the FCT administration.
"The land premium as well as the development control charges accruable to the FCT administration would be used as its equity contribution to the project. Moreover, investors will construct a National Mall at the cost of $ 40 million at no cost to the FCT administration," he stated.
Reported in September 2021
Centenary City Development in Abuja, Federal Capital Territory of Nigeria
Located in Abuja, the Federal Capital Territory of Nigeria, Centenary City is a smart city project developed with the aim to create a competitive urban settlement on the same level as Dubai, Monaco, or Singapore, and also to serve as a political and economic tool for securing foreign investment.
Also Read: Universal One Apartment Complex at Alaro City, Lekki Free Zone, Nigeria
The city occupies an area of 1,260 hectares of virgin land located approximately five kilometers from the Nnamdi Azikiwe International Airport, Nigeria's second-largest airport and one of the busiest airports in the African continent.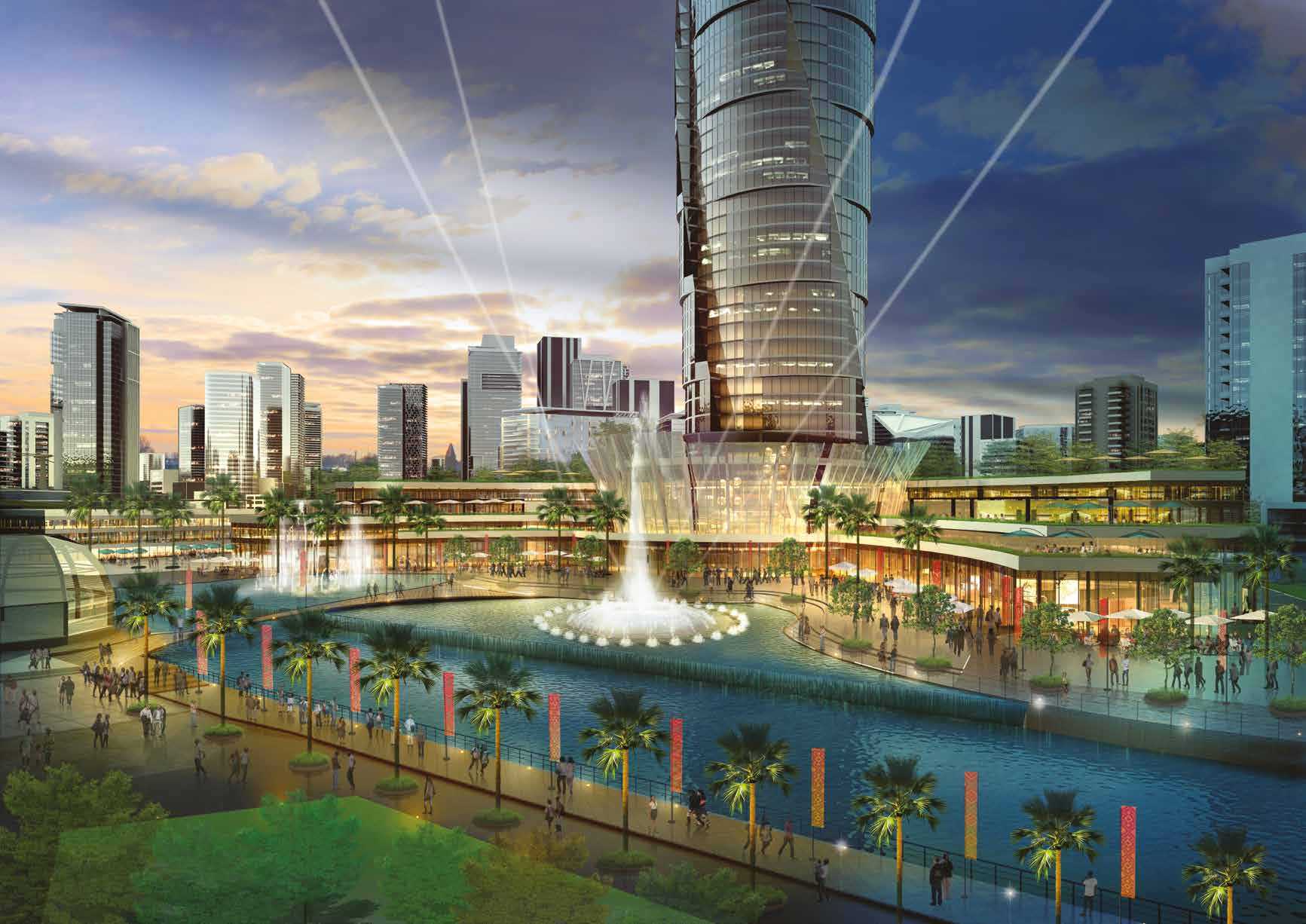 It will have a mixed-use urban center, a central business district, a financial center, a museum, and a cultural center to promote African and global arts, as well as world-class hotels, Grade A offices, residential districts, an 18-hole golf course, polo, and country club, an international convention center, sports and leisure facilities, a safari Park, educational institutions, healthcare, and community amenities.
The Centenary City project broke ground on 19 June 2014 with an anticipated timeline of 10 to 15 years to complete. It however went underground for a period of approximately three years due to administrative and land acquisition setbacks. Work resumed in 2018 with the first Co-development Project of Centenary City dubbed "The GROVE".
Project team
The Nigerian Government