Rosslyn Riviera Mall is a shopping complex that was built in the Rosslyn suburb of Limuru Road in Nairobi, Kenya. The construction of the mall began in 2014 and was finally completed and opened in 2017. It was initially planned to open in mid-2016, but some delays ended up affecting the construction timelines.
The Sh2.9 billion development is aimed at attracting residents of Rosslyn, Muthaiga, Runda, Nyali, Gigiri, and Rwaka. The three-level Rosslyn Riviera Mall was built on a 4.5-acre plot of land and offers 116,000 square feet of retail space.
Also Read Proposed Construction of AL Rayaan Mall in Mtwapa, Mombasa, Kenya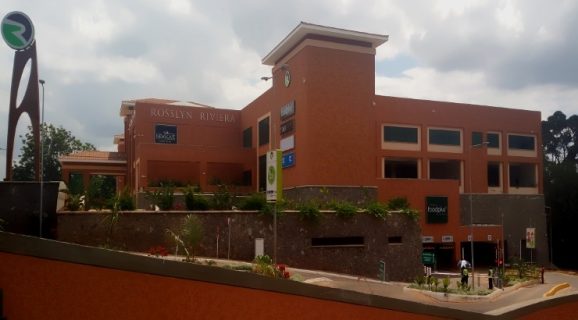 The mastermind behind the Rosslyn Riviera Mall development is Peter Gethi, a businessman and son of a Moi-era police commissioner Ben Gethi. According to Gethi, the mall would have a unique neighborhood style, which is quite different from other malls around. Therefore, it provides a  convenient location for people to shop, dine, meet, or unwind.
Reported earlier
Oct 2014
Rosslyn Riviera mall in Kenya to be constructed at an estimated cost of US$ 22.4m
Rosslyn Riviera mall in Kenya  will be constructed at affluent Runda Estate at a cost of US$ 22.4m by a real estate developer. The new mall will be built on a 4.5 acre piece of land in Rosslyn suburb.
It will be located near the Northern Bypass and the upcoming Two Rivers Shopping Complex and accessible through the proposed link road from Waiyaki way. Covering 157, 380 Sq feet, the mall will be able to offer its customers various services ranging from dinning, shopping, health, entertainment, as well as wellness services.
Rosslyn Riviera mall in Kenya is conveniently located on Limuru Road and will be accessible to residents of Runda, Muthaiga, Kigwaru, Nyari, the UN complex in Gigiri and Ruaka. These areas are traversed by a mix of residents from corporate executives to business owners.
The mall will be constructed by Ben Gethi, who is the director of a number of Nairobi Security Exchange listed companies. The mall is expected to be ready by March 2016. It will have 350 parking bays, and have a family friendly environment.
Businesses that have already booked space in the mall include News Café, RAGS, Chandarana Supermarkets, German Point, Bianca Nero, Basic Intimates, and Accessorise with Style, among others.
Reported in 2015
The ongoing construction of Rosslyn Riviera Mall in Kenya is halfway complete
The ongoing construction of Rosslyn Riviera Mall in Kenya is halfway complete with 40% of shopping space in the mall occupied, residential and commercial property consultancy firm Knight Frank has announced.
Located in Kenya's affluent Runda Estate the mall is expected to serve the people from Runda, Muthaiga, Kigwaru, Nyari, and the UN complex in Gigiri and Ruaka. "This signals a robust market demand for retail space in this location", said Knight Frank's head of marketing Mwihoti M'Mbijjewe.
The US$ 27m construction project that is Rosslyn Riviera Mall in Kenya which is being developed by Thaara Ltd consists of a three-floor shopping complex that houses shops, restaurants, and entertainment and wellness outlets. It is projected to be complete by mid-next year.
"We believe that Rosslyn Riviera will be a thriving neighborhood mall because of its location, size, concept, convenience, accessibility, and target market," Mwihoti said. A lot of attention has also gone into selecting the tenant mix and this will eventually make the mall quiet and cozy, providing a serene shopping environment and a great shopper experience.
"It will bring choice and variety next door, ranging from household goods to fashion and wellness services," said the developer in a past statement. Rosslyn Riviera Mall in Kenya is set up on a 4.5-acre piece of land.
It is set to be the neighborhood mall positioned conveniently on Limuru Road, a major thoroughfare that connects Nairobi city to Limuru and is traversed by a multicultural mix of residents, corporate executives, and business owners.
Feb 2016
Riviera Mall Seeks to Offer a Different Experience
An expanding middle class and a growing interest in investment opportunities in Kenya by foreign brands have continued to spur the development of high-end malls in Kenya. So far, Nairobi has witnessed the biggest share of new shopping malls although the trend is rapidly catching on in other cities and even smaller towns across the entire country. In fact, Nairobi is slowly earning itself the title of "Mall Capital of East Africa".
Rosslyn Riviera Mall is one of the latest such developments in the peripheries of Nairobi. Set on a 4.5-acre piece of land in the affluent Rosslyn suburb, the development promises to be a major convenience for residents of nearby estates including Runda, Nyari, Muthaiga, and Ruaka. According to the developer, Mr. Peter Gethi, the concept of Riviera Mall is neighborhood convenience.
"The idea was to move away from the 'high octane' malls and give the customer an opportunity to shop without the hassles of inadequate parking and associated inconveniences". Mr. Gethi says that proximity to the Ruaka River was meant to give shoppers an opportunity to unwind with nature in the well-manicured and landscaped gardens.
Projected to cost US$ 27 million, the mall is essentially a retail center where retail units will be accommodated on lower and upper ground floors. However, the first floor will contain semi-retail units that can be converted into offices. Each tenant will be provided with a grey shell which they can then proceed to fit out and decorate as desired within the constraints of set standards.
Design Aspects
The Riviera Mall design emphasizes natural light via light wells using atriums. A 'village square' resembling a courtyard opens out to the skies giving customers a chance to sit and enjoy the sunshine and fresh air. The floor plan is created with the customer in mind and provides clear visibility for the shops. All the mall ways will make use of natural ventilation with cross ventilation occurring through louvered panels in all the shops.
To further save energy, LED lights will also be used throughout the building. All light control systems will be centrally located, allowing regulation of lighting depending on specific requirements. Automatic sensor switches will be used in all washrooms to reduce energy wastage.
In addition, any mechanical and AC equipment will only be used where necessary.  This equipment will be non-CFC (chlorofluorocarbons) based. This has been informed by the fact that the release of chlorofluorocarbons (CFCs) from refrigeration equipment destroys ozone molecules in the atmosphere harming the earth's natural shield from incoming ultraviolet radiation.
Rainwater harvesting is also a major feature in the overall design.  biological wastewater treatment system will be used to clean water to a non-potable standard for reuse. This will allow water recycling for use in toilets and irrigating the lawns.
Facilities and Security
The center will have a modern state-of-the-art 24-hour security system. The bulk of the parking will be in the basement on two levels to protect the vehicles from the elements in secure surroundings. Key to the development is ample parking to ensure customer convenience is maintained from entry to exit.
Lifts and escalators will be strategically provided in addition to access ramps on all levels to cater to the disabled. Back-up water and power will be availed by way of a borehole and stand-by generators respectively to allow for seamless operations. There will be a physical security barrier along the full perimeter of the premises coupled to prevent any unauthorized access.
Accessing Riviera Mall
Entry will be from an access road that is being constructed off Limuru Road to facilitate the uninterrupted movement of traffic along the highway. This access will allow for through traffic from Runda Kigwaru Estate, Karura Community Chapel, and Runda Mimosa to the Northern bypass.
Construction of the mall began in July 2014 and is expected to be completed mid-this year.
Project Team
Developer:
Project Manager: Barker & Barton Kenya
Architects:  Planning Systems Services Ltd.
Quantity Surveyor:  YMR Integrated Partnership
Structural Engineer:  Strana Consultants Ltd.
Civil Engineer:  Struvil Africa.
Mechanical Engineers:  Loadline Engineering Services.
Electrical Engineers:  Donn Consultants.
Retail & Management Consultants: Knight Frank Kenya Ltd.
Main Contractor: Parbat Siyani Construction Ltd