The Western Aqueduct Pipeline Project was commissioned at the end of 2012. It was set to be carried out in phases, with funding from the municipal infrastructure grants and loans taken up by the eThekwini local authority
The first phase of the project spans a total of 20 kilometers from the Umlaas Road reservoir to Inchanga station. The second phase on the other hand features a 40-kilometer pipeline. This phase of the Western Aqueduct Pipeline Project in South Africa was aimed at augmenting as well as replacing existing infrastructure. More especially, for the transportation of water into Durban from the Midmar dam alongside the recent, Spring Grove dam.
As a whole, the project had the target goal of ensuring that the eThekwini region will have some of the best bulk-water infrastructure within the region. Further reports state that it would have potentially met the greater region's needs for the next 30 years upon its completion in mid-2017.
However, the Western Aqueduct Pipeline Project in South Africa has not reported any progress updates for its second phase. Thus, the R1.8 billion project is presumed to have stalled and/or been canceled.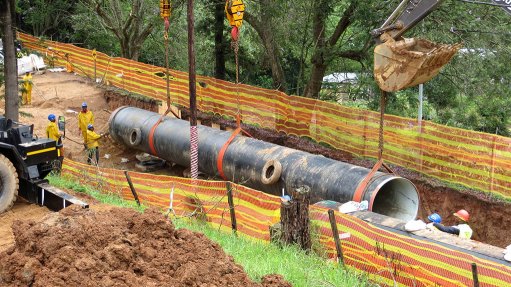 Reported On 19 Oct 2015
South Africa: portion of Western Aqueduct water pipeline project to be ready by 2015
Currently, the commissioning and testing of the 14km water pipeline is underway. It stretches from Inchanga Station to Ashley Drive Kloof in KwaZulu Natal. However, its operation should commence in mid-2015. Furthermore, it is a part of the second phase of the Western Aqueduct water project that will be at the cost of R1.8 billion.
A 25km stretch from the Ashley Drive break pressure tank to the NR5 reservoir at Ntuzuma makes the longest of the water project. It aims to be complete and fully operational by mid-2017.
According to the Head of Ethekwini Water and Sanitation (EWS), this was the biggest-ever bulk water pipeline project. Ednick Msweli further said that all work should be complete on time. This includes the second phase's 39km stretch for the pipeline as well as its branches. Upon completion of the Ashley Drive Break pressure tank, it will have the capacity to hold 20 mega liters of water.
Construction work will also begin on the railway line from Alverston to Kloof Station. This will, however, not affect traffic flow. Construction involves the replacement of the existing infrastructure. On the other hand, work on the 1km segment of the western Aqueduct will be sped up for minimal disruptions.
Two contracts for the Wyebank Break Pressure tank and the pipeline from Western Aqueduct to Mt. Moriah will be awarded in the third quarter of 2015 with construction work expected to be through in 15 months.