The Yacht Club is a mixed-use community located adjacent to the V&A Waterfront in Cape Town, South Africa. The property consists of 170 luxury residential apartments, a hotel, and a 6,000m2 office space spanning two levels.
The developer, Amdec Group purchased an 11,816m2 property on Cape Town's foreshore in 2015 to build the project. Construction on the mixed-use community began in 2017 and it was completed within a two-year period.
Search for construction leads
Also, Read Construction of Phase 2 of South Africa's largest mixed-use parkland to commence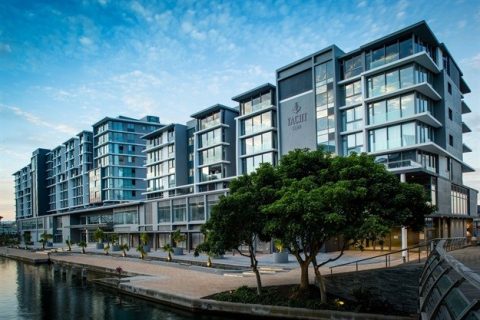 The Yacht Club complex features two apartment blocks referred to as the West and East blocks. However, the two blocks are separated by a corridor of open space, in compliance with the building regulations of the local authorities. The West block houses 120 apartments and the AC Hotel by Marriott. While the East Block offers 50 apartments that are set above two floors of premium office space.
Reported in 2015
Amdec constructs a The Yacht Club, a multi-purpose property in South Africa
Amdec Group, a privately owned Property Development company is constructing a multi-purpose property in South Africa worth US $0.09bn at the gateway to Cape Town's Waterfront region.
The new development which is known as the Yacht Club would comprise a residential section, hotel, and office space which will be adjacent to the V&A Waterfront. This will also be near the Cape Town International Convention Center.
Construction works on the multi-purpose property in South Africa are expected to be complete by mid-2017 making it the biggest development of its kind in the Roggebaai region. This will join the Harbour Bridge Hotel & Suites development and the Canal Quays apartments.
According to the Joint MD for Amdec Property Development, Nicholas Stopforth, the Yacht Club offices will be ideal for businesses that have links to the financial or maritime sectors, travel and tourism industries, retail, conferencing, entertainment, and arts sector.
The residential section of the development would have a range of apartments from one-bedroomed, two-bedroomed, and luxury corner apartments all ranging between 54m2 to 95m2.
Stopforth also noted that the new development would include a hotel with associated serviced apartments as negotiations with a well-known international hotel group were currently in an advanced stage.