As the world recovers from the COVID-19 pandemic, more and more public spaces are being reopened and these include indoor occupied spaces such as school classrooms, shopping malls, arenas, airports and more.
The American Society of Heating, Refrigeration, & Air Conditioning Engineers (ASHRAE) and similar worldwide organizations are recommending that changes to their standards be implemented before ventilations systems be turned back on to address the potential of the presence of the COVID-19 virus. One of the recommendations required by ASHRAE includes the installation of Particulate Matter (PM) sensors. Greystone Energy Systems, Inc. a Canadian-based manufacturer of HVAC sensors and transducers has recently introduced a PM product line to meet the new requirements set out by the new ASHRAE standards.
The PM SERIES of particulate matter sensors manufactured by Greystone Energy Systems utilize a field-replaceable optical sensor based on "laser scattering principles" capable of measure particles as microscopic as PM1.0. The optical sensor is also MCERTS certified which meets DIN EN 15267 European air quality standards. It also has a minimum 8-year lifespan of continuous operation.
Model variations include a wall mount version, duct mount version and an outside version and all come with the Greystone industry leading 5-year warranty. Available options include tri-color LED, LCD, alarm relay and BACnet® or Modbus communication.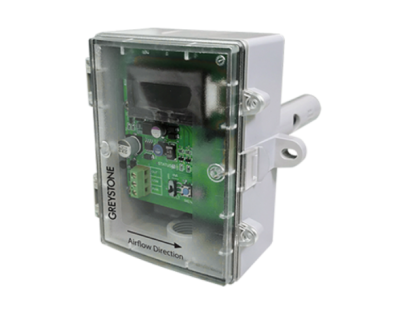 About Greystone Energy Systems, Inc.
Established in 1983, Greystone has over 30 years of experience designing, manufacturing and supplying HVAC sensors and transmitters for Building Automation Management Systems. Headquartered in Moncton, NB, our global family consists of over 120 employees, across 9 locations globally, including regional sales offices in Dubai, India, Singapore and Malaysia.
The company's vision is to design and manufacture a wide range of products for sensing measurement and transmittal of data related to temperature, humidity, pressure, current, air quality, and hazardous gases. This vision is being realized through their rigid adherence to quality standards, the efficient service they offer their customers, the genuine pride we take in their work.
Greystone Energy Systems Inc. is internationally recognized as one of the largest ISO registered manufacturers of HVAC sensors and transducers for Building Automation Management Systems. They have conscientiously established a worldwide reputation as an industry leader by maintaining leading-edge design technology, prompt technical support, and a commitment to on-time deliveries.