The new Grand Egyptian Museum in Cairo received King Khufu's solar boat after a meticulously executed 10km journey which transported it from its previous home in the Giza Plateau museum. The boat, which was discovered in 1954, is the oldest ever uncovered in the country to date and will now be displayed in Eygpt's newest museum, which is set to open this year.
Archeological Significance
According to archeologists, ancient Egyptians believed that solar boats were able to transport the deceased royals into the afterlife, and were typically buried alongside them in royal burial chambers. This particular boat is said to have belonged to King Khufu, a fourth dynasty monarch. Khufu's solar boat is one of two that will eventually call the Grand Egyptian Museum its home.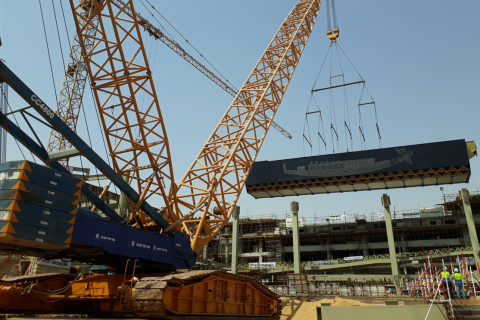 Researchers assert that the solar boat is the biggest and oldest artifact made of wood in the history of humanity, and due to its significance, extremely careful planning was necessary in order to successfully rehome the boat after having been located at the Giza Plateau for decades.
How It was Transported
The King Khufu's solar boat project, which was carried out by Belgian Besix-Orascom Joint Venture (BOJV) tasked Sarens, a global reference for specialized transport and heavy lifting, with the heavy lifting and transport on this prestigious project.
The logistics of the project were extremely complicated, as Sarens' team sought to ensure the safety of the boat and prevent any damages to the artifact. Workers needed to ensure that the boat was precisely positioned horizontally during the entire operation owing to its fragile structure.
The transport mission required several SPMTs which were brought to Egypt from Belgium as well as an 800T crane to assist with the lift. In order to protect the boat from any possible damages, Sarens' team installed a steel cage around the 43m long and 20 ton boat, bringing the total weight to 100T. Finally, the team built a 52m long steel bridge to allow the SPMTs to drive in and park exactly underneath the boat in order to lift it out of its position.
"This was an extremely complicated project, however we managed to install the boat inside the new museum on schedule and without any unforseen challenges," said Sarens' project manager, "This artifact will bring great value to the exhibit and we're very honored to have been trusted with the lifts and transport."
The mission was successfully completed in 10 hours, delivering the boat to its final destination, where it is expected to be one of the star attractions for tourists visiting the city.
About Sarens
Sarens is the global leader and reference in crane rental services, heavy lifting, and engineered transport. With state-of-the-art equipment, value engineering, one of the world's largest inventories of cranes, transporters, and specialty rigging equipment, Sarens offers creative and intelligent solutions to today's heavy lifting and engineered transport challenges.
With more than 100 entities in 65 countries operating without borders, Sarens is an ideal partner for small-scale to mega scale projects. Sarens currently employs 4,543 highly skilled professionals who are prepared to support any client's requirements around the globe and across every market sector. (www.sarens.com)