The largest trenchless trade fair in China!
China International Trenchless Exhibition (TTUS 2014) will be held from March 1-3, 2014 in Guangzhou, the biggest city in South China. We sincerely invite your company to attend TTUS 2014.
TTUS is a unique and comprehensive exhibition focusing on underground construction in South China which consists of Trenchless Pavilion and Tunnel & Underground Space Pavilion. Hosted by China Municipal Engineering Association, this fair will show and exhibit all related newly technology and product. We will organize all domestic brand manufacturers and traders to exhibit and welcome oversea enterprises join us. TTUS will be the best platform for you understanding China market, extending business and finding out industry trends and latest technology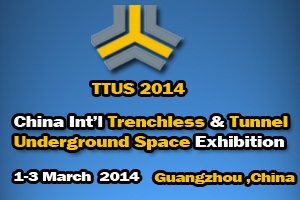 Date: March 1-3 2014
Venue: Guangzhou, China
Contact: Sally Yu
Email: [email protected]
Website: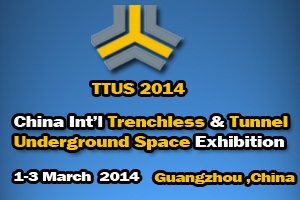 Let's enjoy the TTUS 2014 feast together!
Expected show space: 7500 m2
Expected Exhibitors: 81; Visitors: 3,800
Co-located Event
China Int'l Block and Brick Technology & Equipment Exhibition
Expected 81 exhibitors with 7,500m2
For further information please contact: Miss Sally
[email protected] / [email protected]
Tel: +86 2028966533 Fax: +86 2082579220