This 3 day workshop consists of nine modules and is designed to provide detailed practical assistance in the preparation, management and resolution of claims. It will deal with topics such as identifying claims, cause and effect, entitlement, the parties' contractual responsibilities and obligations, supporting records, extensions of time, delay and disruption, quantifying the claim and contractual procedures.
Both Contractor and Employer claims will be covered. The last day of the workshop will focus on dispute resolution, and in particular the workings and procedures of Dispute Adjudication Boards.
To secure your seats or for more information, call us today at +65 6557 9183 or email us at [email protected].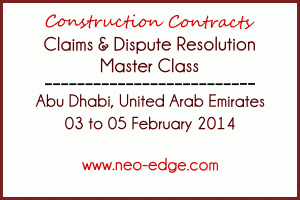 Date: 3-5 February, 2014
Venue: Abu Dhabi, United Arab Emirates
Contact:Rilla Eas
Email:[email protected]
Website:www.neo-edge.com