Benefits of Attending: Assists inspectors in being able to submit work that is correct and uniform, saving time and preventing costly mistakes, Building the knowledge and skills needed to read and interpret plans and specifications, such as scale, stationing, elevations, benchmarks, plan, profiles, and cross-section views, rights-of-way, easements, permits, cuts, fills, and offsets, Effectively integrating the decision-making roles of owner, contractor, designer, and inspector, and methods of solving conflicts between them.
Improve by Instant Savings your value as an inspector: Analyze how agencies and contractors see the inspector's role, Improving your chances to succeed by preparing for each project, projecting the "right" attitude and improving your communication skills.
Get the latest information on Inspection Scheduling and Close-out procedures, Interpret, apply, and explain the policies, procedures, laws, codes, ordinances, and regulations related to building, safety, and zoning and structural requirements.
Learn how you can improve on your asset register and data capturing. Practical checklists which will remind inspectors and construction professionals (architects, engineers, project and construction managers etc) of important matters so that cases will be defensible in a court of law, Regulatory Overview- Build a solid foundation of inspection knowledge and skills and Risk management and legal issues, Typical materials and methods used in public works construction inspection.
Understand and apply applicable laws, codes, and regulations, Understanding the public works contracting process, including selection of contractors, types of contracts, methods of payment, guarantees, progress payments, measurements and tests. Use sound inspection techniques to examine construction methodology, workmanship and materials, and to detect deviations from plans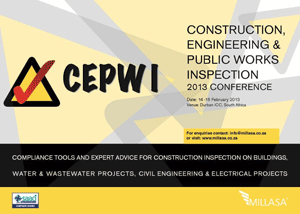 Date: 14-15 February 2013
Venue: Durban ICC
Contact: Nixon Gandur
Email: [email protected]
Website: www.millasa.co.za