Economists are in agreement that a country's GDP can benefit by as much as 7 percent from the use of efficient railway systems. This truth is perhaps more so for land-locked countries whose cost of export as well as import goods end up costing markedly more in the absence of rail transportation. Despite this, only South Africa and Northern African states have extensive rail networks with the rest of Africa having what can only be described as isolated lines.
Despite the foregoing however, rail infrastructure has, for a long time, not kept pace with growth in demand. Presently, 14 African countries do not have rail networks at all and where they do exist in many instances they have fallen into a state of disrepair over time becoming a pale shadow of their glorious past when they played a pivotal role in opening up the African hinterland to economic development.  It is not uncommon to find rail tracks overgrown with vegetation in many parts of Africa a legacy of lines that were long abandoned due to lack of maintenance, poor management, competition, lack of locomotives, rolling stock and skilled manpower.
In addition to more interconnections, modernization of railway networks is already headed towards electrification of railway networks, having more and efficient modern trams/wagons/cars, and reduction of related logistics via automation, as well as standardization of systems such as establishment of unit gauges.
Current woes and overcoming challenges
Africa is staring at burgeoning transportation costs that stand at 63% higher than in other developed nations, and this hampers competitiveness in local and international business. Worst hit are landlocked countries, including Niger, Mali, South Sudan and Zimbabwe- just to mention a few. This could improve once railways are developed. These costs constitutes in between 30% and 50% of total export value of the continent according to African Development Bank.
Africa is seen to lag behind economically with massive infrastructure development gaps, and it is now obvious that infrastructure is pertinent to overcoming the challenge. The African Union itself holds the view that lack of infrastructure negatively affects productivity, raises production and transaction costs, and negatively impacts  the ability of government to pursuing economic and development agendas.
According to Transport and Infrastructure experts at New Partnership for African Development (NEPAD), Africa is about to see full interconnection within itself, and what is happening in regard to expanding infrastructure is only part of the big picture. The desire to improve Africa's infrastructure to tap economic benefits has elicited the need for governments to revamp railway lines. Of great concern has been the need to pursue interconnectedness through railways and other infrastructure, in order to tap the power of inter-regional trade.
A number of African countries are embarking on modernizing and improving railway lines. However, "Every country and every region has its own master plan and priorities, "says Mr. Adama Deen of the Lead/Infrastructure Programs and Projects, NEPAD Planning and coordinating Agency (NPCA).
Key Projects underway  
Across Africa there has been renewed interest in rail transport especially given the global attention given to its vast untapped mineral resources.
In West Africa this interest in developing rail lines has reached a level not seen since the colonial era. It is global mining giants that have been at the fore when it comes to revitalizing or constructing rail lines in order to carry minerals from the interior to the coast in the past decade. In Liberia, for instance, Arcelormittal rebuilt the old 243km Lamco railway which had ceased operating in 1992. In Sierra Leone African Minerals rehabilitated the 74km 1067mm-gauge railway from the port of Pepel to the old mine at Marampa and build a 126km extension to a new iron-ore mine at Tonkolili.
The biggest is yet to come though when Rio Tinto embarks on the Simandou Iron Ore Project. To export the high-grade ore from Simandou South to Guinea's Atlantic coast, the project requires the construction of a 650-km railway through the West African jungle, at an estimated cost of at least $7 billion.
Even in Nigeria the story is the same. Colonial era rail services had become moribund and only in recent years has change been seen. Noteworthy is the rehabilitated  Lagos-Kano Route covering a stretch of 1,126km. Its completion heralded a new era for the North which has lagged behind in terms of development. The rail promises to reduce costs of goods as well as passenger transport to the region. The Eastern Railway Line from Port Harcourt –Maiduguri that covers a distance of 1,657km also abandoned for decades is scheduled to commence operations later this year according to Nigeria Railway Corporation
(NRC) Managing Director Mr Adeseyi Sijuwade. Ogun State has also penned an agreement with a Chinese firm for a US$3bn light railway network.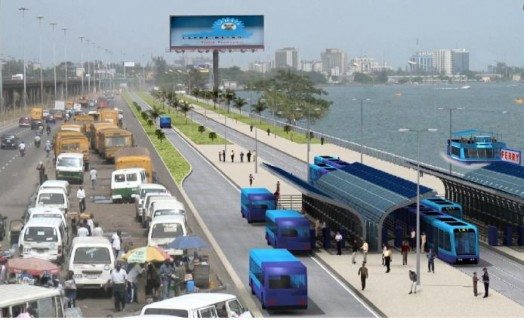 In Eastern Africa Kenya, Uganda and Rwanda have finally kicked off construction of the Mombasa-Kampala-Kigali standard gauge railway line expected to link the three East African countries. The Ksh1.17 trillion (US$ 13.3billion) project will run from the Kenyan port of Mombasa through Kampala in Uganda to Kigali in Rwanda, a distance of about 2,935km. Kenya has started construction on its side from Mombasa, and is expected to launch Phase II this July.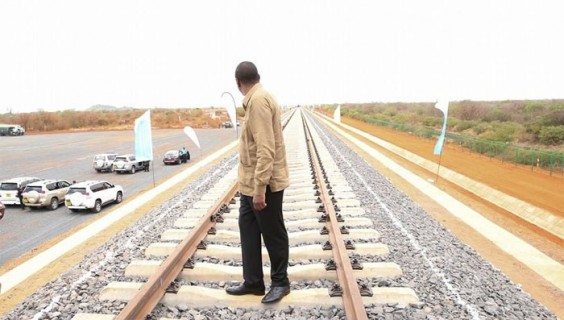 The Mombasa-Kampala-Kigali railway project entails a 1,185km rail from Mombasa through Nairobi to Malaba and branching to Kisumu; rail from Malaba to Kampala and branching to four Ugandan towns before connecting to the main line to Rwanda at Mirima Hills; a 200km rail from Mirima Hills to Kigali and an extra 150km rail to other towns in Rwanda.
The completion of the Mombasa-Kampala-Kigali project is set for March 2018 and is being undertaken by China Roads and Bridges Company. It aims to complement the already existing railway from Mombasa to kampala that was first build by the British before independence and had experienced years of deterioration
The US$3.6b double-track 1, 435mm East Africa's Standard Gauge railway will certainly open up the likes of landlocked economies – Uganda Rwanda, Burundi and South Sudan – to the busy port of Mombasa and Lamu. They will have quicker and cheaper access to goods from the port. Together with Kenya, the countries will also benefit by avoiding the need to incur expensive road maintenance costs. Uganda has also announced plans to undertake a link from Kampala through Malaba to Nimule in South Sudan. The project will cost US$3.2bn.
Tanzania and Burundi will also undertake joint construction of a 195KM railway line worth over TSh1 trillion, an ambitious project expected to facilitate smooth transport of cargo between the two nations. The railway line will be constructed from Msongati in Burundi to Uvinza, Tanzania, and the costs will be shared by the two countries. Tanzania railway network will finally connect to Rwanda and Burundi.
Ethiopia has also planned for an ambitious 5,000 km railway network whose 1,808km is set to be completed by 2015, and which will extend from Mekele-Woldiya Hara Gebeya-Semera-Dicheto-Elidar. The US$3.2 billion railway network project being constructed by Yapi Merkezi  and a subsidiary of the China Communications Construction Company (CCCC Co.) will ultimately link the northern regions with Port Tadjourah in neighbouring Djibouti, thus allowing an alternative route to the land-locked Ethiopia.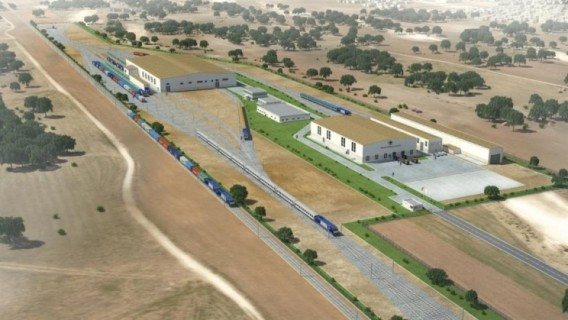 The northern railway project will have an extension which runs from Woldiya-Awash joining the Addis Ababa-Djibouti line. Upon completion, Ethiopia hopes to transport potash, metals and other products from northern mines to Djibouti's Port Tadjourah for international market.
Ethiopia has just concluded the Addis Ababa Light Railway project that has already entered a testing phase. It will finally be linked to the Bus Rapid Transit (BRT) and regular bus lines in a short term. These will also be hooked to the subway on a long term.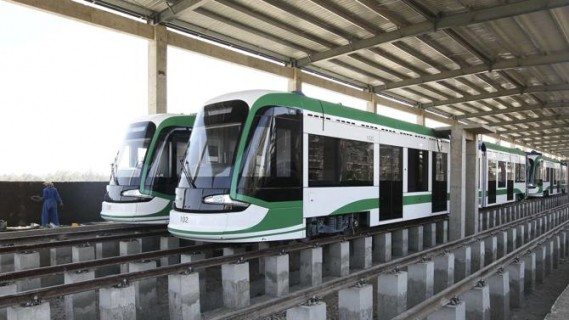 The execution of the 2000-km East Africa standard gauge railway project will see Kenya supplement the narrow-gauge track that was built more that 100 years ago by the British colonials.
On the planned East Africa SG railway line, the targeted top speed for trains will be 120km/h (75 mph), while freight trains will be travelling at a maximum speed of 80km/h.
Benefits unlocked
Railway lines constructed between countries and states/cities will not only spur regional economic competition among the countries and states, but also among key players in the railway transport business. Already, some companies are preparing to face-off such competition. Carlos Andrade, the CEO of Rift Valley Railways who are the concessionaire of the existing rail line from Mombasa to Kampala, recently said that the company had invested in technology, infrastructure and modern track maintenance equipment to face off competitors expected when the Standard Gauge Railway finally opens.
Carlos has stated that skilled, low-cost operations are key to success of railways business and not just infrastructure. Rift Valley Railway is a Kenyan private company that provides train transport and logistical solutions and operates the Kenya-Uganda Railway line.
It is also expected that companies providing technologies for construction of modern railways and systems will benefit from the boom. Development of the Africa railway lines and accompanied upgrade will, according to Nathan Reese, vice president for engineering at Amsted Rail, based in Chicago, create opportunities for companies providing related technological solutions such as the high performance/low maintenance bogie systems "which the railway industry is looking to for the improvement of rail, wheel life and low life cycle costs."
Kenya's own standard gauge railway construction will offer jobs to about 30, 000 locals as contractors and sub-contractors. During a meeting with Kenyan President in August last year, Wen Gang, the Assistant President of China Communication Company said 40% of the construction work will be undertaken by local contractors/subcontractors at peak of project.
In South Africa PRASA has sealed a R123 billion (US$ 12 billion) deal to upgrade South Africa's railways and trains. South Africa's Transport Minister Dipuo Peters has said that the PRASA railway upgrading project will involve training of 500 South African technicians, engineers and other professionals for the building and delivery of the required trains.
Many of the locals will also be employed in related businesses that come as a result of expansion of railways. An example is the train manufacturing facility, which will see South Africa produce the  X'Trapolis MEtric GAuge (Mega) type of trains starting July 2016, and whose construction starts off mid this year. The MD of Alstom Transport South Africa Yvan Eriau has said the Gibela train manufacturing project to be carried out in South Africa will help transfer skills to locals – 12 engineers from South Africa were already undergoing training, which is expected to take 18 months. 66 percent of Gibela staff has also beeb trained on various aspects of the project. The Alstom-led project will see South Africa produce 62 trains every year.
Conclusion
Improved and modernized railways in Africa will certainly lead to reduction in transportation and business costs, increased number of passenger volumes between the cities/countries, and increase the volume of transported goods. Landlocked countries see it as the most economic means of ferrying goods, with expectations that it will help reduce road maintenance costs.
Different countries are also pursuing interconnected and improved railway networks to achieve speed of transportation of commodities and people, and these will also lead to more job creation. Modernization is expected to take a route towards electrification of railway networks and logistics, as well as standardization of systems such as establishment of unit gauges. Countries will also be looking to improve logistics via automation, installation of faster and getting more modern efficient trams/cars/wagons. Experts say the current expansion is only a tip of the iceberg, with promise for more in future.